Around Ulitsa Kremlyovskaya
Around Ulitsa Karla Marksa
Around Ulitsa Ostrovskogo and Ulitsa Ulianova-Lenina
15 Ulitsa Ostrovskogo
10:00 - 18:00. Closed on Sunday and Monday.
Located inside a late-19th century - early-20th century merchant mansion is the Sharif Kamal Museum which was opened in 1980. Sharif Kamal, born Sharif Baigildiev, was a famous Tatar poet and writer, who died in Kazan in 1942 aged 58. This museum includes a memorial room and an... Read more »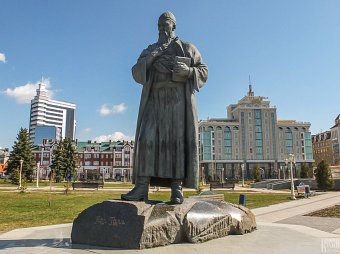 Millennium Park (next to Ulitsa Ostrovskogo)
Qol Ğäli (sometimes spelled Kul Gali) was a 12th century Volga Bulgar poet considered to be the founder of medieval Tatar Literature. His most famous work is the Qíssai Yosıf (Tale of Yusuf) which he wrote in 1233. This statue to him was unveiled in 2005 as part... Read more »
Kazan's first catholic church was opened in Kazan in 1858 but this was closed down in 1927 and the catholic parish was dissolved. The old church's building was given over to a technical college. It was only in 1995 that a catholic parish was re-established and plans were... Read more »
Just down from Kazan's Catholic Church is the Our Lady of Kazan Old-Believers Church which was completed in 1912. It was built in the ancient Russian style out of red bricks and with a central green dome. In 1931, not too long after it was opened, the church... Read more »
The red and green Zakabannaya Mosque gets its name as it is located across the Qaban Lake ("za Kaban") away from the majority of mosques in Kazan which are in the Staraya-Tatarskaya Sloboda. It is also known as the Millennium of Islam Mosque as it was built to... Read more »
11 Ulitsa Ulyanova-Lenina
The Intercession Old-Believers Cathedral was built between 1905 and 1909 after the law granting religious freedom was adopted in Russia. In style the cathedral is very similar to the nearby Our Lady of Kazan Old-Believers Church, but this church has extra domes which are black in colour. Today... Read more »
8 Katanovsky Pereulok
10:00 - 16:00. Closed on weekends.
In 1971 the Academics Aleksandr and Boris Arbuzov Memorial-Museum was opened in the wooden house where Aleksandr Arbuzov and his son Boris lived. The father and son were both famous chemists. Aleksandr is most famous for his work in the field of Organic Chemistry and the Michaelis-Arbuzov Reaction... Read more »
In the Staraya Tatarskaya Sloboda
In the Novaya Tatarskaya Sloboda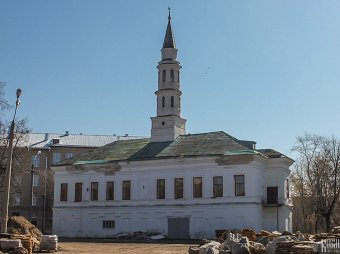 According to legend, after the 1552 conquest of Kazan, Tartar leaders who served under Tsar Ivan the Terrible requested that they be allowed to bury the Tatar dead in the Muslim manner. This was permitted and afterwards they placed a large boulder on the site so that it... Read more »
The Pink Mosque is located next to the terminal of a tram line in the Novaya Tatarskaya Sloboda. From its appearance it is unclear why it is called the Pink Mosque as now it is green in colour. It is also known as the Nizenkaya Bukhara Mosque after... Read more »
Ulitsa Mekhovschikov + Ulitsa Yul Uram
The Old Tatar Cemetery in the very south of the Novaya Tatarskaya Sloboda was created along with the new quarter itself in the mid-18th century. The cemetery serves as the final resting place for many famous Tatars, most notably Ğabdulla Tuqay, Qayum Nasıri, Salix Säydäş and Baqi Urmançe.... Read more »
North of the River Kazanka
Staroe Arakchino Platform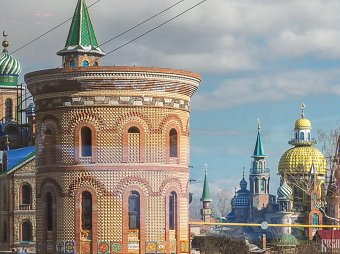 The Temple of All Religious is a unique architectural ensemble created by Kazan artist and philanthropist Ildar Khanov in 1992 to promote the peaceful coexistence of religions. The complex incorporates a mosque, orthodox church, Buddhist temple and a synagogue; in total it has 16 domes representing 16 world religions.... Read more »