Around the Golden Gates
Archangel Michael's Church was built in 1893 using the funds left for this purpose in the will of a local merchant. It is rather unusual among Vladimir's churches. Constructed out of red bricks, it takes the form of a tower church with a dome standing on top of... Read more »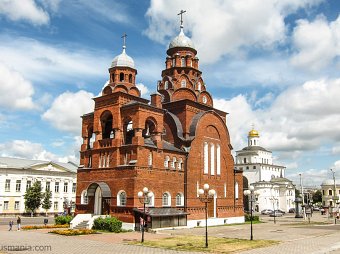 2 Ulitsa Dvoryanskaya
11:00 - 19:00. Closed on Tuesdays and the last Wednesday of the month.
The Trinity Old-Believers Church was completed in 1913 to commemorate the 300th anniversary of the reign of the Romanovs. It is built in the Russian revival style and is often called the red church due its colour. It was closed in 1928 and since 1974 has housed an... Read more »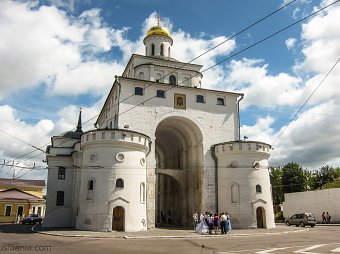 beginning of Ulitsa Bolshaya Moskovskaya
10:00 - 18:00. Closed on Thursdays and the last Friday of the month.
The Golden Gates were built between 1158 and 1164 on the orders of Andrey Bogolyubsky to serve as the main entrance into the city. Now the gates have become a symbol of the city. Originally the city was completely surrounded by earthen mounds and in addition to the... Read more »
Vladimir's only catholic church - the Holy Rosary Catholic Church - was built between 1892 and 1894 in the Russian gothic style. In 1930 the church was closed and during the Soviet period its bell tower was used as a radio transmitter and in the 1970s its building... Read more »
The Ascension Church dates from 1724 but a church dedicated to the Ascension of Christ has stood here since at least 1187. Then it was part of a monastery which was most likely founded by Andrey Bogolyubsky. In 1813 a bell tower was added in commemoration of the... Read more »
26 Ulitsa Nikolo-Galeyskaya
This church is called the St Nicholas' Galley Church to distinguish it from other churches dedicated to St Nicholas in the city. It is located where there was once a prier which is how it got its name from the type of trading ship which were used by... Read more »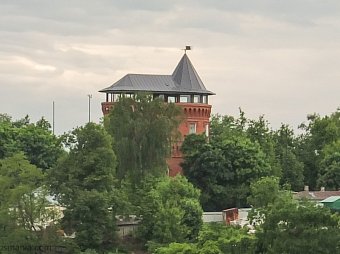 Ulitsa Kozlov Val
10:00 - 18:00. Closed on Mondays and the last Wednesday of the month.
Occupying four floors of an old water tower is the Old Vladimir Exhibition which has displays on the history of the city from the end of the 19th century to the beginning of the 20th century. The first floor concerns the city and its streets and buildings, the... Read more »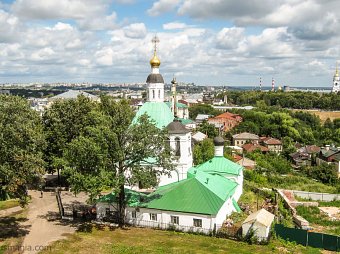 The church ensemble at Ulitsa Spasskaya comprises a cold church which is used in summer and a warm church which is used the winter. The Transfiguration of the Saviour Church is the ensemble's cold church. It was built in 1778 and is rather standard in style. Immediately next... Read more »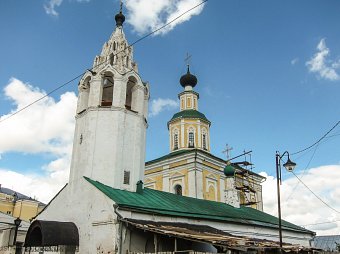 In 1157 Prince Yuri Dolgoruky had a church built here and dedicated it to his protector St George. However this version of the church burned down in 1778 and was replaced in 1796. The new version was built in the baroque style with a decorated cube structure with... Read more »
The Knyaginin Convent was first mentioned in 1200 and was founded around this time by Maria Shvarnovna who was the first wife of Grand Prince Vsevsolod the Big Nest of Vladimir. Its name is derived from the Russian word for princess ('knyagina') and the Russian word for the... Read more »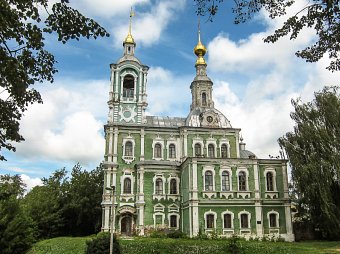 Located just outside the Knyaginin Uspensky Convent is St Nicetas the Martyr's Church, which stands out among Vladimir's churches due to its large scale. It comprises a three-storey building with a dome and a bell tower on top. It is also pretty in appearance coloured green with white... Read more »
Around Sobornaya Ploschad
Around Ulitsa Bolshaya Moskovskaya
Out of the Centre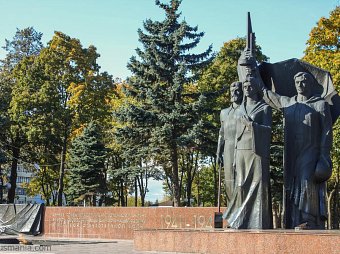 Ploschad Pobedy (intersection of Prospekt Lenina and Ulitsa Chaikovskogo)
Ploschad Pobedy (Victory Square) is off Prospekt Lenina and as you would expect from its name a war memorial is located here. The memorial was opened in 1967 and then only included the eternal flame and the memorial plinths. A statue of a mother, a soldier and a... Read more »
71A Ulitsa Bolshaya Nizhegorodskaya
Prince Vladimir's Church is a pretty yellow church dating from 1785. It is built in the 'ship' style with a small single domed structure attached to a bell tower via a closed vestibule. The church is located in Knyaz-Vladimirskoe Cemetery which was established in the 1770s after Catherine... Read more »
8 Konstantino-Yeleninsky Proezd
The Alekievsky Konstantino-Yeleninsky Monastery was founded in 1362 by Bishop Alexius (Aleksi) in the village of Dobry which has since been incorporated into the city of Vladimir. Bishop Alexius later went on to become Metropolitan of Kiev and All Rus (the first to move to Moscow) and a... Read more »