Around Bogoyavlenskaya Ploschad
25 Bogoyavlenskaya Ploschad
May-September: Territory - 08:00 - 20:00. Museums - 10:00 -18:00. October-April: Territory - 08:30 - 18:00. Museums: 10:00 - 17:30. Closed on the first Wednesday of each even month and museums closed on Mondays and other specific days.
It is not known exactly when the Spaso-Preobrazhensky Monastery was founded, but it is believed to date from the early 13th century, having been established by Prince Konstantin of Yaroslavl, shortly before construction work was started on the Transfiguration of the Saviour Cathedral. It was built on the... Read more »
Standing in the very centre of Bogoyavlenskaya Ploschad (Epiphany Square) surrounded by traffic is a statue of the city's founder - the 11th century Prince Yaroslavl the Wise. Yaroslav was Prince of Rostov when he founded Yaroslavl but went on to become Grand Prince of Kiev after he... Read more »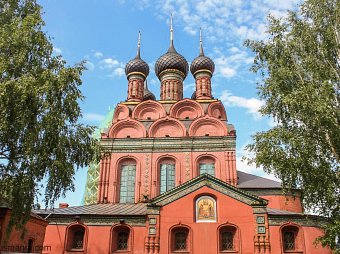 The Epiphany Church is another famous example of 17th century Yaroslavl architecture. It was built between 1684 and 1693 on the orders of local merchant Aleksey Zubchaninov. It was the first church in the city to be built without internal pillars. Built out of red bricks, it is... Read more »
Around the Zemlyanoy Gorod
Away from the Historical Centre
44A Ulitsa Uglichskaya
10:00 - 17:00. Closed on Mondays and Tuesdays.
Yaroslavl's Museum of Military Glory was opened in 1981 on the 40th anniversary of the formation of the Yaroslavl 234th infantry division and is a filial of the Yaroslavl Museum-Reserve. The museum is dedicated to the Soviet Victory during the Second World War and has on display weapons... Read more »
The Our Lady of Vladimir Church is often referred to as the church on the Bozhedomke from the Russian word bozhedom which literally means God's house and was a burial ground for homeless people and people who had drowned. The church was built between 1670 and 1678 and... Read more »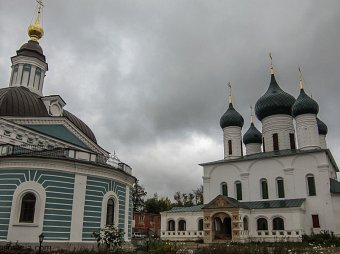 On Ulitsa Svobody there is a church ensemble comprising two churches: the Ascension Church which is used in summer months and the Presentation of the Lord Church which is used in winter months. The more impressive of the two churches is the Ascension church which was built between... Read more »
South of the River Kotorosyl
Tolga
In 1314 Bishop Propkhor (also known as Trifon) of Rostov founded the Tolgsky Monastery on the banks of the River Volga in the village of Tolga which has since been incorporated into Yaroslavl. It was founded on the site where an icon of the Virgin Mary and the... Read more »