---
  The souvenir of choice to bring back from Russia is of course a set of Russian dolls. However, when you come to Russia, you will notice that there is a wide range of souvenirs on offer. Russian souvenirs come in various forms. For example there are souvenirs from Imperial or Soviet times such as busks or portraits of tsars or of Lenin (even Stalin in more specialist places) or other antiques from these periods. Being rich in natural resources, Russia also offers a spectrum of products made from precious or semi-precious materials from special areas of the country, such as birch wood from Karelia, gems and stone from the Urals, diamonds from Yakutsk or even bone and tusk carving from Russia's Far North.
  Another group of Russian souvenirs are the various forms of traditional handicrafts which have been made for generations in particular cities. These souvenirs make great gifts, but in many cases the places where they are made also serve great places to visit, as here you can see the souvenirs being made for yourself and learn about the art from. Plus you will have a wonderful, authentic souvenir at the end of the trip, often of a quality and at a price better than you will find in Moscow or St Petersburg.
  In this article we have tried to bring together the most popular traditional handicrafts which you can either find at souvenir markets to bring home, or you can go the extra step and visit the place where they have historically been produced. Trips to all these destinations can be organised for you by RusMania, and many of the places can be visited on a day tour from Moscow.
---
RUSSIAN DOLLS FROM SERGIEV POSAD AND ALL OVER RUSSIA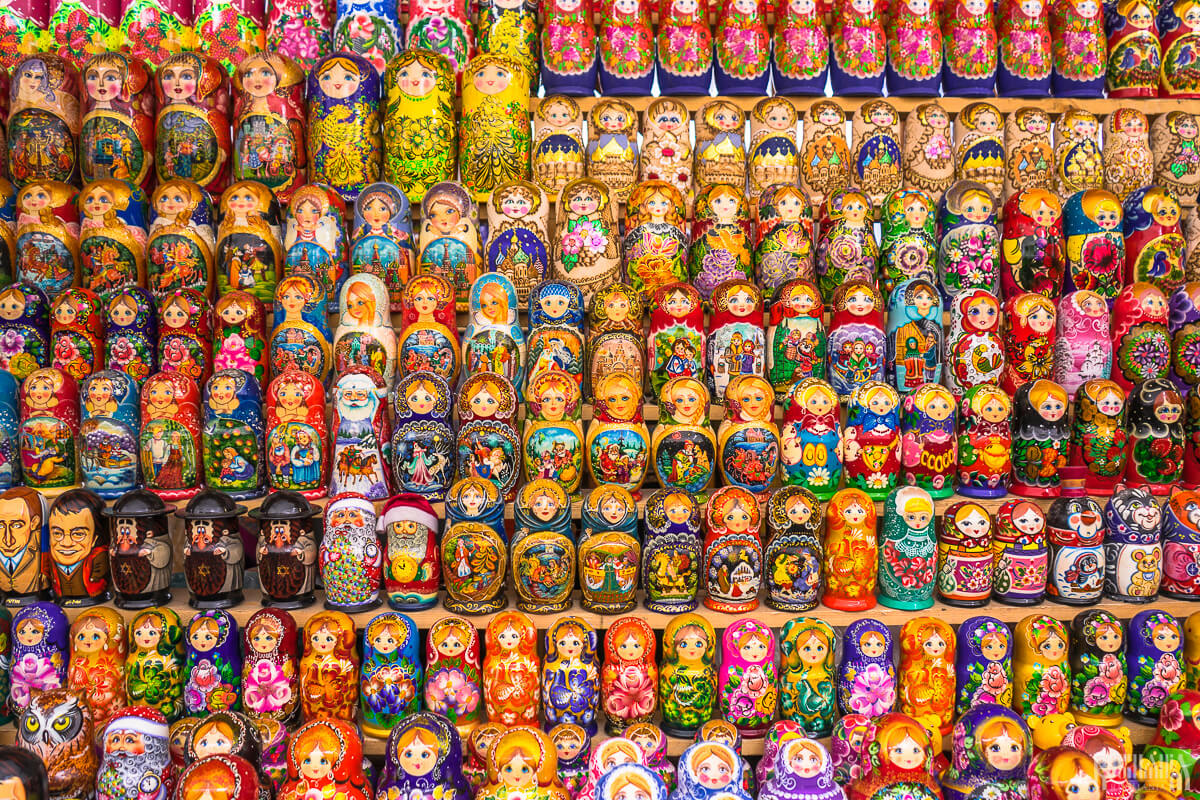 Russian dolls are the most famous souvenir from Russia, and indeed a symbol of Russia. They consist of a set of wooden dolls (anywhere between three and even 50 or more!) in decreasing sizes which nest inside each other. In Russian they are known as matryoshka dolls. It is believed the first set was made in 1890 by the craftsman Vasily Zvyozdochkin and painted by the artist Sergey Malyutin, inspired by a set of similar dolls from Japan.
  Russian dolls were displayed at a World's Fair in Paris in 1900 where they enjoyed great popularity. The rest is history and today if you are visiting Russia, you will probably be asked by friends to bring a set home. Malyutin later worked in Sergiev Posad and so the city subsequently became a centre for their production. Today Sergiev Posad also has an exhibition dedicated to Russian dolls and examples can also be seen in the city's Toy Museum. Traditionally the dolls depict a Russian peasant woman in a shawl, but now you can find all sorts of designs including Russian Presidents, sport teams, Russian artists, Russian fairytales, cartoon characters, folk art, and whatever else you can imagine! You can even have sets created to depict your own family. Sergiev Posad can be visited on a day tour from Moscow.

CARVED WOODEN TOYS FROM BOGORODSKOE

  The village of Bogoroskoe, just outside Sergiev Posad in the Moscow Region, like Sergiev Posad itself, has since at least the 15th century been a centre for making toys out of wood. The toys often feature animals, such as bears or cockerels, which have moving parts when the weight beneath the toys is rocked and be can painted or left natural.
  In the 17th century the toys were being made on a large scale and some examples were bought by the royal family when visiting the Troitse-Sergieva Lavra in Sergiev Posad. In the 1920s the craftsmen and women were organised into an artel, which today exists as the Bogorodskoe Factory which still makes wooden toys. The factory also has a museum which can be visited on organised tours. Examples of Bogorodskoe toys can also be seen on display at the Toy Museum in Sergiev Posad.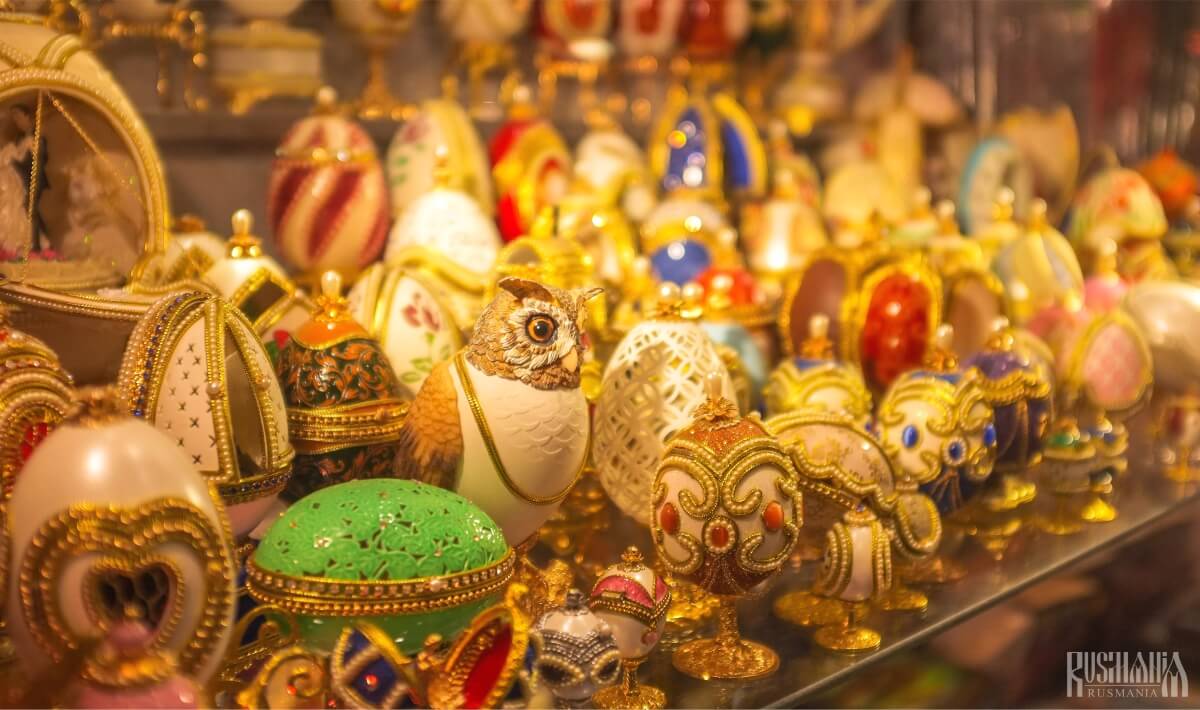 A more extravagant gift you can bring back from Russia is a Fabergé Egg. The eggs are crafted out of a precious metal and then decorated with jewels and often feature a hidden surprise inside. They have now become a Russian symbol synonymous with the wealth and luxury of the Romanov dynasty.
  The first jewelled egg was created by goldsmith Peter Carl Fabergé in 1885 for Emperor Alexander III who gave it to his wife as an Easter gift. The House of Fabergé would go on to make approximately 50 Eggs, most for Alexander III and Nicholas II. Of these 43 have survived and they can now be found in various collections, including the Fabergé Museum in St Petersburg, the Kremlin Armoury in Moscow and the royal collection of Queen Elizabeth II. Today the Fabergé trademark is owned by Faberge Limited which still makes egg-themed jewellery.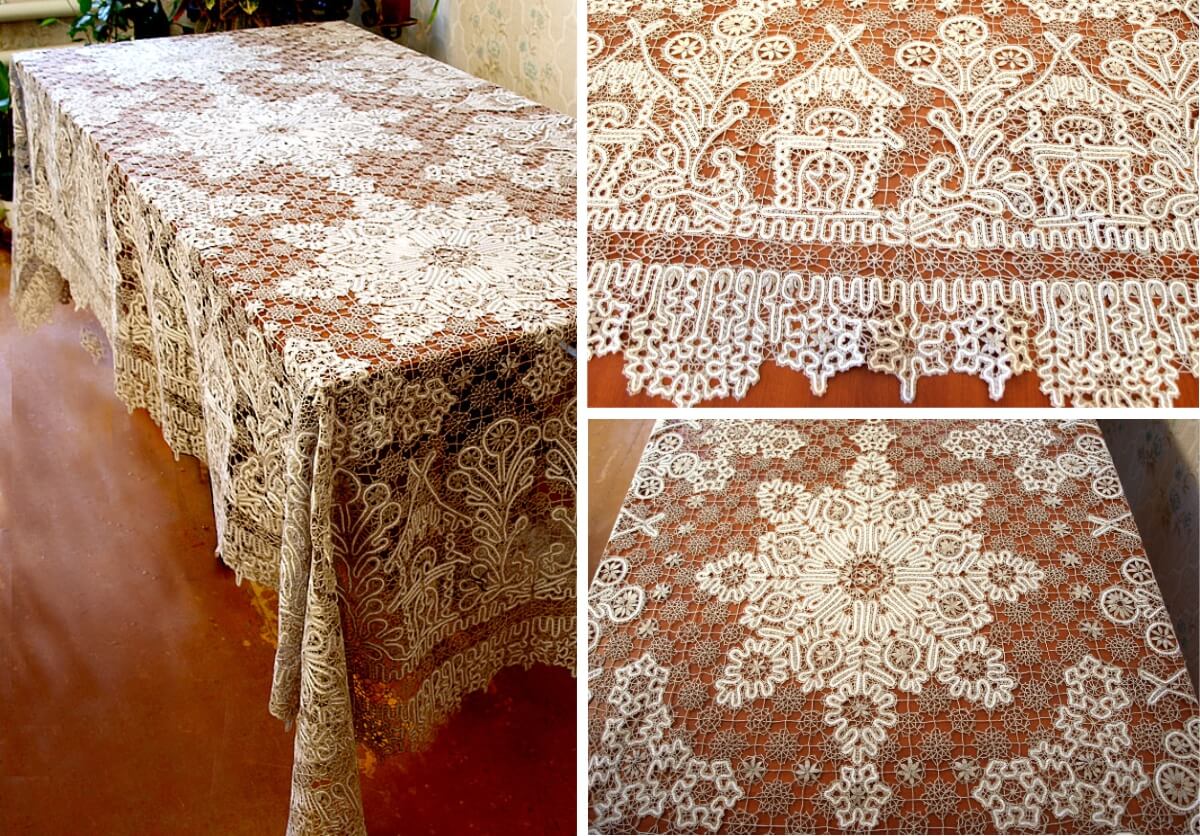 Russia has been producing lace for centuries and the specific type of lace made in Russia using a bobbin with patterns crocheted on has become known as Russian Lace. Many places in Russia make this lace but the two most famous centres for lace production are in Vologda and Yelets.
  The manufacture of lace in the Vologda Region most likely came about due to the region's abundance of flax and the developed trading links. By the early 19th century, many landlords had their serfs engaged in the production of lace. The industry in Yelets in the Lipetsk Region came about at around the same time as in Vologda. The lace produced here tends to be finer and lighter than Vologda lace. Today Vologda has a whole museum dedicated to its lace, while in Yelets the local Museum of Trades and Handicrafts has a section dedicated to the craft.

FRUIT PASTILLES FROM KOLOMNA AND BELYOV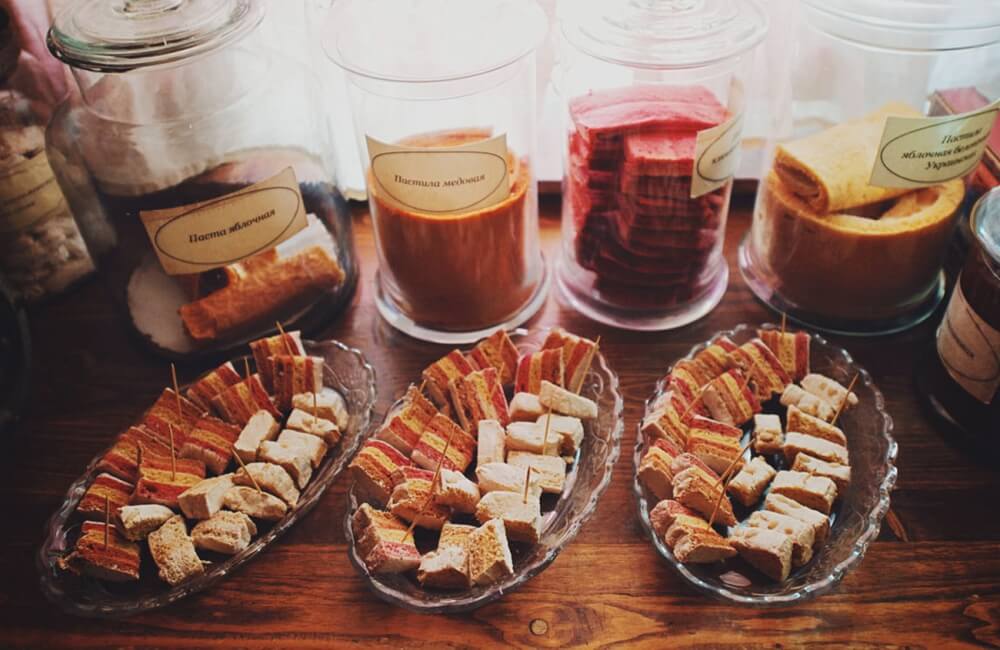 One sweet treat from Russia comes in the form of fruit pastilles traditionally made to a special recipe in the city of Kolomna just outside of Moscow. In the past there were so many apple orchards in Kolomna that the city would have too many apples to eat and so they were used to make sweet apple-flavoured pastilles.  Over time Kolomna's fame for these pastilles spread all over the Russian Empire. Today these treats are still enjoyed in Russia and in Kolomna there are two museums dedicated to their production.
  The city of Belyov in the Tula Region is also famed for its fruit pastilles, which were first made here on an industrial scale in the late 19th century. Belyov pastilles differ from Kolomna pastilles as they are usually layered.

CERAMICS FROM GZHEL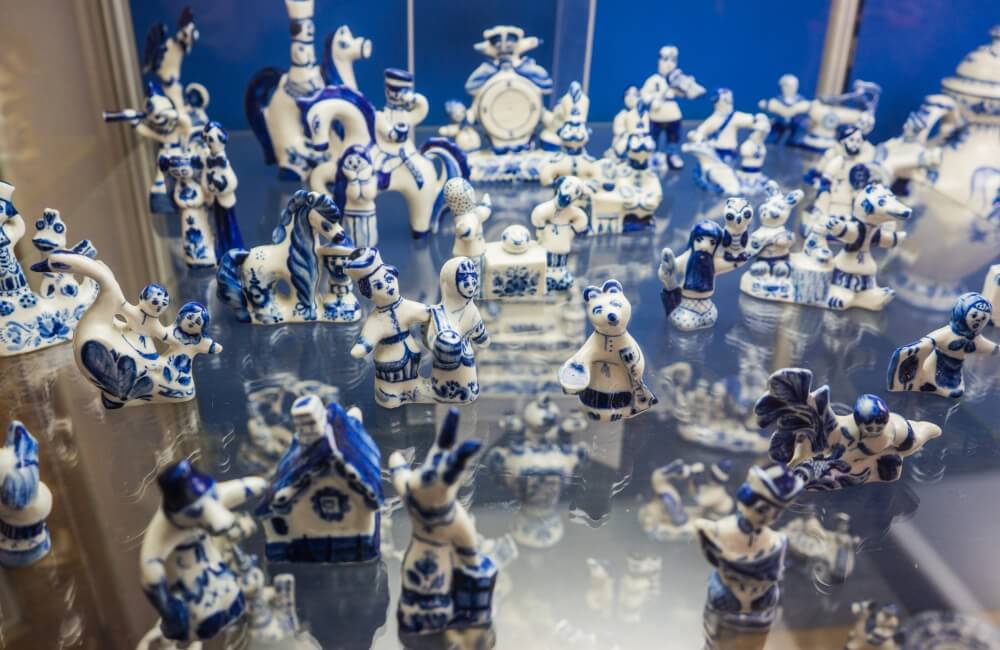 Ceramics have been being made from the clay found in and around the village of Gzhel, close to Moscow, since the 14th century. At first the potters worked alone but over time they began to enter into associations and then the various factories which still exist today were established. The ceramics are made by pumping clay into moulds. This is then fired in a kiln before being painted and glazed and then fired again. Although not always the case in the past, today Gzhel ceramics are characterised by their white and blue colours, created using cobalt.
  Today these factories have museums displaying their work and also offer guided tours and master classes so you can see how it is made and then try your own hand at making it. Gzhel can be visited on a day tour from Moscow.

PAINTED TRAYS FROM ZHOSTOVO
  In the 19th century the village of Zhostovo in the Moscow Region became well known for the production of metal trays. However these are not ordinary trays, but elaborately decorated ones. The metal trays are first coated with priming and then covered in a black oil varnish. On top of this a pattern (traditionally flowers, but also scenes of nature or Russian fairy tales) are painted on using a soft brush and oil paints diluted with linseed oil. It is possible to visit a factory in Zhostovo to see how the trays are made for yourself on a day trip from Moscow.

PAINTED TABLEWARE FROM KHOHLOMA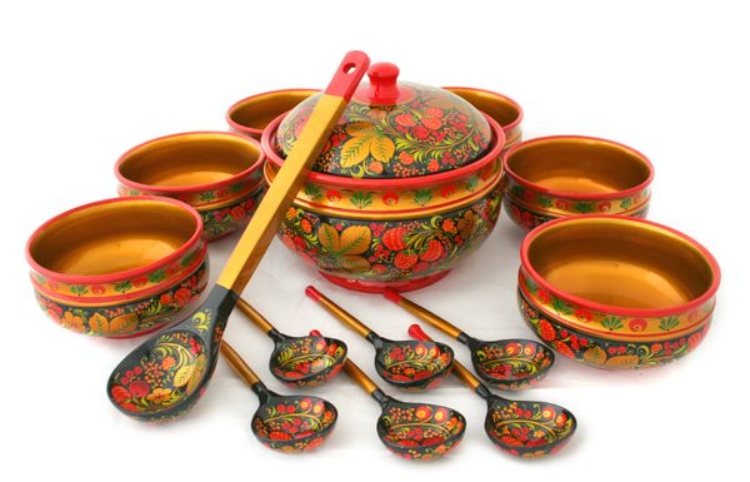 In the mid-17th century certain handmade goods being created in Khokhloma, a village in the Nizhny Novgorod Region, came to wider attention. It was mentioned how the items of tableware were carved out of wood and then primed with clay, linseed oil and tin powder before being hardened in a kiln. The result was then painted with floral patterns in red, black and gold paint. One theory as to how the craft first started is that Old-Believers hiding out in forests around Khokhloma used these techniques to make it appear that the items were made out of something more substantial than wood and that gold was actually used in their decoration.
  In the Soviet times groups of craftsmen were organised into artels, and then two factories were established, one in Khokloma itself and one in the nearby city of Semyonov. The factory in Semyonov still operates and Kholoma crafts and many Russian dolls are still created. You can even visit as part of a tour and try your own hand at decorating a Russian doll in a master class. There are also a museum and a large shop dedicated to Khokhloma crafts in the city.

SHAWLS FROM PAVLOVSKY POSAD AND ORENBURG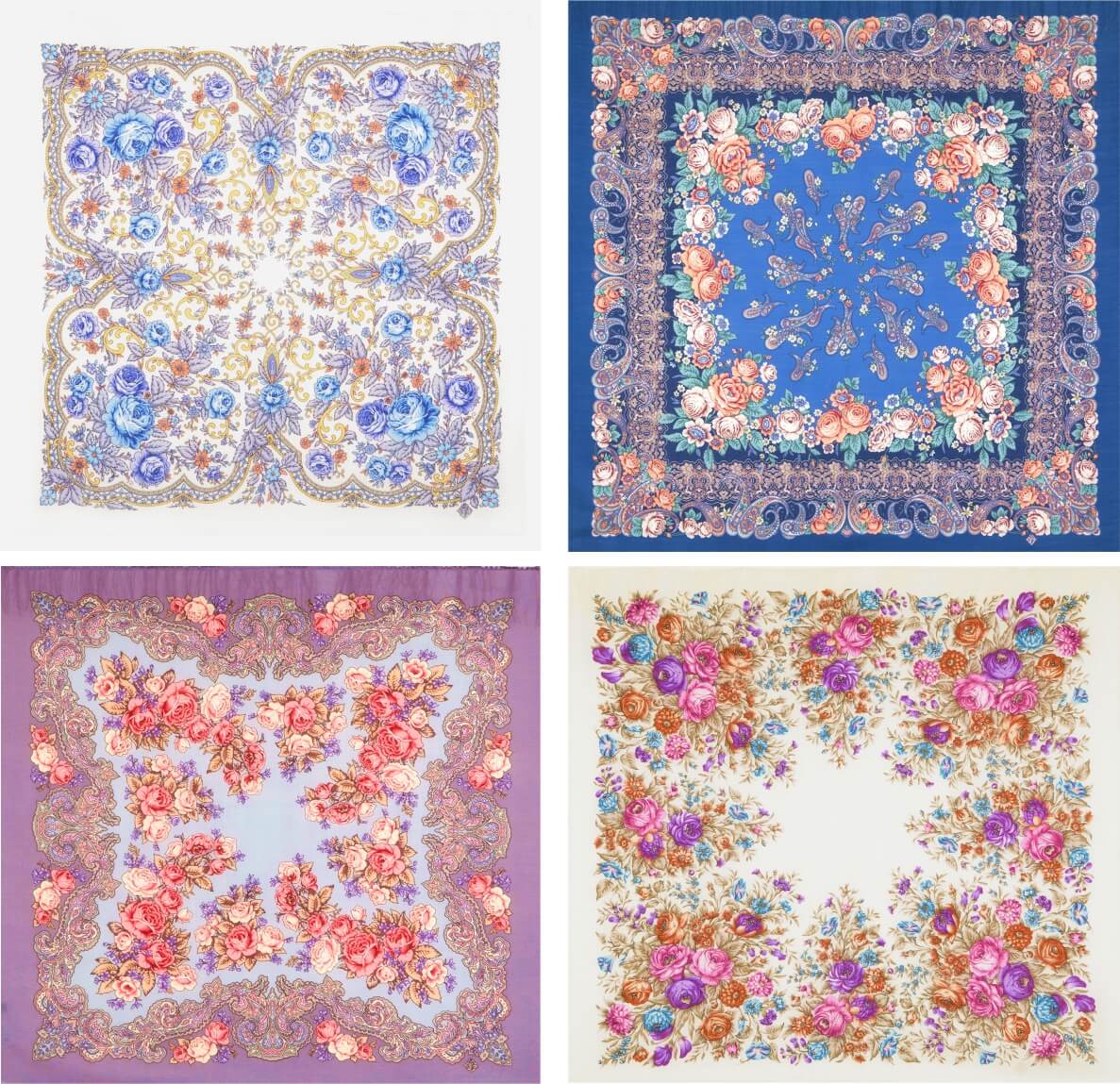 In Russian Orthodox churches women should cover their heads with shawls and so women tourists visiting churches may wish to purchase a traditional Russian shawl. Russian shawls come in many designs but there are two main centres of shawl making in Russia: Pavlovsky Posad and Orenburg. The shawls from Pavlovsky Posad in the Moscow Region were first made by artisans involved in the textile trade which was thriving in the region. The shawls are characterised by their depiction of flowers, predominantly roses and dahlias.
  The first enterprise specialising in shawl production was organised at the end of the 18th century and the shawls obtained further fame in the late 19th century thanks to the patronage of Grand Duchess Aleksandra Petrovna and awards at the Nizhny Novgorod Fayre. The factory still manufactures shawls today. Pavlovsky Posad can be visited on a day tour from Moscow. Orenburg shawls differ from Pavlovsky Posad shawls as they are made out of lace created using a yarn of silk and goats wool. The test of a real, high-quality Orenburg shawl is whether you can pass it through a wedding ring, despite its rather large size.

CLAY TOYS FROM DYMKOVO, FILIMONOVO AND KARGOPOL

  Many places in Russia still make traditional toys out of clay but the most famous examples of these come from Dymkovo, Filimonovo and Kargopol.  Toys made out of a mix of clay and sand have been made for centuries in Dymokovo just outside of Kirov, Filimonovo in the Odoev District of the Tula Region and in Kargopol in the Arkhangelsk Region.
  The technique for making the toys are similar and they all depict figures and animals, as well as whistles in the form of birds. However the decorations differ somewhat. Toys from Filimonovo are painted in bright colours (crimson, green and yellow), and often feature stripes. Similarly Dymkovo toys are bright in colour but without the distinctive stripes of Filimonovo toys. Kargopol toys on the other hand feature more natural colours.

SAMOVAR FROM TULA

  The samovar is a metal container used to boil water and it traditionally serves as the centrepiece of tea drinking. Its name literally translates as 'self-boil'. Originally they were heated by coal or wood, but now electric ones are more common. On some models there is a place for a teapot containing highly concentrated tea to which boiling water is added from the samovar.
  The city of Tula had long been a centre for metalworking and arms manufacturing and the first mass production of samovars began there. Today the city is still famous for the production of samovars, so much so that there is a Russian proverb of 'to travel to Tula with one's own samovar', the equivalent of 'taking coals to Newcastle'. In the city there is now a museum dedicated solely to samovars. Tula can be visited on a day tour from Moscow.

GINGERBREAD FROM TULA
  In addition to samovars, Tula is also famous for making a spiced gingerbread called a pryanik, which have been being made in the city (and several other Russian cities) since the 17th century. The bread is made in a mould to give it a pattern or to form a shape and inside it is filled with jam or condensed milk. They come in all shapes and sizes, and even giant commemorative ones have been made on special occasions. Pryaniks are still made in Tula and the city also has a museum dedicated to them. Tula can be visited on a day tour from Moscow.

FINIFT ENAMEL PAINTING FROM ROSTOV VELIKY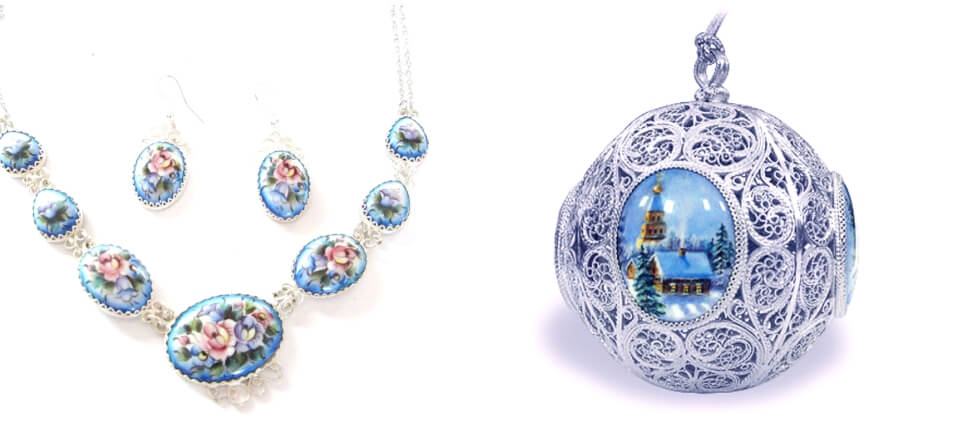 The craft known as finift involves painting plates of metal covered with layers of enamel and it has been being practised from at least the 18th century in the city of Rostov Veliky in the Yaroslavl Region. The technique which was inherited by and further developed in Rostov was invented by a French jeweller in 1632, who first worked out the secrets of enamel painting. The colours in the paint are painstakingly achieved by adding chemical elements which are then fired in a kiln at specific temperatures.
  By the end of the 18th century the first workshop of miniature painters was organised in Rostov's Spaso-Yakovlevsky Monastery and the artwork it produced gained fame across the whole of Russia. Over time Rostov finift developed its own expressive style more reminiscent of baroque rather than the traditions of icon painting. A wide range of scenes are created in this manner, including portraits, landscapes and fairy tales and many examples can be seen on display at an exhibition in the Rostov Kremlin. In addition you can also visit the factory in Rostov where finift is still produced and even have a go making it yourself at a master class there. Rostov can be visited on a day tour from Moscow.

LACQUER BOXES FROM PALEKH, KHOLUY, FEDOSKINO AND MSTYORA
  Another traditional Russian souvenir are small, decoratively painted boxes made out of papier-mâché, often featuring landscapes or personages from Russian literature or fairy tales. The most famous of these boxes are made in Palekh in the Ivanovo Region where the art form developed from icon painting into an artel in the 1920s. However other important centres of the craft are in Kholoy in the Ivanovo Region, Mstyora in the Vladimir Region and Fedoskino in the Moscow Region.
  Although similar in style, the various centres do have some distinctive elements and colour schemes: Palekh designs are predominantly red, Kholoy tends to have greeny-blue and browny-orange hues, Mstyora features gold and other warm colours, whereas Fedoskino prefers  silvers, blues and whites and uses oil paints.

---
---