Around the Kremlin
Aleksandrovsky Gardens
The gardens next to Manezhnaya Ploschad are known as the Aleksandrovsky (Alexander) Gardens. The gardens were laid out between 1819 and 1823 by the architect Joseph Bové on the orders of Emperor Alexander I after whom they are named.
---
Tomb of the Unknown Soldier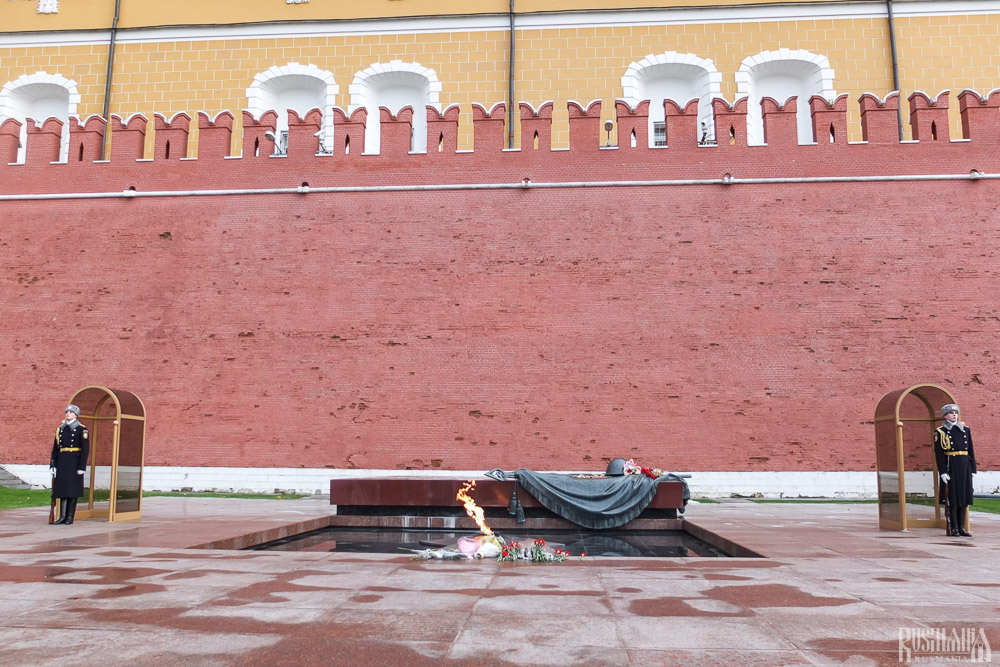 At the start of Aleksandrovsky Gardens is Russia's main Tomb of the Unknown Soldier, dedicated to all the Soviet soldiers killed in the Second World War. The tomb is decorated with a sculpture of a helmet, a laurel branch and a banner. In front of this there is an eternal flame and the inscription 'Your name is unknown, but you feat immortal". Soldiers from the Kremlin Regiment guard the tomb, which is considered Post No. 1 - the most prestigious post which was previously considered to be Lenin's Mausoleum. These guards are changed in a ceremony which takes place on the hour. Next to the memorial are 12 blocks for the other 11 Hero-Cities and the Hero-Fortress of Brest. After this there is a plinth engraved with the name of Cities of Military Glory.
---
Other Monuments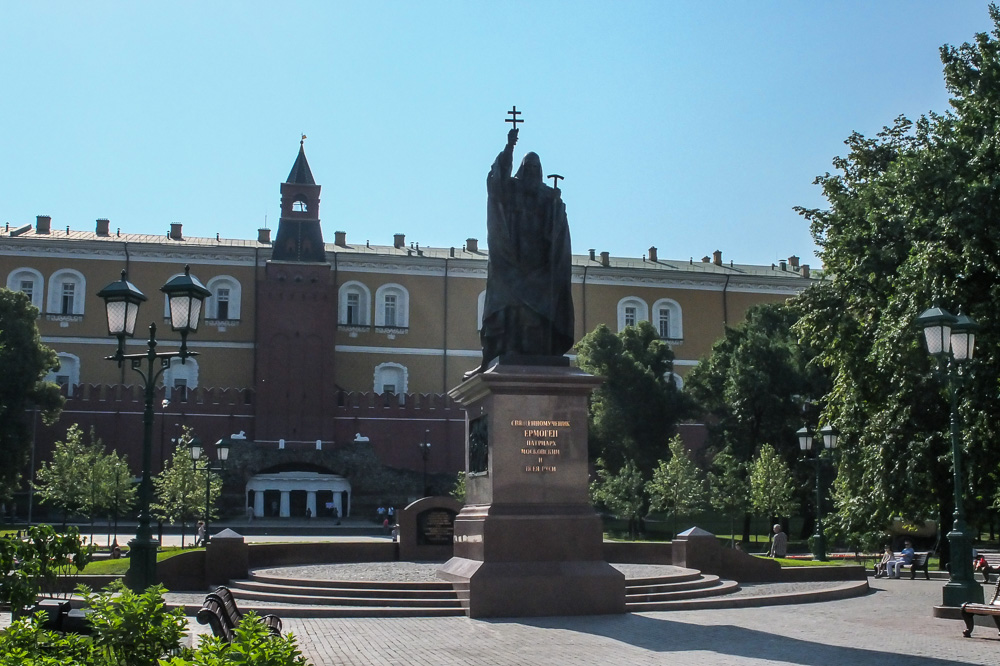 In addition to the natural surroundings several monuments are also located in the gardens. Next to the Tomb of the Unknown Soldier is an obelisk which was originally dedicated to the 300th anniversary of the House of Romanov but was then rededicated after the Revolution as the Obelisk to Socialist and Communist Thinkers, before being once again rededicated to the Romanovs in 2013 for the 400th anniversary. Next to the obelisk is the Grotto which was built using rubble left by Napoleon's attempt to blow up the whole Kremlin. More modern monuments in the gardens include the horses and the Russian fairy-tale characters in the fountains by the Okhotny Ryad Shopping Centre - the work of the sculptor Zurab Tsereteli.  The newest statue in the gardens is of Patriarch Hermogenes who was killed during the Times of Troubles after inspiring a popular uprising.
---
| | |
| --- | --- |
| Location | next to Manezhnaya Ploschad |
| Metro | Okhotny Ryad, Aleksandrovsky Sad |