17th-19th Centuries
Ilinskaya Sloboda and Aleksandrovskoe
  Prokhorovka was first founded as Ilinskaya Sloboda by Kirill Ilinsky, a Polish nobleman, during the Russian-Polish War of 1654-1667. It was later renamed Aleksandrovskoe in the 1860s, after Emperor Alexander II. In the 1880s a station on the Kursk-Kharkov-Azov railway line was opened near to Aleksandrovskoe. The surname of the engineer responsible for building the station was Prokhorov and so this name was given to the station and the surrounding area.
---
20th Century
Battle of Prokhorovka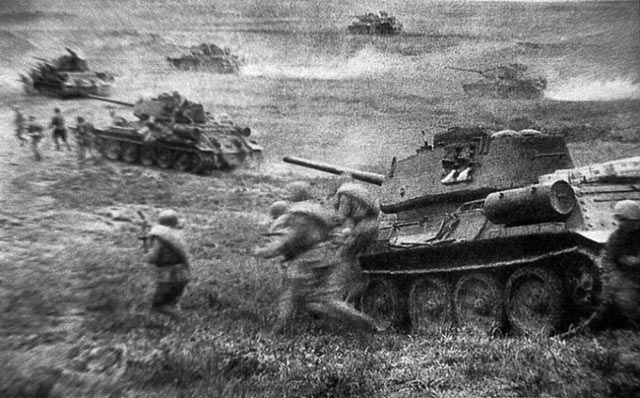 Prokhorovka became world famous due to the significant battle fought here during the course of the Battle of the Kursk Salient in the Second World War. Under Operation Citadel, the Nazis intended to encircle the Soviet troops in the Kursk Salient. In the north, Nazi forces were held near Oryol, but they had more success in the south. To stop the Nazi advance the Soviets were forced to unleash their reserves in a counter-offensive. The clash between German and Soviet air force and tank divisions took place on 12 July 1943.
  The Battle of Prokhorovka was the largest tank battle of the Second World War, with over 1200 tanks and self-propelled guns taking part. Although the Soviets suffered great losses of both men and equipment, far greater than the German losses, Hitler was eventually forced to call off the offensive. The fact that the Soviets were not beaten in the battle proved to be a great victory for the morale of the Red Army. From this point onwards the initiative lay with the Red Army which would go on to launch larger offensives against the Nazis and drive them out of Soviet territory altogether.
---
Prokhorovka Field State Military and Historical Museum-Reserve
  After the war, Aleksandrovskoe grew to incorporate Prokhorovka station. In 1968 the settlements were officially merged as the urban-type settlement of Prokhorovka. In 1995 the Prokhorovka Field State Military and Historical Museum-Reserve was established. Today the museum-reserve includes a church complex and the 'Third Battlefield of Russia' Museum of Military Glory. In 2000 the Unity Bell monument dedicated to the unity between the three Eastern-Slavic nations was unveiled in the museum-reserve in the presence of Patriarch Alexius II, President Alexander Lukashenko of Belarus, President Vladimir Putin of Russia and President Leonid Kuchma of Ukraine.