Weekend trip to Vladimir and Suzdal
 WEEKEND TRIP TO VLADIMIR AND SUZDAL
  If you have two days to spare whilst in Moscow, one of the best options is to visit Vladimir, Bogolyubovo and Suzdal. All three are located on the Golden Ring route and represent the heart of the mediaeval Russian state known as the Vladimir Grand Principality.  Many sights here are now protected by UNESCO as the White Stone Monuments of Vladimir and Suzdal. You can manage to visit all three places in two days, but could also easily add on another day if you want to be able to enjoy some time relaxing as part of your visit. Vladimir has good transport links with Moscow and with Suzdal and Bogolyubovo.

OVERVIEW

| | |
| --- | --- |
| Distances | 220km Moscow to Vladimir; 23km Vladimir to Suzdal |
| Total time on train | approximately 3½ hours (Sapsan: Moscow to Vladimir return) |
| Total time on bus | 1-1½ hours (Vladimir to Suzdal return); 30 minutes (Vladimir to Bogolyubovo return) |
| Accessibility for foreigners rating | 4/5 - well-established root for foreign tourists, staff at some hotels/guesthouses should speak English |

DAY 1 | VLADIMIR (AND BOGOLYUBOVO)


GETTING TO VLADIMIR

  The easiest way to get to Vladimir from Moscow is to go on a high-speed train. There are two high-speed trains: the Strizh and the Lastochka. Both run between Moscow and Nizhny Novgorod. The trains leave from Moscow's Kursky Railway Station (from the left side of the station and not the right side from where most suburban trains leave) and take around 1¾ to 2 hours. The cheapest of the these trains is the Lastochka and the most expensive is the Strizh. Tickets should be booked in advance of your trip. A cheaper alternative is to get a standard suburban train from Kursky Railway Station to Vladimir, but these take around 3 hours. Buses to Vladimir also leave frequently from close to Kursky Railway Station, but these can take up to 4 hours if the traffic is bad.

MAIN SIGHTS IN VLADIMIR

  Once in Vladimir you should go to see the city's main attractions - the UNESCO-protected Dormition Cathedral, St Demetrius' Cathedral and the Golden Gates, these are all located close to each other around Sobornaya Ploschad (Соборная площадь) on Moskovsky Prospekt (Московский проспект).
  They are within walking distance from the railway station. Another place worth visiting is the Knyaginin Convent which is also not far from Moskovsky Prospekt. In total you would need about 4 to 6 hours to see the main sights of Vladimir, including time for lunch. More information about Vladimir can be found on our Vladimir pages.

TRIP TO BOGOLYUBOVO

  If you have enough energy and time it is worth also visiting Vladimir's neighbouring settlement of Bogolyubovo. To do so you should get bus No. 18, No. 103, No. 126 or No. 152 from Vladimir's main road - Moskovsky Prospekt (Московский проспект). There should be a bus around every 20 minutes and it takes about 15 minutes to get to Bogolyubovo. The stops are anounced in Russian but you should be ready to get off the bus when you see the Bogolybsky Monastery's white bell tower and cathedral with blue domes. You can have a look around at the monastery which includes ruins of Grand Prince Andrey Bogolyubsky's Palace. Afterwards walk pass the monastery in the same direction as the bus was heading and turn right at the first turn, cross the bridge over the railway tracks and walk to the Intercession Church on the Nerl - a simple but stunningly beautiful UNESCO-protected 12th-century church. In total it is about a 1km walk. In all you need about an hour or maybe two in Bogolyubovo. There isn't really anywhere to eat in Bogolyubovo so you should eat in Vladimir beforehand.  More information about Bogolyubovo can be found on our Bogolyubovo pages.

GETTING TO SUZDAL

  After you have seen the church and the monastery you should return to Vladimir Bus Station, which is opposite to Vladimir Railway Station, to get a bus to Suzdal. Buses to Suzdal leave about every hour and take around 30-40 minutes.
  You can buy tickets online at http://www.biletnaavto.ru/, but the site is only in Russian; in any case there should be tickets available on the day of travel. You can also get a taxi to Suzdal and if there are four of you the price will be reasonable. However beware of dishonest taxi drivers trying to make a quick rouble from tourists – a one-way trip should cost around RUB 1000.

ARRIVAL IN SUZDAL

  Suzdal Bus Station located in the outskirt of the city - about 1.5 km from the city centre. Buses normally stop at Suzdal Bus Station for 5 minutes and then go on to the centre. The main square is called Torgovaya Ploschad (Торговая Площадь) which means Trading Square and there are usually lots of souvenirs stalls here. In the remaining part of the day you can find your guesthouse and then just relax in the city, maybe try a traditional Russian banya or a glass of local medovukha (mead), or have a walk around.
---
DAY 2 - Suzdal (and Kideksha)

MAIN SIGHTS IN SUZDAL

  Suzdal is a relatively small city and it is not difficult to walk around the city to see most of the sights. The main road in the city is Ulitsa Lenina which runs north across the whole city.
  Most of the sights of Suzdal are located either on or just off this road, including the two main sights: the Suzdal Kremlin in the south and the Spaso-Yevfimiev Monastery in the north. You should definitely visit both of these sights on your second day. Another recommendation is the Museum of Wooden Architecture which is close to the kremlin. In addition there is practically an old church on every street. 
More information about Suzdal can be found on our Suzdal pages.

TRIP TO KIDEKSHA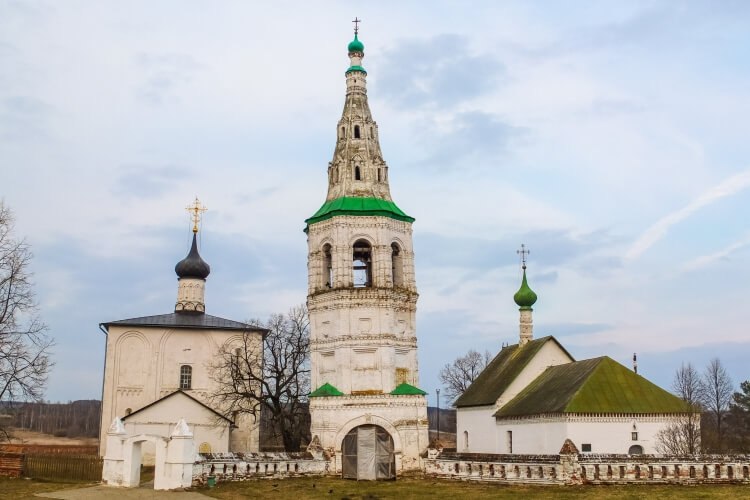 Just outside of Suzdal is the village of Kideksha which is famous for its Ss Boris and Gleb Church which is one of the oldest white stone churches in Russia, dating from 1152. To get to Kideksha you need to walk 3km from the bus station along the road with is the continuation of Ulitsa Vasilievskaya after the crossroads outside the bus station. Keep on walking straight ahead until you get to the church.

RETURNING TO MOSCOW

  To get back to Moscow you need to get a bus back to Vladimir from where you can get a high-speed train back to Moscow in the evening. The last high-speed train back is around 21:00. Tickets should be booked in advance of your trip.

SOUVENIRS

  Suzdal is famous for its medovukha (mead) which is an alcoholic drink made out of honey. It can be drunk either hot or cold, meaning it perfect in both summer and winter, and you will find it on practically every menu in the city. There are various flavours of the drink available and even a non-alcoholic version. In addition to medovukha, you can find all traditional Russian souvenirs in the city and there is a big souvenir market on Torgovaya Ploschad.
  In Vladimir there is no special market for souvenirs, but you will be able to buy traditional Russian souvenirs in the city's many souvenir shops or at museums. Vladimir also has a tourist information office which is located at 19A Ulitsa Bolshaya Moskovskaya (ул. Большая Московская улица, д.19а).
---
►  Routes ►  Principal routes ►  Golden ring of Russia ► Weekend trip to Vladimir and Suzdal