Around the Island
Bogoroditse-Uspensky Monastery
The Bogoroditse-Uspensky Monastery was founded in 1555 and its first archimandrite was the monk German who was later canonised as St German. In 1592 St German was laid to rest in the monastery and his tomb became its most sacred shrine. The monastery was mainly established for missionary work to convert the various peoples of the newly conquered Kazan Khanate to Orthodoxy and religious books were printed at the monastery and countless baptisms were performed here.
Through the 15th and 18th centuries the monastery was the richest in the Volga region and in 1764 it was elevated to the highest class of monasteries. The monastery's fortunes however started to decline after the secularisation policies of Catherine the Great, during a period when the city of Sviyazhsk itself was in decline. In 1918 Bishop Ambrosi, who was the monastery's archimandrite, was executed by the Red army. The monastery was subsequently closed and used as a youth prison colony and then as a Gulag camp. In the 1950s the monastery's buildings were then used as a psychiatric hospital. The hospital remained here until 1994 and in 1997 the complex was returned to the Orthodox Church. Since then large-scale restoration work has been taking place to return the monastery to its former glory.
---
Dormition Cathedral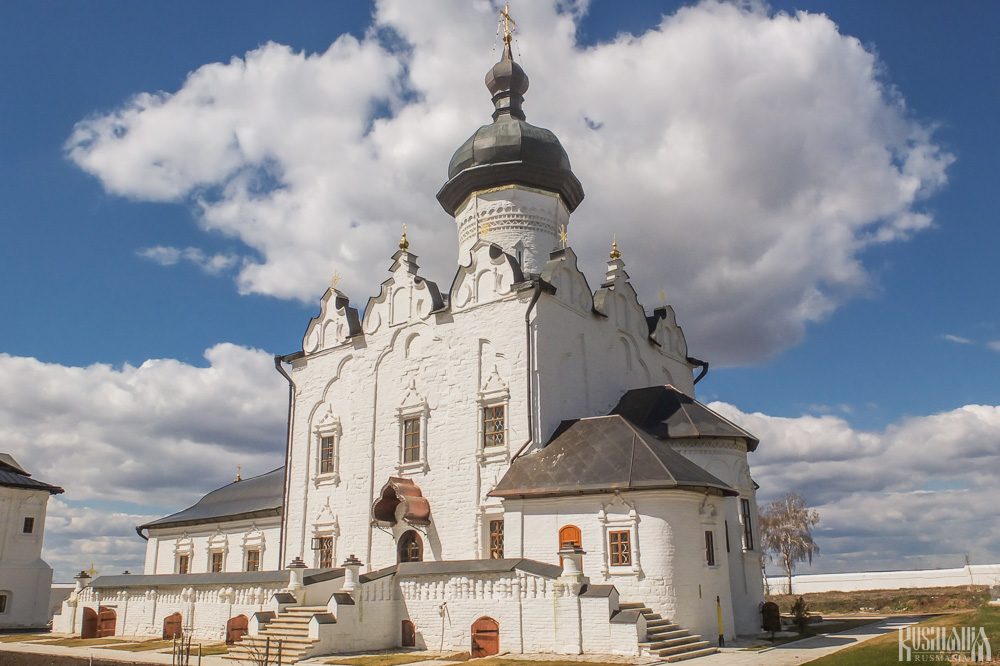 The monastery's main cathedral is the Dormition Cathedral which was built between 1556 and 1561. The white stone cathedral was built in the ancient-Russian style by masters from Pskov and Novgorod - possibly by Postnik Yakovlev who is considered the architect behind St Basil's Cathedral on Moscow's Red Square. In the 17th century a refectory was built on and in the 18th century baroque details were added including a new dome and 12 patterned kokoshniks. The cathedral's frescos dating from the 1560s have survived and have been restored, although its iconostasis is now to be found in Moscow's Pushkin Museum of Fine Arts.
---
St Nicholas' Church
Next to the Dormition Cathedral is St Nicholas' Church which is the oldest surviving structure in the monastery having been built between 1555 and 1556. The church incorporates a four-tier 43-metre bell tower. Inside the church is the monastic cell of St German where his relics were housed until the beginning of the 20th century.
---
Walls and Auxiliary Buildings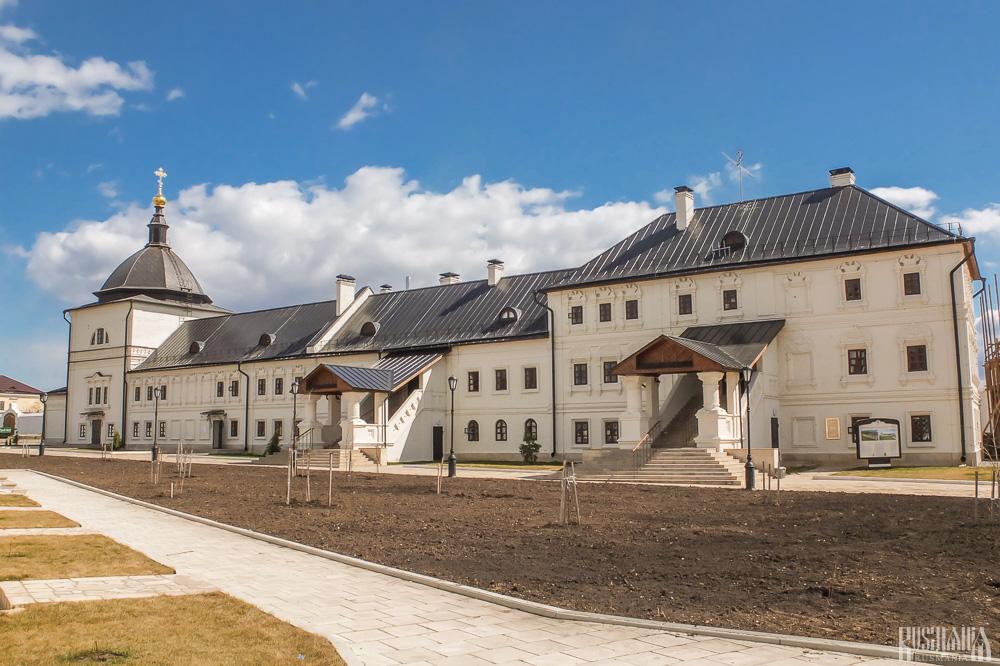 The monastery is surrounded by almost a kilometre of walls which were built in the 18th and 19th centuries. Built onto the southern walls are the early-18th century Ascension Gate-Church, the Archimandrite's Chambers and the Monastery School. Nearby are the Monks Quarters which includes at its eastern end Ss German of Kazan and Mitrofan of Voronezh's Church dating from the late 18th century.
| | |
| --- | --- |
| Location | Ulitsa Uspenskaya |
| Website | http://swmonastir.wix.com/ru |