Transport in Naberezhnye Chelny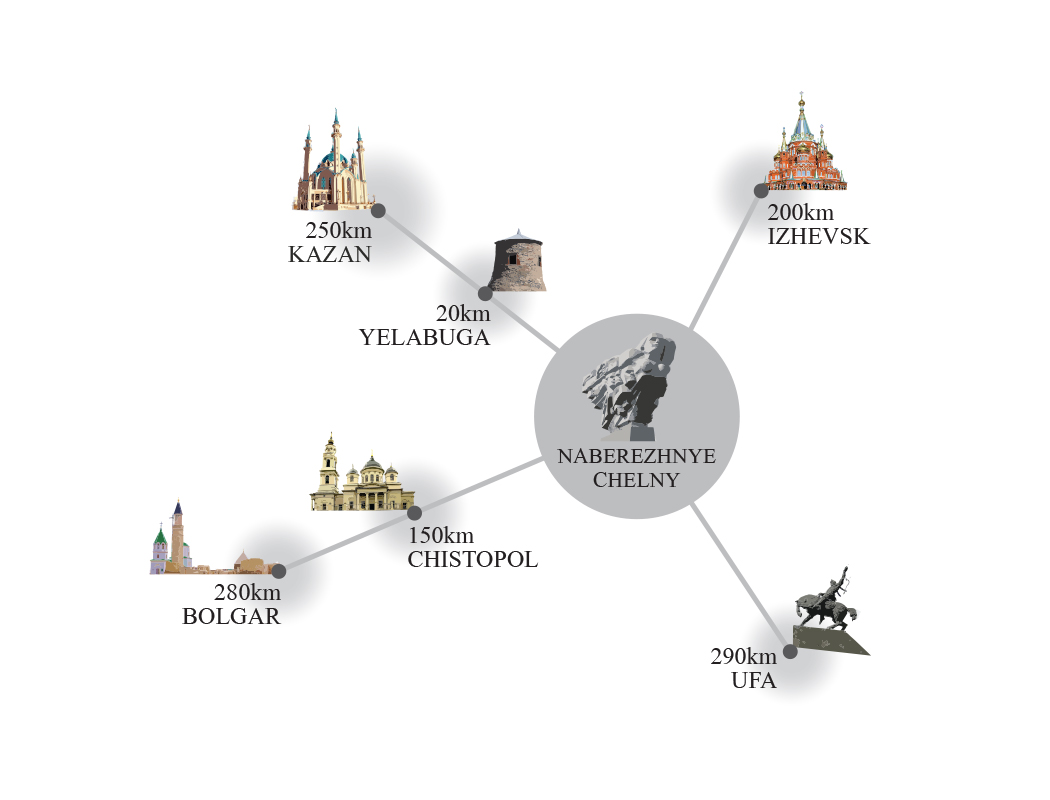 Naberezhnye Chelny Railway Station
Naberechnye Chelny railway station is located in the edge of the city next to GES (ГЭС) district. The building of the station is big and empty as it's only 3 trains stop here, and only one of them from Moscow. There is a hotel in the railway station building.
| | |
| --- | --- |
| Location | 2 Prosp. Musy Djalilya (проспект Мусы Джалиля, д.2) |
| Selected Destinations | Moscow, Kazan, Murom, Arzamas, Vyatskie Polyany, Izhevsk, Ulyanovsk. Plus in summer: Sochi, Adler, Krasnodar, Volgograd, Saratov. |
| Suburban Trains | In the direction of Bugulma, Nizhnekamsk and Izhevsk. |
| Timetables | Long-Distance Trains & Suburban Trains |
Naberezhnye Chelny Bus Station
Bus station is located just next to the Railway Station. It's the closest point of the city to Yelabuga (20km).
| | |
| --- | --- |
| Location | 2 Prospekt Musy Djalilya (просп. Мусы Джалиля, д.2) |
| Selected Destinations | Bolgar, Chistopol, Izhevsk, Kazan, Moscow, Toliatti, Ulyanovsk. |
Begishevo Airport
Begishevo (Бегишево) Airport is situated between Naberezhnye Chelny and Nizhekamsnk and is occasionally called Nizhnekamsk Airport.  It is 20km from Naberezhnye Chelny Railway Station.  As there is no public transport to the airport, the only way is to get a taxi. A taxi from the railway station will be much cheaper than from Novy Gorod. There is a hotel next to the airport.
| | |
| --- | --- |
| Location | Between Nizhnekamsk and Naberezhnye Chelny |
| Selected Destinations | Moscow, Sochi, St Petersburg |
| Website | http://www.nbc.aero/ |
---
Getting to/from Naberezhnye Chelny
Naberezhnye Chelny is located in the east of Tatarstan and rather far from Kazan - too far from a day trip - but it does have good relatively good links with the regional capital by bus.  Located nearby is the Begishevo Airport which has flights to Moscow and St Petersburg.  From Naberezhny Chelny you can easily visit the Historical City of Yelabuga, which is much prettier than Naberezhnye Chelny.
From Moscow

Only one train connects Moscow and Naberezhnye Chelny: the daily Moscow - Krugloe Pole train. This train leaves from Moscow's Kazansky Railway Station and passes through Kazan-1-Passenger Railway Station en route.  It takes 21 hours.

Several airlines (Aeroflot, UTair and Ak Bars Aero) operate flights between Begishevo Airport and Moscow's Domodedovo, Sheremetievo or Vnukovo Airports. There are usually 5 flights a day in both directions and it takes about 2 hours.
---
From Kazan

There are usually 7 direct buses a day which run between Kazan and Naberezhnye Chelny. From Kazan they leave from Kazan Central Bus Station and from outside Kazan-1-Passenger Railway Station.  They take around 4½ hours.