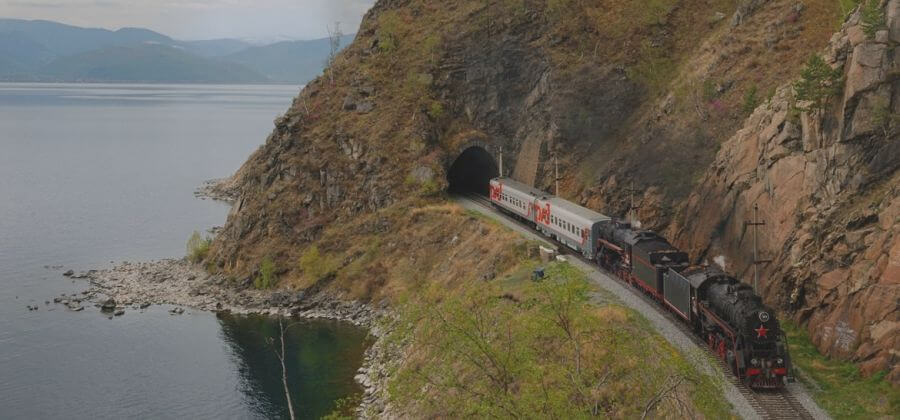 RUSSIAN TRAINS
  Russian trains are the most convenient, safe and cheap way of travelling around Russia's enormous territory and travelling on a Russian night train is a great experience in itself for tourists. In total there are over 85,200 kilometres of tracks connecting many part of the country and neighbouring countries. The railway lines are run by OAO Russian Railways (which is known by its Russian initialism RZhD-РЖД), which is broken down into 16 regional branches.
Interesting Facts:​
Russian Railways' contribution to Russia's GDP amounts to 2.5%
Russian Railways use up to 6% of the electricity produced in the country and 10% of the diesel produced.
The longest direct routes are Moscow to Beijing via Khabarovsk (10,272km, 184 hours).
More than 1,000,000 people work for Russian Railways.
  In Moscow there are nine railway stations which are named after the main destination they serve (or historically served). Most of the stations are terminal stations and Moscow is the end of the line. Only two stations are transit stations: Belorussky and Kursky. Read more...
---
TRAINS BETWEEN MOSCOW AND ST PETERSBURG
  The railway line between Moscow and St Petersburg is the busiest in Russia. Many premium trains, high-speed trains and transit trains run along this route. Some of them are more comfortable, expensive and quick while others are simpler and slower.  Read more...
---
  The Sapsan is a high-speed train which operates between Moscow and St Petersburg, bringing the travelling time between the two Russian capitals down to 3 hours 45 minutes. Sapsan means swift in Russian and so joins the collection of high-speed trains which are named after birds – such as the Strizh (swift) and the Lastochka (swallow).  Read more...
---
  where can I buy train tickets for Russian trains? Can I return tickets? What is the fee for returning tickets? What information do I need to buy a train ticket? There is a mistake regarding my passport number/name on the ticket, can I correct it? In which language should I write my name when buying a ticket? How do I pay for the set of linen for the train? Read more...
---
  There are various types of wagons on Russian trains: Luxury class wagons: Premium (премиум or myagky/мягкий), First class wagons: suite wagons (СВ), three-bed compartment (РИЦ), Second class wagons: compartment (kupe/купе), Third class wagons: open (platskartny/плацкартный) Read more...
---
  when travelling by train in Russia you will need either an electronic or a paper ticket. The ticket contains all the necessary information about the train, including the price, the stations of departure and arrival, passport details (which will be checked when you embark on the train), the class of carriage and services included in the ticket price. Read more...
---
►  Practicalities ►  Transport ► Russian Trains