Irkutsk is the starting point for most trips to Lake Baikal - it is the closest international transport hub to the lake linking it not only to Moscow, but also St Petersburg, Novosibirsk or Krasnoyarsk by air, and dozens of other cities by train. There are lots of options to get to Baikal from Irkutsk - by bus, helicopter, car, water and of course train. Listvyanka, the closest settlement to the lake and the starting point of the Circum-Baikal Railway, is just 70km from Irkutsk and the must-see Olkhon Island is 270km from the city. During the high season it is very busy and therefore we advise you to book all transportation in advance. 
Irkutsk Railway Station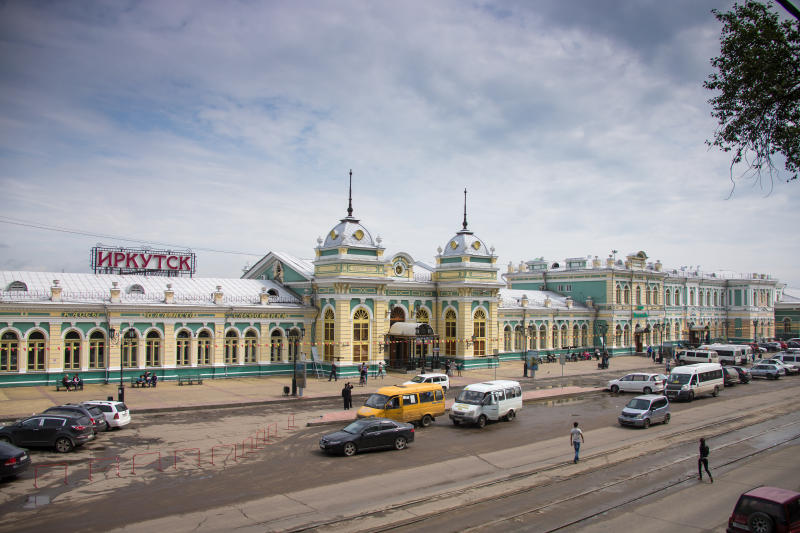 Irkutsk Railway Station - known as Irkutsk Passazhirsky/Passenger (Иркутск - Пассажирский) - is located in a historical building built in 1897 on the side of the River Angara opposite to the city's historical centre. To get to the central Ulitsa Lenina from the station take tram No. 1 or 2o or bus No. 77 or 80. You can also walk it as it is about 2km to the centre, just walk along the river and cross the bridge and you are almost there.
Irkutsk Railway Station is one of the biggest on the Trans-Siberian Railway, and almost all trains on this route make a stop here. So you can explore the city, Lake Baikal and the surroundings and then continue your trip to Ulan-Ude, Ulan Bator or Beijing (or vice-versa).
Irkutsk Suburban Railway Station is located in the same building and serves elektrichka to  Slyudyanka, Baikalsk, Zima, Bolshoy Lug, Glubokoe.
Location
1 Ulitsa Chelnokova  (ул. Челнокова, д.1)
Timetables

Long-Distance Trains

&

Suburban Trains

Selected Russian Destinations
Moscow, Kazan, Ulan-Ude, Vladivostok, Chelyabinsk, Kislovodsk, Severobaikalsk, Novosibirsk.
Selected International Destinations
Beijing, Ulan Bator,Harbin, Manzhouli
Suburban Destinations
Slyudyanka, Baikalsk, Zima, Bolshoy Lug, Glubokoe
---
Irkutsk Bus Station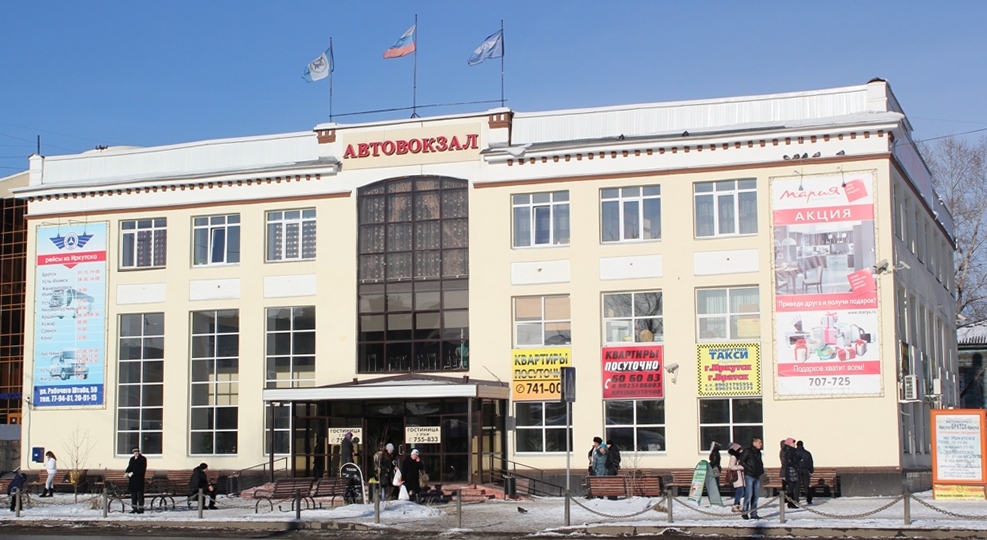 Irkutsk Bus Station is located quite close to the city centre about 1km from the central market (Tram No. 4) and 6km from the railway station. The bus station mostly serves regional routes but also a few further afield.
For many travellers Irkutsk Bus Station is the starting point to discover Lake Baikal - from here you can get to Olkhon Island (Khuzhir - Хужир, 290km), Listvyanka (71km), Slyudyanka (105km), Arshan (206km) and Ulan-Ude (450km). However when planning your trip to Baikal take into account that just a few buses a day go to each destination. Normally there are some taxis outside the building, especially during the high season, but expect a higher price if you don't speak Russian.
| | |
| --- | --- |
| Location | 11 Ulitsa Oktyabrskoy Revolyutsi (ул. Октябрьско Революции д.11) |
---
Irkutsk River Port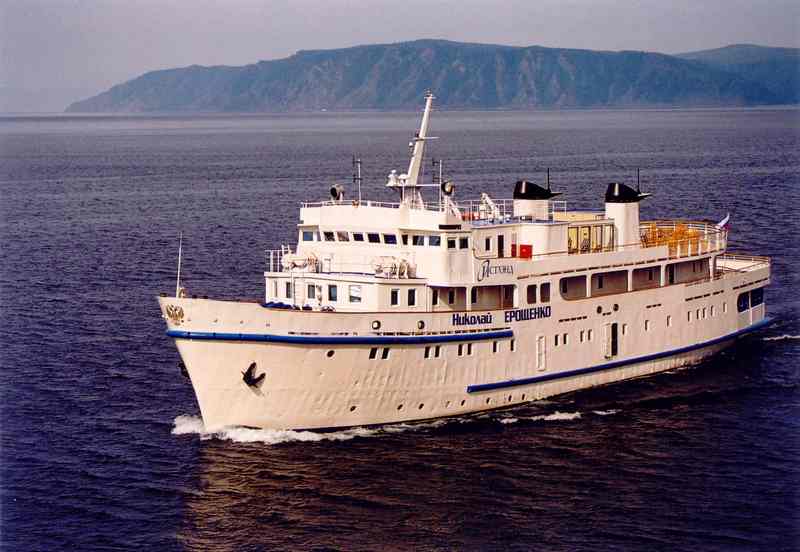 The main passenger river port from where you can start your trip along the River Angara or discover Lake Baikal is called the Raketa  (Ракета). This river port is located 7km from the city centre in the Solnechny District of Irkutsk. To get here from the railway station take minibus No. 16 which is goes along Ulitsa Lenina.
---
During summer navigation, the river port serves  following boat trips:
Irkutsk - Listvyanka (1 hour)
Irkutsk - Taltsy (35 minuts)
Irkutsk - Port Baikal (1:25)
Irkutsk - Olkhon Island (Khuzhir) (8 hours)
Irkutsk - Ust Barguzin (11 hours)
Irkutsk - Severobaikalsk (12 hours) 
Irkutsk -  Bratsk (12 hours)
Irkutsk - Bolshie Koty (4 hours)
---
---
Irkutsk International Airport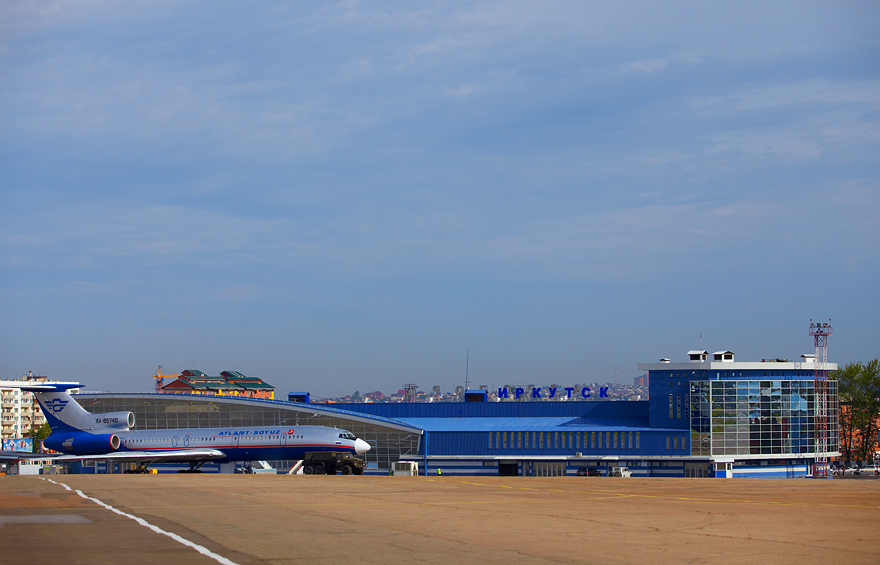 Irkutsk International Airport is located very close to the city centre - just 5 km from Irkutsk Bus Station. There are two terminals - one for domestic flights and another for international ones.  You can get there from the railway station by minibus No. 20 or 94, or from the central Ploshad Kirova (Площадь Кирова) by trolleybus No. 4 which runs along the central Ulitsa Karla Marksa and Prospekt Lenina. Get out of the bus at the Airport stop (Аэропорт)
 
| | |
| --- | --- |
| Location | 13 Ulitsa Shiryamova  (ул. Ширямова 13) |
| Website | www.iktport.ru |
| Selected Destinations in Russia | Moscow, St Petersburg, Novosibirsk, Krasnoyarsk, Ulan-Ude |
| Selected International Destinations | Ulan Bator, and Harbin |
---
Getting to/from Irkutsk
From Moscow
As Irkutsk is located on the Trans-Siberian Railway you can get here on practically any train heading to Vladivostok, Khabarovsk, Ulan-Ude, Ulan Bator or  Beijing. In Moscow trains leave from Yaroslavsky Railway Station. The quickest trains (Rossia, Beijing,Ulan-Bator) take about 3 days. Other trains cover this distance in 3½ days.

The city is well linked with Moscow - there are  about 8 flights a day from all three of Moscow's airports. Most of them leave in the evening or in the night and that is quite comfortable as you do not lose time and in the early morning you can start exploring the city or your adventure to Lake Baikal. The flight takes 5¾ hours.
From St Petersburg
There is no direct train from St Petersburg to Irkutsk - you should first get to Moscow or any other city located on the Trans-Siberian Railway and make a change.
 

The only daily flight from St Petersburg leaves three times a week and takes 2½ hours. Flights are operated by Orenburg Airlines and Ural Airlines.
---