9th Century
Foundation
The first mention of Rostov can be found in the Primary Chronicle under the year 862 when it was mentioned as a city ruled by Ryurik and a centre of the Merya people. This date is considered the official date of the city's foundation and makes Rostov one of the most ancient of Russian cities.
---
10th Century
St Theodore, Bishop of Rostov and Suzdal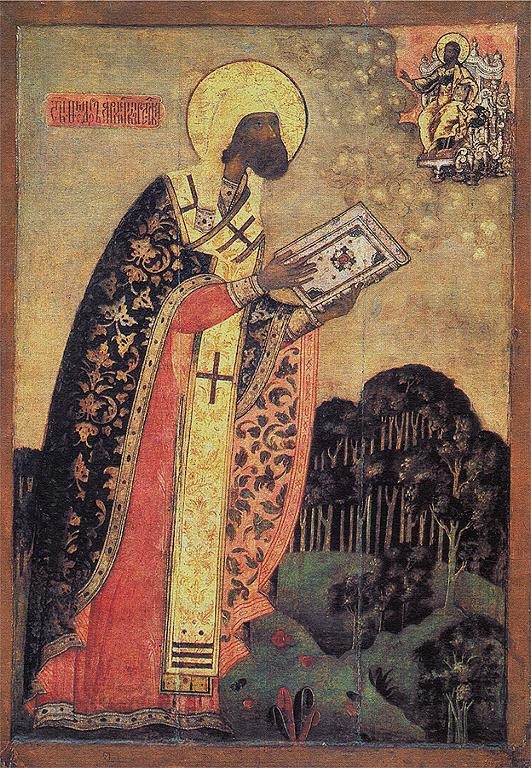 At the end of the 10th Century, often stated as between 990 or 992, the Rostov Eparchy was established and the Greek monk Theodore was appointed its first bishop. Bishop Theodore's main mission was to convert the remaining pagans in the area to the Orthodox faith and he immediately set about building a wooden church dedicated to the Dormition of the Virgin Mary. However Theodore was not welcomed by the locals pagan people who were successful in driving him out of the city. The bishop later settled in Suzdal and continued his work there until his death. Theodore was later canonised as St Theodore, Bishop of Rostov and Suzdal.
---
11th Century
Early Princes of Rostov
In the beginning of the 11th century Grand Prince Vladimir the Great of Kiev gave his son Yaroslav the Wise Rostov to rule as its prince. It was during this time that Yaroslav founded the nearby city of Yaroslavl. In approximately 1010 Yaroslav was replaced as prince of Rostov by his brother Boris until he was killed by another brother Svyatopolk the Accursed in 1015. The same fate also awaited yet another brother - Prince Gleb of Murom. Both young princes met their deaths in a Christian manner refusing to take up arms against their brother. For this they were both canonised in 1072 as Russia's first native saints. From 1054 to 1073 Rostov lands were granted to Prince Vsevolod Yaroslavich of Pereyaslavl (later Grand Prince Vsevolod I of Kiev) who sent a representative to rule on his behalf.
---
12th Century
Rostov-Suzdal Principality
In 1113 (or possibly earlier) Prince Yuri Vladimirovich (later known as Yuri Dolgoruky) was appointed by his father Vladimir Monomakh as prince of Rostov. In 1125 Yuri Dolgoruky moved the centre of his lands from Rostov to Suzdal, thereby creating the Rostov-Suzdal Principality which became the kernel of modern-day Russia. In 1160, on the orders of Grand Prince Andrey Bogolyubsky of Vladimir, the old wooden Dormition Church built by St Theodor was replaced by a new stone cathedral, however this was destroyed by fire in 1204.
---
13th Century
Rostov Principality
In 1207 the Rostov Principality became an appendage principality of the Vladimir Principality. Its first prince was Konstantin Vsevolodovich, a son of Vsevolod the Big Nest. Under Prince Konstantin, Rostov thrived and much construction work was carried out, including the reconstruction of the Dormition Cathedral. Prince Konstantin even managed to wrestle the throne of Vladimir from his rival in 1216 and until his death in 1218, Rostov was, albeit briefly, the most important city in all of Rus lands.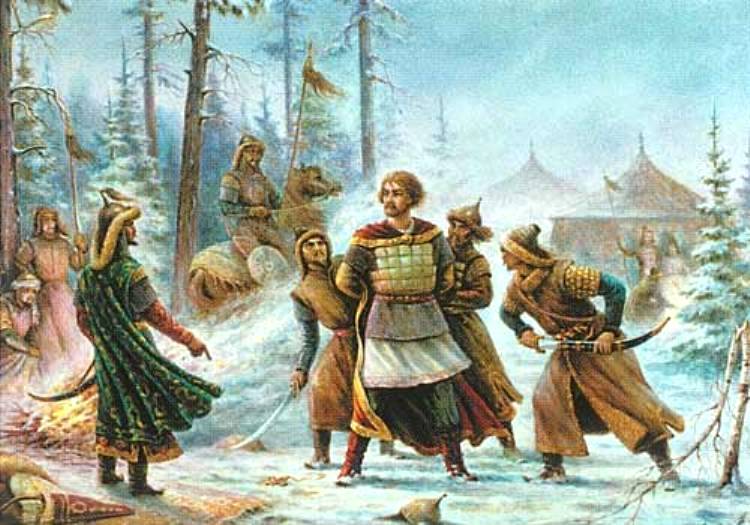 Prince Konstantin was succeeded in Rostov by his son Vasilko in 1218. During Prince Vasilko's reign the reconstruction of the Dormition Cathedral was completed having been started by his father. Rostov fell during the Mongol-Tatar invasion without a fight in 1237 as Prince Vasilko and Rostov's army were out of the city. They later fought alongside Grand Prince Yury Vsevolodovich of Vladimir against the invading Mongol-Tatar army at the Battle of River Sit in 1238. During the battle Vasilko was captured and executed, allegedly after he refused to give up his religion. Later his body was found and he was canonised as St Vasilko of Rostov. The principality was left to Vasilko's young son Boris, whose mother ruled for a time on his behalf as regent. Prince Boris made several journeys to the Golden Horde to be confirmed as prince of Rostov. His last visit came in 1277 when he fell ill there and subsequently died. His body was returned to Rostov and interred in the Dormition Cathedral. Boris Vasilkovich was succeeded by his brother Gleb Vasilkovich, who had been allotted Belozersk from the Rostov Principality on the death of his father.
---
Reign of Prince Boris' Sons
Gleb Vasilkovich did not reign long in Rostov as he died in 1278 and Boris' sons Dmitri Borisovich and Konstantin Bosisovich jointly inherited the Rostov throne. During the brothers' reign an internecine battle erupted which was especially common all over Rus lands at the time. Firstly Dmitri Borisovich ousted his cousin Prince Mikhail Glebovich of Belozersk, to punish him for the actions of his father who did not allot his nephews any principality when he became prince of Rostov. The Rostov brothers then began to argue among themselves, which would have resulted in a bloody war without the intervention of Bishop Ignatius of Rostov and the grand prince of Vladimir. In 1285 Prince Roman Vladimirovich of Ulgich died without heir and his land was added to the Rostov Principality, but at the order of Khan Tuda Mengu, the principality was reorganised, with Dmitri Borisovich receiving Uglich, Konstantin Borisovich keeping Rostov and Mikhail Glebovich being returned Belozersk. In 1288 Dmitri Borisovich sided with the Vladimir Grand Principality in its wars against Tver and in the same year decided to swap his principality with that of his more peaceful brother and returned to Rostov where he died in 1294. Konstantin Borisovich once again ruled Rostov, this time until his death in the Golden Horde in 1307.
---
14th Century
Split of Rostov
Prince Konstantin Borisovich was succeeded in Rostov by his son Vasili Konstantinovich and when he died in 1316 the Rostov throne passed to Vasili's nephew Yuri Aleksandrovich. Yuri Aleksandrovich died most likely without heir in 1320 and the throne passed to his cousins Fyodor Vasilievich and Konstantin Vasilievich who split the Rostov Principality into two parts Rostov-Sretensky and Rostov-Borisoglebsky in 1328. Fyodor died in 1331 and by 1360 Konstantin Vasilievich had managed to gain the yarlyk from the Golden Horde to rule all of Rostov by ousting his nephew Andrey Fyodorovich. However the Moscow Grand Principality did not forgive Konstantin Vasilievich for siding with its enemy Prince Dmitri of Suzdal and so helped Andrey Fyodorovich regain Rostov in 1365. After Andrey Fyodorovich's return to Rostov the city remained split as Andrey gave Rostov-Borisoglebsky to Konstantin Vasilievich's son Aleksandr. Both Andrey Fyodorovich and Aleksandr Konstantinovich fought alongside Dmitri Donskoy during the Battle of Kulikovo Field, a further sign of how the Rostov princes were falling under the influence of the powerful Moscow Grand Principality.
---
15th Century
Incorporation into Moscow
From the beginning of the 15th century, the Rostov princes had begun to lose most of their independence and were eventually ruling the principality on behalf of the Moscow Grand Principality along with representatives sent by Moscow. In 1408 Rostov was sacked by a Tatar army under the commander of Golden Horde Edigu who was ravaging Russia at the time. In Rostov-Stretensky, Prince Andrey Fyodorovich was succeeded by his son Ivan in 1409 who later sold his portion of Rostov to Grand Prince Vasili I of Moscow. In Rostov-Borisoglebsky, Aleksandr Konstantinovich was succeed by his sons Andrey, Fyodor and Vladimir, the last of whom sold the remaining part of the principality to Grand Prince Ivan III of Moscow in 1474, who granted the city as an appendage to his mother Maria Yaroslavna.
---
16th Century
Religious Centre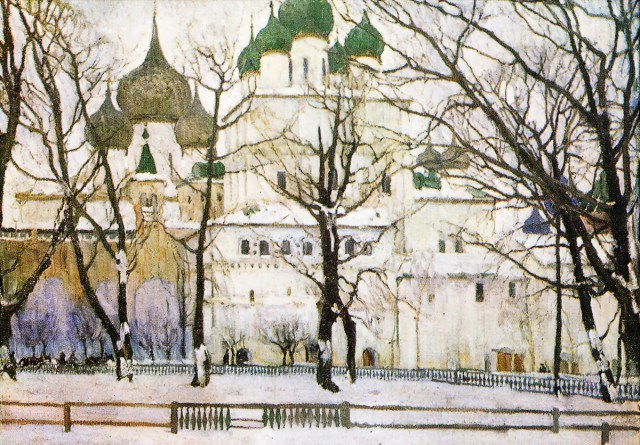 Despite losing its independence and becoming part of the Moscow Grand Principality, Rostov nevertheless remained an important religious centre. Rostov's Dormition Cathedral was once again practically destroyed by fire in 1408 and reconstruction work was only started a century later in 1508, incorporating some of the ruins of the old version. The cathedral was completed four years later in 1512. In 1589 the cathedral became the seat of the new Rostov and Yaroslavl Eparchy which was headed not by a bishop but by a metropolitan, a title then reserved for especially ancient and revered eparchies.
---
17th Century
Times of Troubles
Rostov played a considerable role during the Times of Troubles which were especially hard on Rostov lands. In 1605 while the First False Dmitri was tsar, he released the monk Filaret from his exile in the Russian North and appointed him metropolitan of Rostov. Filaret was previously known as Fyodor Romanov, the head of the powerful boyar family who was forcibly tonsured by Tsar Boris Godunov to remove him as a threat to the throne. Later in 1608 the troops of the Second False Dmitri sacked and plundered the city and captured Metropolitan Filaret and appointed him their Patriarch of All Rus. Filaret would remain in captivity until 1619, when he was appointed Patriarch of All Rus once more, but this time by his son - Tsar Michael - the first Romanov tsar.
---
Rostov Kremlin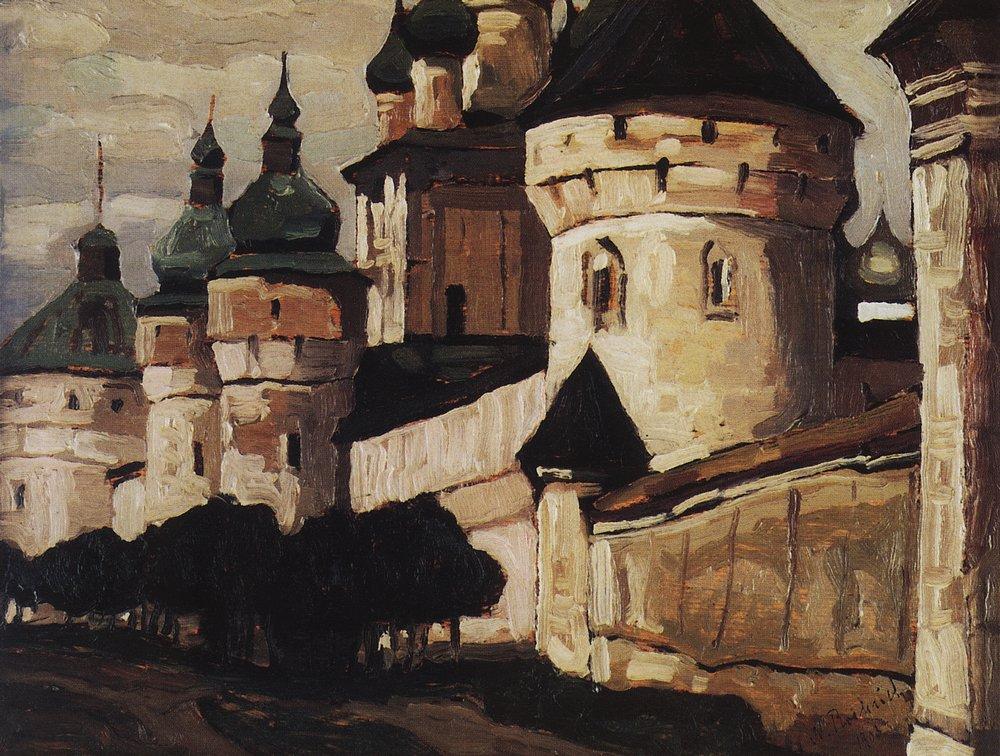 Rostov quickly recovered from the devastation of the Times of Troubles and in 1652 the monk Jonah (Iona) Sysoevich, a supporter of Patriarch Nikon, was appointed metropolitan of Rostov and Yaroslavl and set out upon an ambitious building project throughout the eparchy. In Rostov he decided to build a new residence for himself in the form of a kremlin, although it was not meant to have any real defensive purpose. The kremlin was constructed between 1670 and 1683 around the already existing Dormition Cathedral. Also during Jonah Sysoevich's tenure building work was carried out at Rostov's Spaso-Yakovlevsky Monastery with the construction of the Conception of Anna Cathedral, at the Avraamiev Bogoyavlensky Monastery and in the city itself.
---
18th Century
Decline in Status
Over the 18th century Rostov began to decline in status. In 1708 it became a city in the Moscow Governorate. In 1742 the Metropolitan Arsenius of Siberia and Tobolsk was transferred to Rostov and Yaroslavl who became famous in 1763 when he was removed from his post for publically criticising Catherine the Great's policy of secularising church lands. Arsenius later denounced Catherine for her role in the murder of former emperor Ivan VI for which he was imprisoned in Tallinn in 1767 where he died in 1772. Rostov became a district centre within the Yaroslavl Governorate. A regulated city plan was adopted in 1778. The city also declined as a religious centre sometime between 1783 and 1799 when the eparchy became the Yaroslavl and Rostov Eparchy.
---
19th Century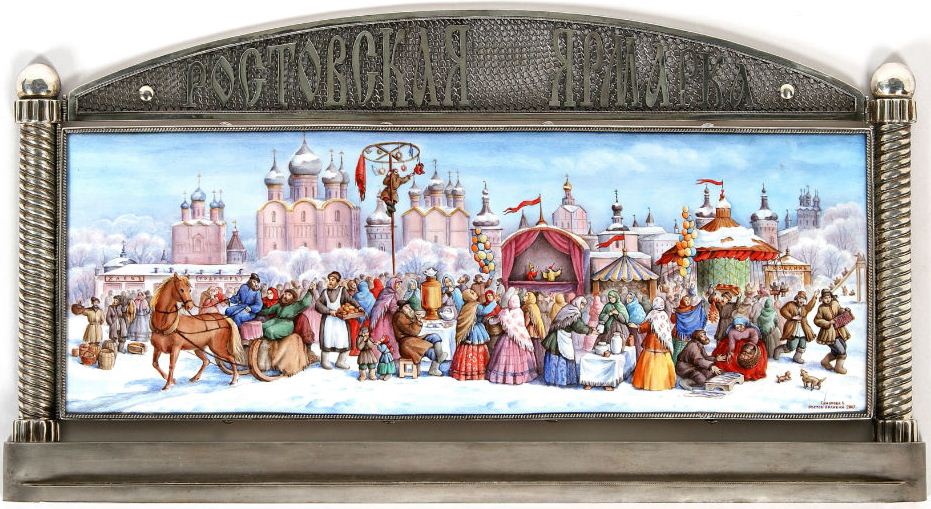 Rostov may have been demoted as both a regional and religious centre, but it remained an important trade centre throughout the 19th century. By his time its market was the third largest in Russia. The fertile soil around Lake Nero meant the ground was perfect for growing vegetables which supplied Moscow and St Petersburg. The city was also a centre for the trade in raw materials for the textile industries of Ivanovo, Kostroma, Vladimir and Yaroslavl. Rostov's special form of decorative art known as finift, involving copper decorated with enamel, became famous across the empire. The construction of the Moscow-Yaroslavl Railway which passed through Rostov, only increased the city's trading capacity.
---
20th Century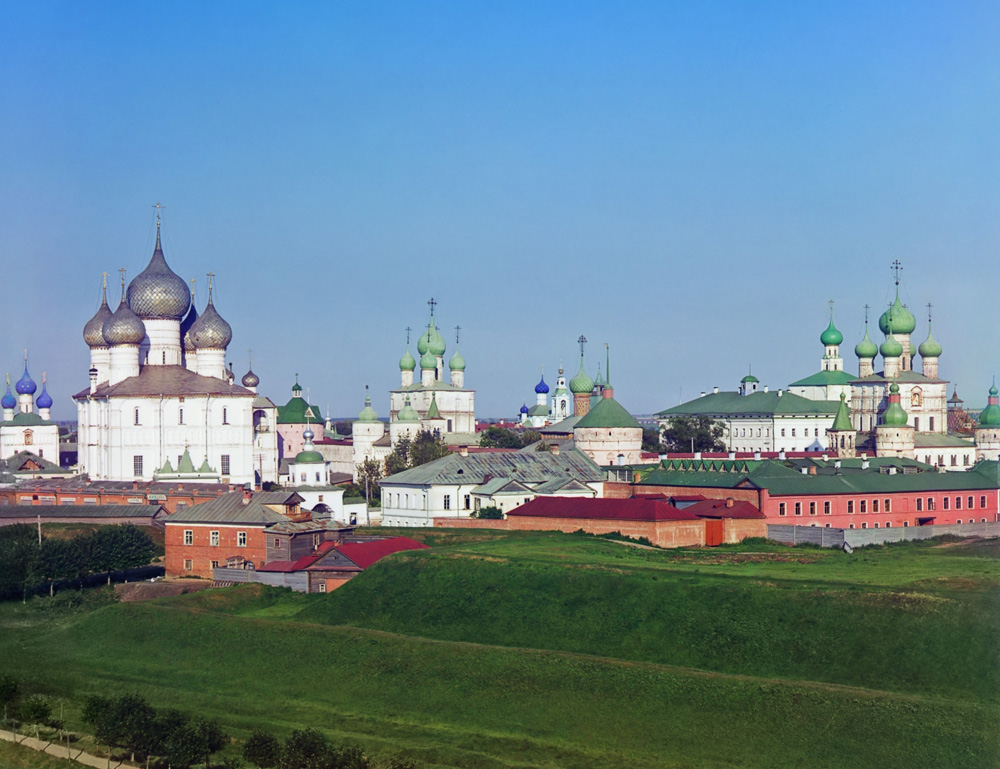 In 1912 Emperor Nicholas II came to Rostov with his family as part of the 300th anniversary of the Romanov Dynasty. After the Revolution, the whole of the Kremlin was turned into a museum and the Spaso-Yakovlevsky Monastery was closed in 1923. Worship continued a little longer at the Bogoyavlensky Monastery, but that too was put to an end in 1929. Over the rest of the century Rostov, once one of the most important cities in Russia, became a small and sleepy town especially compared to its larger industrial neighbour of Yaroslavl. However this lack of large-scale development means that Rostov has managed to preserve its beauty and charm as an ancient Russian city.