9th Century
As one of the oldest cities in Russia, Smolensk was first mentioned in the Primary Chronicle in 863, when Askold and Dir passed it on their voyage from Novgorod to Constantinople. The city was the centre of the Krivich tribe and even then was said to be well defended with a large population. In 882 Prince Oleg Veschy conquered the city and incorporated it into Kievan Rus as it was important to control Smolensk due to its position on the river route 'from the Varangians to the Greeks' (i.e. from the Baltic to the Black Sea).
---
11th Century
Principality of Smolensk
The first prince of Smolensk was Stanislav Vladimirovich who was a younger son of Vladimir the Great and who died before his famous father without leaving any issue. Two more princes of Smolensk followed, Vyacheslav Yaroslavich and Igor Yaroslavich, both sons of Yaroslav the Wise. The Lubech Conference of 1097 secured Smolensk for Vladimir Monomakh who had his sons rule the city on his behalf.
---
12th Century
Our Lady of Smolensk Icon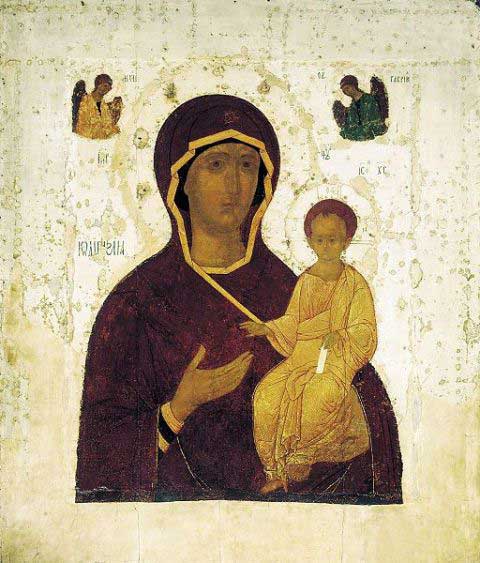 In 1101 Vladimir Monomakh ordered the building of the original Dormition Cathedral and installed in this cathedral an icon of the Virgin Mary, which legend has it was created by St Luke the Apostle and brought to Rus from Byzantium by Vladimir Monomakh's mother - the daughter of Emperor Constantine IX Monomachos. After the icon was installed in Smolensk's new cathedral it became known as Our Lady of Smolensk and was revered as one of Russia's most important relics.
---
Smolensk Dynasty
In 1127 Rostislav Mstislavich (son of Mstislav the Great and grandson of Vladimir Monomakh) became the originator of the Smolensk dynasty of Ryurikids, also known as the Rostislavichy. Rostislav Mstislavich served as grand prince of Kiev three times during a period of frequent internecine wars for the Kievan throne. Whilst he was in Kiev he left his son Roman to rule in Smolensk. After Rostislav's death the Smolensk throne passed among his sons and grandsons and these men also often became grand princes of Kiev themselves and again left Smolensk for their sons whilst they were in Kiev. Rostislav Mstislavich and his sons Roman and Davyd Rostislavy have left their mark on the city in the form of three churches that have survived to this day: Sts Peters and Paul's Church, St John the Theologian's Church and Archangel Mikhail's Church respectively.
---
13th Century
Mongol Invasion of Rus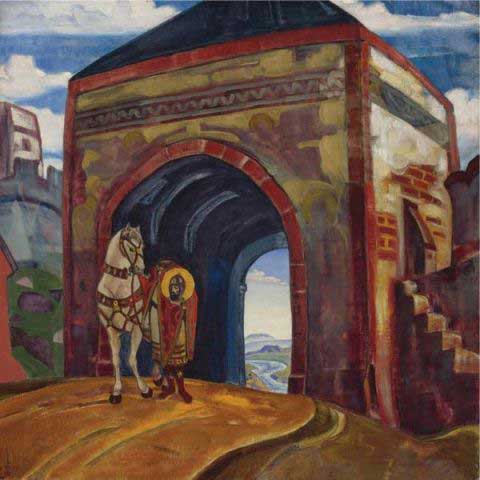 During the Mongol-Tatar invasion of Rus in 1237-1240, Smolensk was spared although it nevertheless submitted to the Mongols and started paying tribune. Legend credits the city's salvation to the Our Lady of Smolensk Icon and to the monk Merkuri who prayed before it. The Virgin Mary appeared to him and ordered him to ride out and meet the invaders. During the battle Merkuri was beheaded but the Mongols decided to not march on to Smolensk. Merkuri was later canonised as St Mercurius (Merkuri) of Smolensk. Nevertheless the Golden Horde must have secured its rule over Smolensk as in 1274 Khan Mengu-Timur sent his army through the Smolensk Principality to Lithuania and in 1275 a Mongol census was performed for the Smolensk Principality.
---
14th Century
Grand Principality of Smolensk
In 1309 Prince Aleksandr Glebovich of Smolensk installed his brother Vasili Glebovich as prince of Bryansk after its branch of princes had died out. It is possible that Vasili was married to a princess of Bryansk. This can be seen as an event which led to the prince of Smolensk starting to call himself the grand prince of Smolensk. After Aleksandr's death in 1313, he was succeeded by his son Ivan Aleksandrovich. In 1334 Ivan's brother Dmitri Aleksandrovich of Bryansk led a Tatar army to besiege Smolensk, but the brothers managed to make peace and Ivan kept his throne until his death in 1359. Ivan was succeeded by his son Svyatoslav Ivanovich, who at first was an ally of Grand Duke Algirdas of Lithuania and took part in his campaigns against Moscow. Following Lithuania's lead, Svyatoslav signed a peace treaty with Moscow in 1372. Such were the new relations with Moscow, that Smolensk troops fought alongside Dmitri Ivanovich (Dmitri Donskoy) in his campaigns against Tver in 1375 (in revenge for which Algirdas raided Smolensk lands) and against the Golden Horde at the Battle of Kulikovo Field in 1380.
Fall to Lithuania
In 1386 Smolensk troops began besieging the Lithuanian-controlled city of Mstislavl, but they were defeated at the Battle of River Vekhra and Grand Prince Svyatoslav Ivanovich of Smolensk was killed and his eldest son Gleb captured. Another son, Yuri Svyatoslavich, succeeded him in Smolensk, having sworn allegiance to Grand Duke Jogailo of Lithuania. In 1391 Gleb Ivanovich was eventually released from his Lithuanian captivity and in 1392 the people of Smolensk deposed Yuri and invited Gleb to rule them. In 1395 under the pretext of going to war against Tamerlane, Grand Duke Vytautas of Lithuania brought his army into Smolensk lands. Vytautas welcomed Gleb to his camp and offered to be a mediator between Gleb and his brother Yuri. Afterwards both brothers came to Vytautas with their men and Vytautas had them all arrested and was able to take Smolensk. Vytautas installed Prince Roman Mikhailovich of Bryansk in Smolensk as his viceroy. After the Lithuanians were defeated by the Golden Horde at the Battle of River Vorskla in 1399 (during which Gleb himself participated and fell), Lithuania was sufficiently weakened that Yuri was able to regain Smolensk in 1401 with the help of his father-in-law Prince Oleg Ivanovich of Ryazan. Roman Mikhailovich was killed in the battle.
---
15th Century
Incorporation into Lithuania
In 1404 with the help of the Polish, Vytautas began besieging Smolensk, hoping to regain the city. However, during a break in the siege, Yuri Svyatoslavich left Smolensk to request help from Grand Prince Vasili I of Moscow, bringing with him as a gift the Our Lady of Smolensk Icon and even promising to leave him Smolensk in his will. In Yuri Svyatoslavich's absence, the Smolensk boyars decided to open the city gates and welcome Vytautas. Smolensk would remain part of Lithuanian and then Poland-Lithuania for over a century. In 1456 citizens of Smolensk requested the return of the Our Lady of Smolensk Icon from Moscow. Grand Prince Vasili II of Moscow allowed it to be returned seeing it as beneficial for a future union between Moscow and Smolensk.
---
16th Century
Recapture of Smolensk
In 1514 Grand Prince Vasili III of Moscow marched to Smolensk and laid siege on the city, eventually recapturing it and absorbing it into his territory. To commemorate his victory Vasily III founded Novodevichy Convent in Moscow in 1524. However the city remained an issue of contention between Russia and Poland-Lithuania. So much in fact that Boris Godunov ordered the building of the Smolensk Kremlin in stone to replace the wooden fortress built under Ivan the Terrible. The Kremlin was constructed between 1595 and 1602 and was so important that workers were brought in from other Russian cities, halting all other construction projects. Work continued through heavy rain, punishing heat, freezing temperatures and even during a famine which struck Russia at that time. Many workers were crippled or even died during the rush to complete the fortification.
---
17th Century
Siege of Smolensk of 1609-1611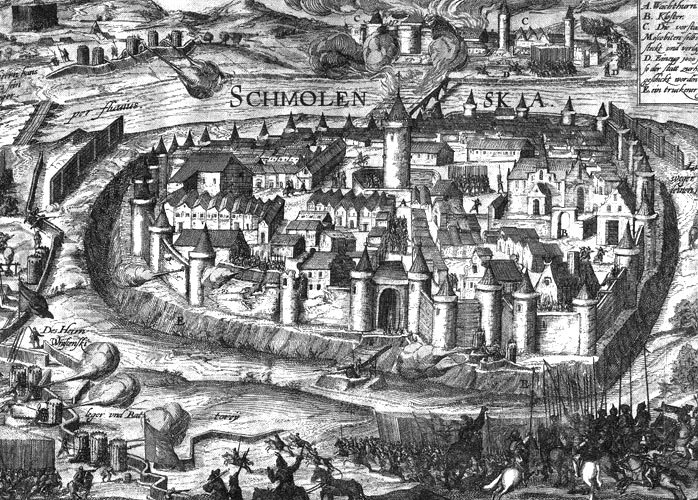 Smolensk did not have to wait long to test its new Kremlin. In 1609 during Russia's Time of Troubles, Sigismund III Vasa of Poland-Lithuania started to besiege the city. The Siege of Smolensk lasted until 1611. Mikhail Shein was tasked with the city's defence. During that time Smolensk managed to withstand Polish-Lithuanian bombardment and to repel four attacks. On one occasion Polish-Lithuanian troops managed to breach the Kremlin but were subsequently slaughtered by the Russians. The city even managed to withstand starvation and epidemics and it was only treachery that caused the city to fall, when a Russian traitor informed the Polish-Lithuanians of a weak spot in the Kremlin. Once this part of the Kremlin had been breached, the fifth attack was successful and Russia had once again lost Smolensk.
---
Smolensk War
In 1632 Sigismund III Vasa of Poland-Lithuania died and Russia saw this as its chance to recapture Smolensk during Poland-Lithuania's perceived moment of weakness and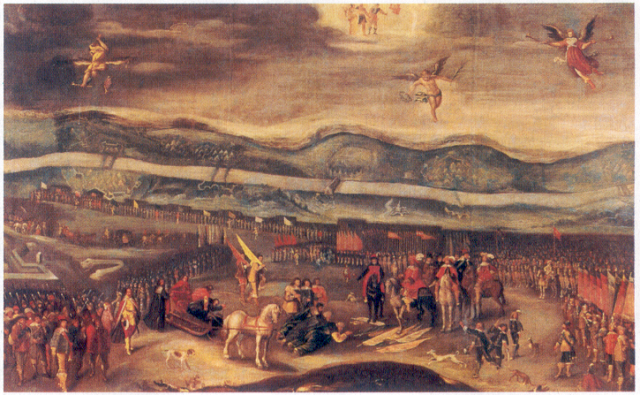 started the Smolensk War. An army led by Mikhail Shein started to besiege Smolensk, but the city's garrison managed to defend the city until the newly-elected Władysław IV was able to organise an army to relieve Smolensk. In the beginning of 1634 Shein and his army surrendered, an act which would result in his execution for treason a few months later.
---
Siege of Smolensk of 1654
Russia only managed to recapture Smolensk 20 years later in 1654 during the Russian-Polish War of 1654–1667. Tsar Alexis ordered the siege of the city in June and the Polish garrison inside the city capitulated in August. Russia had finally managed to wrestle control of Smolensk from Poland-Lithuania, this time permanently. In the Truce of Andrusovo, signed in 1667, Poland-Lithuania gave up all claims to the city and recognised Alexis as tsar.
---
18th Century
In 1708 Smolensk became the centre of the Smolensk Governorate marking its important status among Russian cities. In 1780 a new coat of arms was adopted for the city depicting a bird of paradise sitting on a cannon against a grey background.
---
19th Century
Battle of Smolensk 1812
In 1812 a new c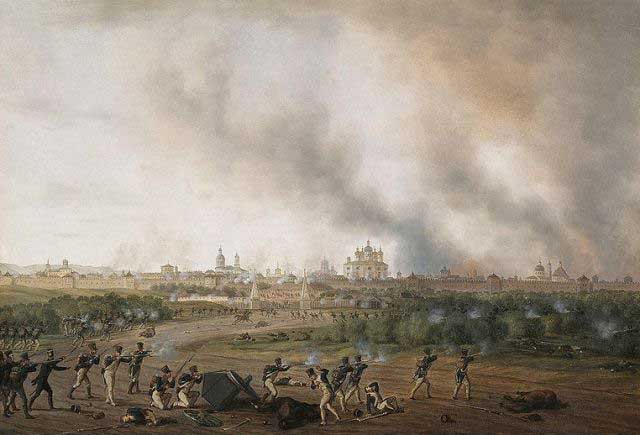 hapter of Smolensk's military history was added with the attack of Napoleon's Grand Armée. Russia's General Pyotr Bagration and his troops were garrisoned in the city; this was subsequently reinforced by the troops of Field Marshal Mikhail Barclay-de-Tolly. Bombardment of the city started on 4 August 1812 (new style: 16 August), the French however could not penetrate the Kremlin's walls. Field Marshal Barclay-de-Tolly decided to retreat to save his army, leaving only a small force to cover their retreat. The city fell to the French on 5 August 1812 (new style: 17 August) and was almost completely destroyed by the French artillery and by the retreating Russians who employed their scorched earth tactic. This deprived the already hungry and undersupplied French of vital supplies. Upon their retreat the Russians evacuated the Our Lady of Smolensk Icon. After Napoleon was driven from Russia the Icon was returned to Smolensk.
---
20th Century
Pre-War Period
After the Revolution, Smolensk became part of the Belarusian People's Republic. In April 1918 the Soviets took control of Belarus and formed the Western Region, which included Smolensk.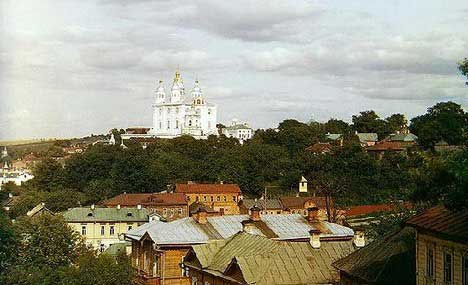 Later in January 1919 the Western Region was abolished and the Belarusian Soviet Socialist Republic was established and for several days Smolensk was its capital before it was replaced with Minsk. Around a week later it was decided to transfer Smolensk to the Russian Soviet Federal Socialist Republic.
---
Katyn Massacre
In 1939 the Soviet Union followed Hitler's leave and invaded Poland. As a result over 25,000 Poles were captured as prisoners of war. It is estimate that as many as 22,000 never returned home. In April and May 1940, on the orders of Stalin, 4,241 Polish military officers were executed by the NKVD in the forest near Katyn, just outside Smolensk. This was just one of the execution sites of Polish nationals. The mass grave at Katyn, containing in total an estimated 11,000 bodies, was discovered by the Nazis in 1943 and was subsequently used as a propaganda tool. The Soviets denied they were responsible and blamed the execution on the Nazis, a claim which was not openly disputed by the USSR's American and British allies out of fear of harming the unstable alliance. Only in 1990 did the USSR finally admit responsibility.
---
Second World War
Smolensk once again more saw foreign occupation in the 20th century, this time by the Nazis. On 16 July 1941, after the Battle and Defence of Smolensk, the city fell to the Nazis.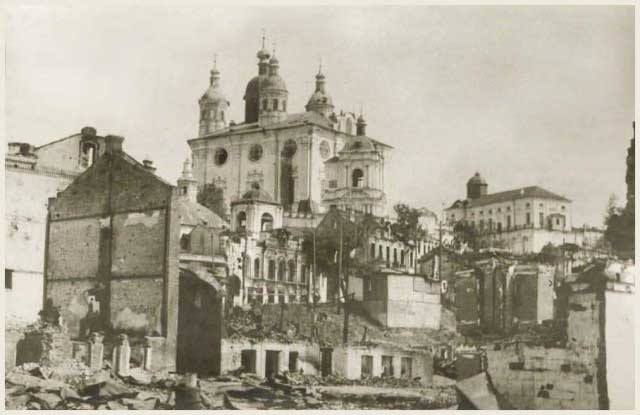 The city was finally liberated by the Soviets on 25 September 1943 as part of the Smolensk-Roslavl Operation. Most of the city had been reduced to ruins. Even the Our Lady of Smolensk Icon was lost forever, presumably looted or destroyed. Smolensk was awarded the title of Hero City for the actions of its citizens during this period.
---
21st Century
Katyn Air Disaster
In 201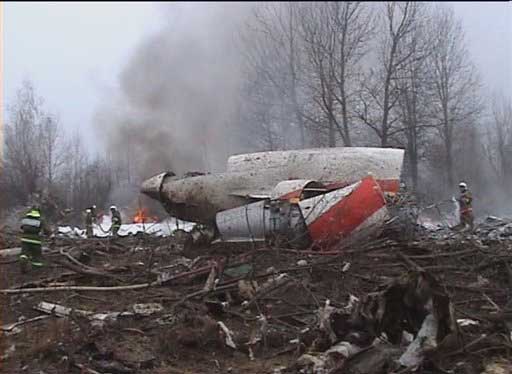 0 Katyn once again became a place of tragedy for Poland as the plane carrying Poland's delegation to the Katyn anniversary event crashed in heavy fog. Among the 96 dead was Polish President Lech Kaczyński and his wife, and senior Polish military officers, politicians and clergymen, as well as relatives of the victims of the Katyn Massacre.