TYPES OF RUSSIAN TRAINS CARRIAGES

There are various types of wagons on Russian trains:
Luxury class wagons: Premium (премиум or myagky/мягкий)
First class wagons: suite wagons (СВ), three-bed compartment (РИЦ),
Second class wagons: compartment (kupe/купе),
Third class wagons: open (platskartny/плацкартный),
Econom class wagons: general (obschy/общий)
In addition there are also wagons with seats only (сидячий).
---
PREMIUM CARRIAGES
(also known as VIP, Luxe or Soft carriage)
---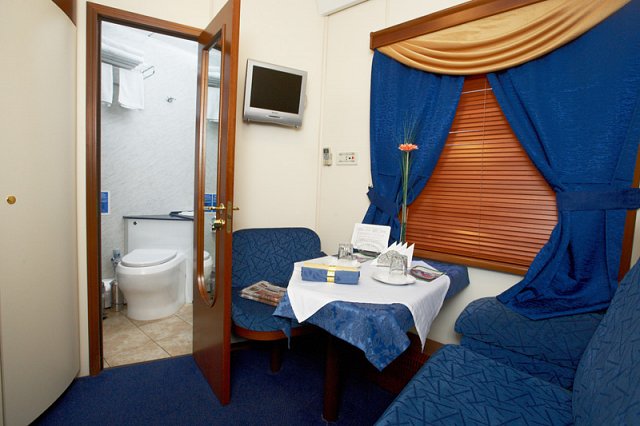 Generally this type of carriage has four or six compartments which have two beds each. Each compartment also has a sink and sometimes a shower and a toilet.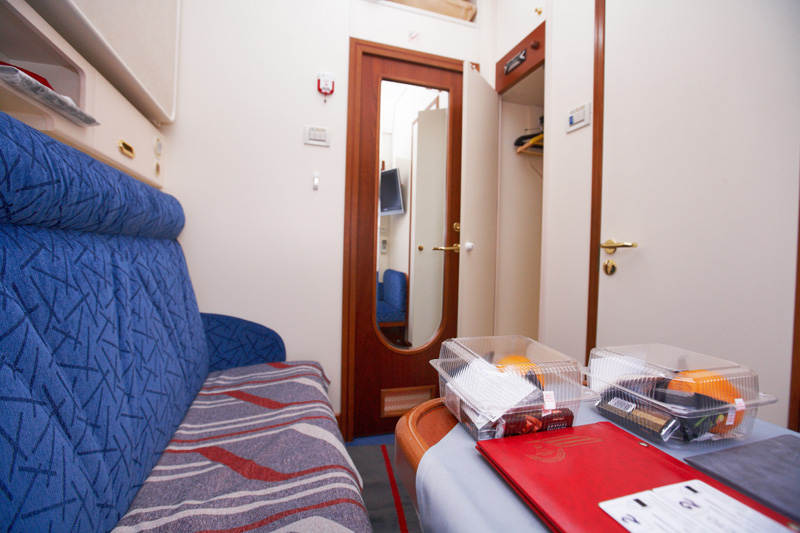 Otherwise a toilet and a shower is located at the end of the wagon.
  The price of the ticket is for the whole compartment irrespective if there will be two or one people travelling.
---
SUITE CARRIAGES | FIRST CLASS
---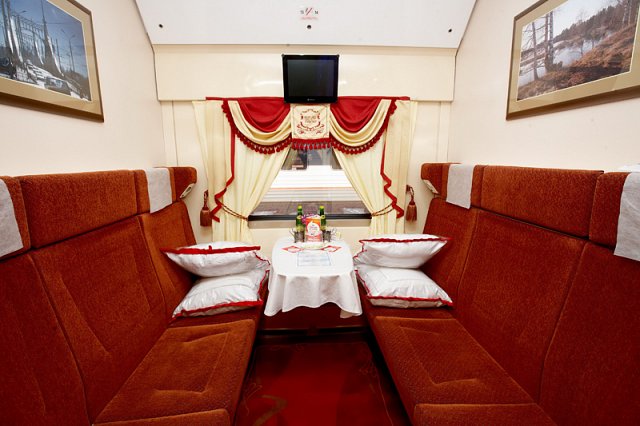 Suite wagons are known in Russian by the abbreviation SV (СВ). Each wagon has 9 compartments which each have two beds.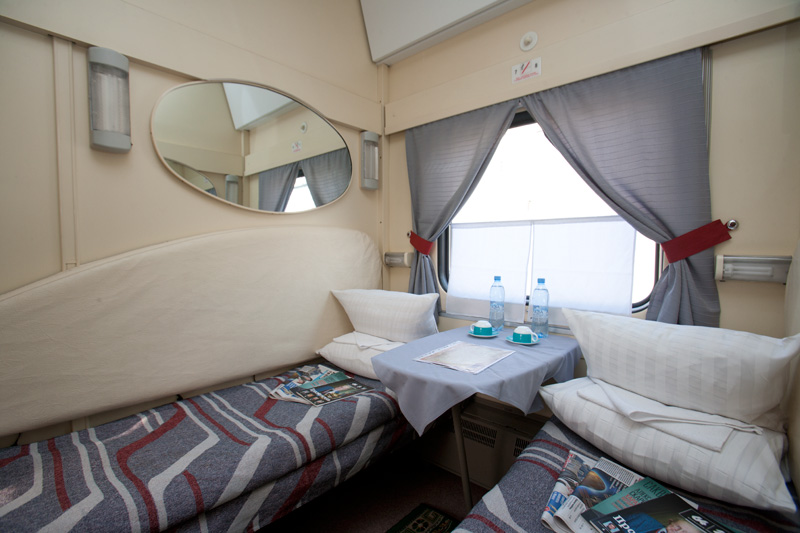 Toilets are located at the beginning and the end of the wagon. Of course the main benefit of these wagons is the comfort as this wagon is for only 18 people, whereas kupe are for 36 people and platskartny wagons are for 2 people.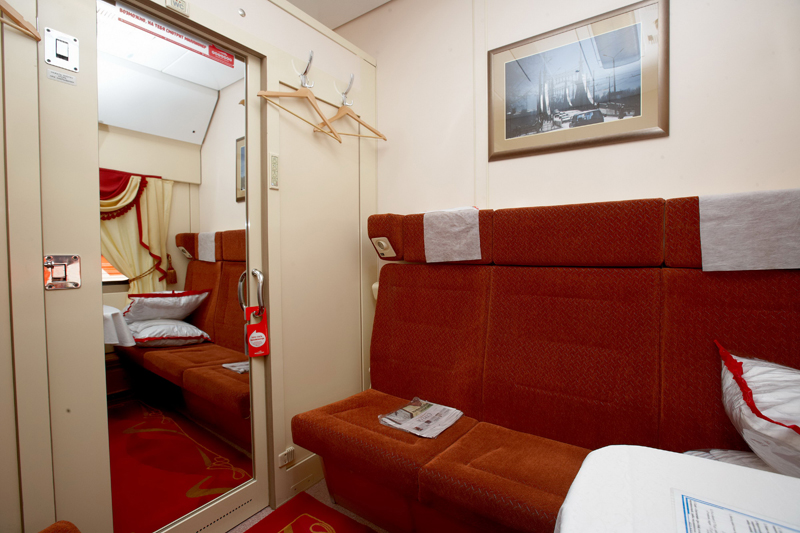 Suite wagons are naturally popular with couples who don't want to share their compartment.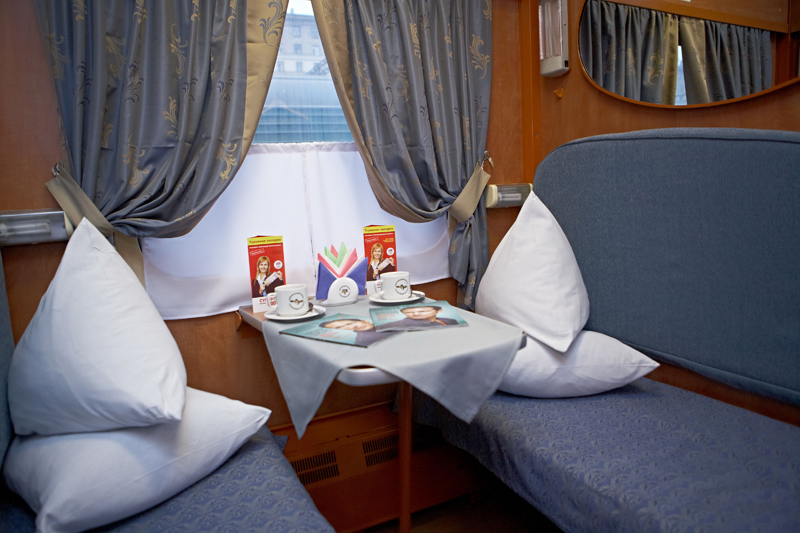 The cost of tickets for a bed on a Suite Wagon is approximately double that of a compartment (kupe) wagon and three to four times more expensive than an open (platskartny) wagon.
---

---

---
COMPARTMENT CARRIAGES - KUPE | SECOND CLASS
---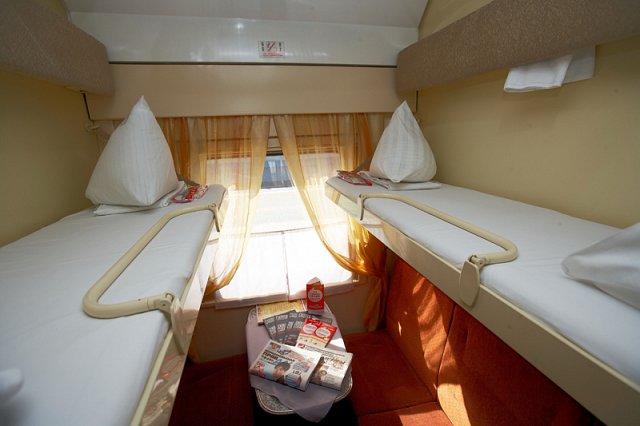 Compartment wagons are one of the most popular options for tourists. Each wagon has nine compartments for four people.
  The compartments have two lower bunks and two upper bunks, each with soft backs and their own lights. In the centre there is a table. There is space for luggage under the lower bunks and in the section of the compartment above the outer corridor.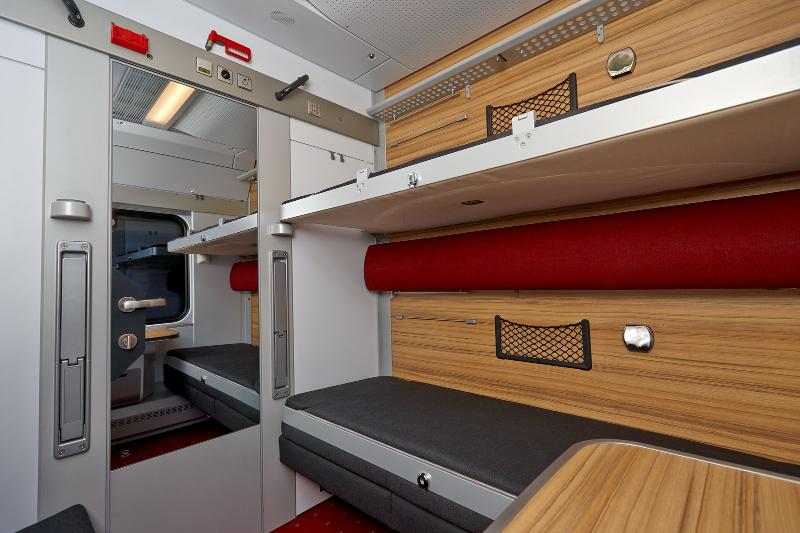 One of the benefits of a compartment wagon over an open (platskartny) wagon is that there is a door which can be locked from the inside, therefore people think they and their belongings are safer. If four of you are travelling it is certainly a great option of travelling if you don't mind travelling.
  If there is just one or two of you travelling, whether you have a good night's sleep depends on your neighbours. You might be unlucky enough to be in a small compartment with people who want to talk or even drink all night!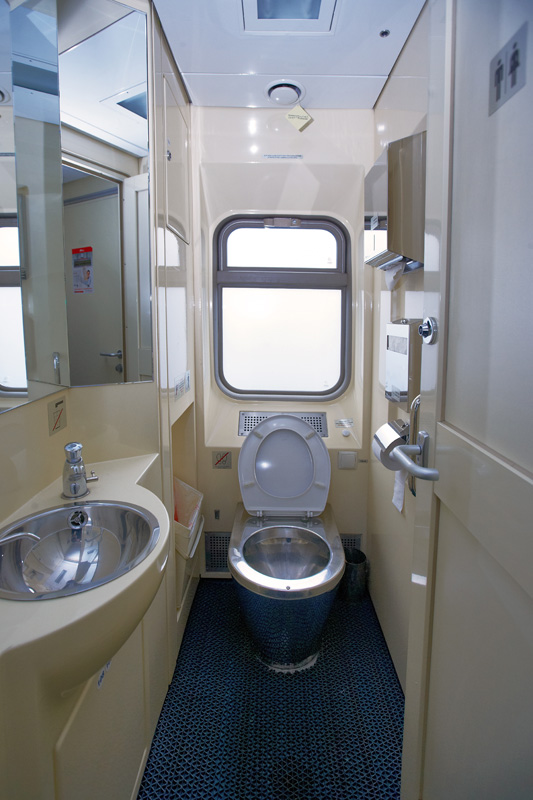 Prices for a bed on a compartment wagon is about double that of a bed on an open wagon.
---

---
OPEN CARRIAGES - PLATSKARTNY | THIRD CLASS
---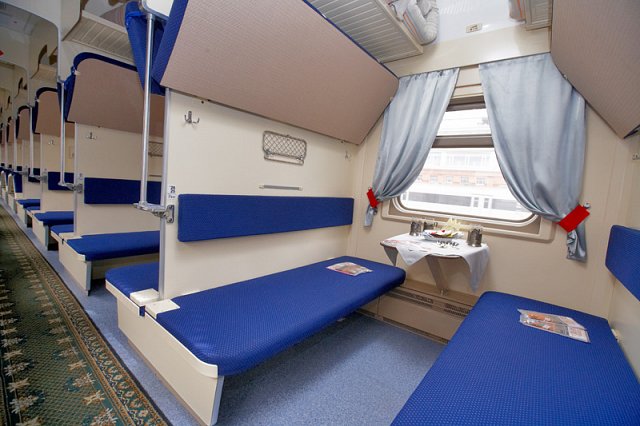 The best value for money is a bed on an open (platskartny) wagon and this is the commonest way of travelling, especially for Russians. Here instead of compartments the wagon is open with blocks of six beds: two lower bunks and two upper bunks with a table in the middle and then an extra two side (bokovoy) beds against the side of the train on the other side of the corridor.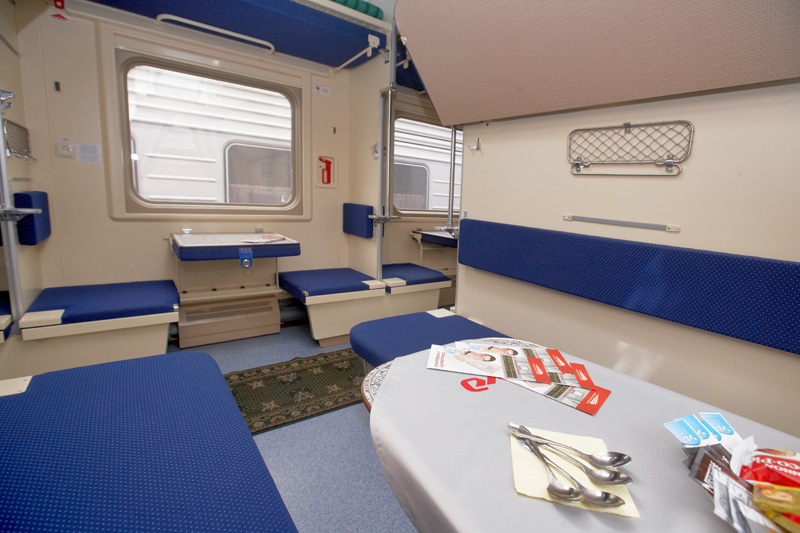 All these beds fold up and the two side beds fold up into seats. Lower bunks have an odd number and upper bunks have an even number. Side beds start at number 37. Luggage can be placed under the lower bunks and on the shelves above the upper bunks. It is no longer permitted to drink alcohol on open wagons, although this law is still occasionally ignored.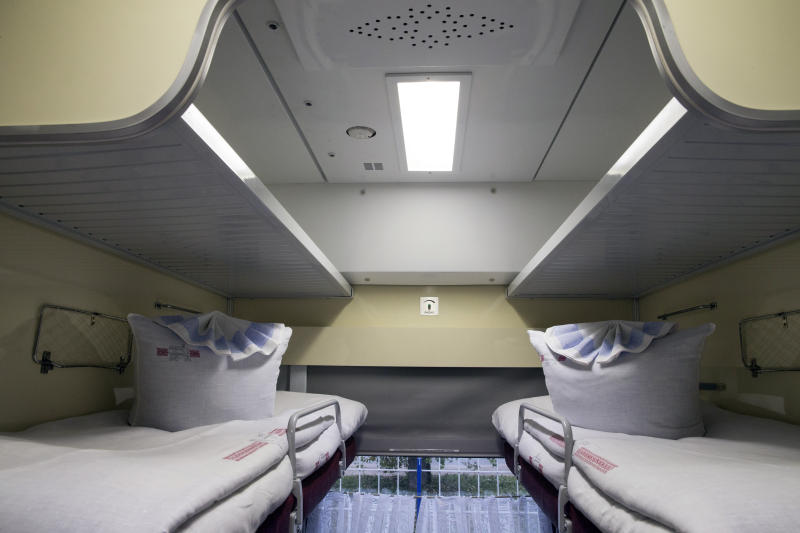 Nevertheless if seen with alcohol by a policeman, you will be asked to go to the restaurant wagon in the best scenario or fined in the worse. Each wagon has two toilets, one at the front of the wagon and one at the back.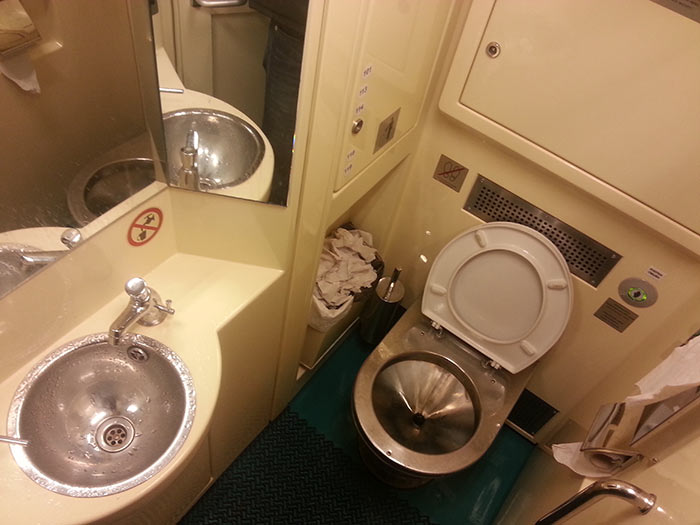 Usually these toilets start out clean enough, but get worse and worse as time goes on! A bin is also located opposite to the toilet at the end of the wagon.

  As is only to be expected, an open wagon to be smelly at times (smelly food, dirty socks and second-hand smoke) noisy (snoring, chatting, people getting on and off) and hot in the summer months. It is worth remembering though that premium trains also have open wagons which are more comfortable and modern and so this is a good compromise between comfort and price.

 You will sometimes see guides recommending foreign tourist avoid open wagons in favour of compartment wagons. However there is no reason why this should be the case.
Travelling on open wagons is of course noisier but remember that you are all in it together and people tend not try there best not to upset all the other travellers. In your compartment of four people, it completely depends on who you are with. One disadvantage of open wagons is the security of your belongings, but on the whole it shouldn't be a problem.
---

---
OUR ADVICE FOR TRAVELLING IN OPEN WAGON IN PARTICULAR:
Belongings: lower bunks are best for storage as you can put all your belongs under your bed which then cannot be accessed while you are lying on top of it. When on an upper bunk, you can place valuables under your pillow, or if there is space you can ask to put your bag in the space under the lower bed. The upper side bunk is probably the worse for belongs as people will be constantly be walking past. Use your common sense too, it is probably not best to show off an expensive camera, laptop or phone too much.
Etiquette: if you have a lower bunk the person above will wish to sit on your bunk to eat. Nevertheless don't be scared to ask your companion to move if they are disturbing you. Having an upper bunk means that you are sure not to be disturbed.
Avoid the section of beds next to the toilet as you will probably be disturbed all night long by people opening and closing the door.
If two of you are travelling it is definitely best to get one lower bunk and one upper bunk. Therefore you get both the benefits of the under bunk storage and your own space.
---
►  Practicalities ►  Russian Trains ► Types of Carriages
---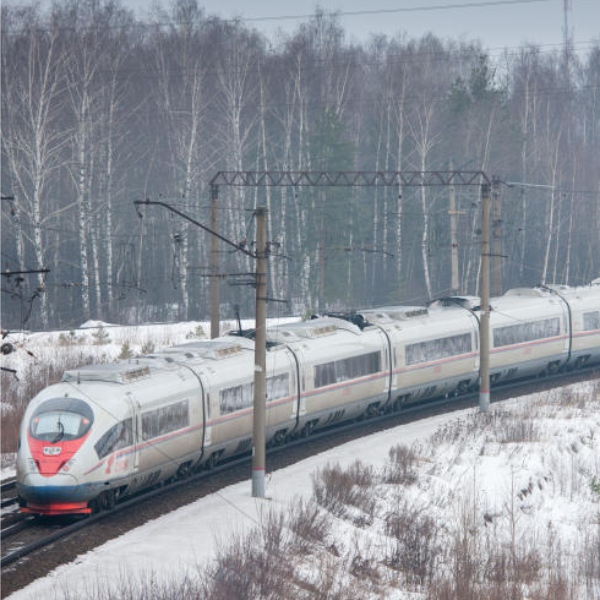 The Sapsan is a high-speed train which operates between Moscow and St Petersburg, bringing the travelling time between the two Russian capitals down to 3 hours 45 minutes. Sapsan means swift in Russian and so joins the collection of high-speed trains1 which are named after birds – such as the  Sapsan  (peregrine falcon) and the Lastochka (swallow). Read more...
---
TRAINS BETWEEN MOSCOW AND ST PETERSBURG
The railway line between Moscow and St Petersburg is the busiest in Russia. Many premium trains, high-speed trains and transit trains run along this route. Some of them are more comfortable, expensive and quick while others are simpler and slower. To help you make the right choice we have prepared descriptions of available trains. Read more...
---