---
The Sapsan is a high-speed train which operates between Moscow and St Petersburg, bringing the travelling time between the two Russian capitals down to 3 hours 45 minutes. It also has a convenient schedule and several classes of carriages.

Train No
DEPARTURE FROM MSC
ARRIVAL TO SPB
DEPARTURE FROM SPB
ARRIVAL TO MSC
752/751
05:40
09:20
05:30
09:10
754/753
07:30
11:30
07:00
11:00
756/755
07:40
11:40
07:10
11:10
758/765
09:30
13:20
13:00
17:00
760/767
09:40
13:30
13:10
17:10
770/769
15:30
19:20
15:00
18:50
772/771
15:40
19:30
15:10
19:00
778/777
19:30

23:30

19:00
23:00
780/779
19:40
23:40
19:10
23:10
*The timetable is given for information purposes and could be changed, you should check the actual time of departure when planning your trip.

The maximum design speed of the train is 350 km/h, but on Russian Railways the train's high speed is limited to 250 km/h and for most of the way from Moscow to St Petersburg the train travels at 200 km/h. Only on one section between Okulovka and Malaya Vishera, and Mstinsky bridge does the speed increase to 250 km/h. Sapsan is the Russian for peregrine falcon and it was named after the hawk due to its speed.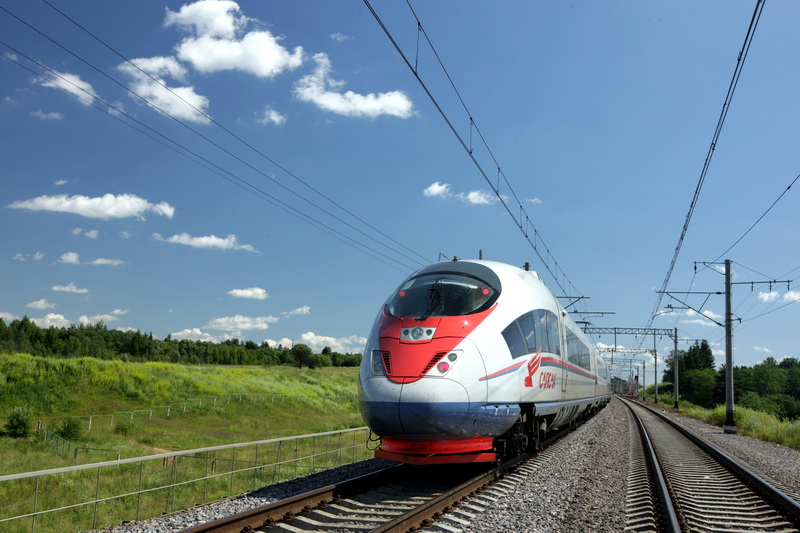 This high-speed train was constructed by the German-company Siemens especially for Russia and is somewhat different from its European counterparts; the main innovations being larger carriages (up to 30 cm wider) and high frost resistance (able to withstand as low as -50 degrees Celsius).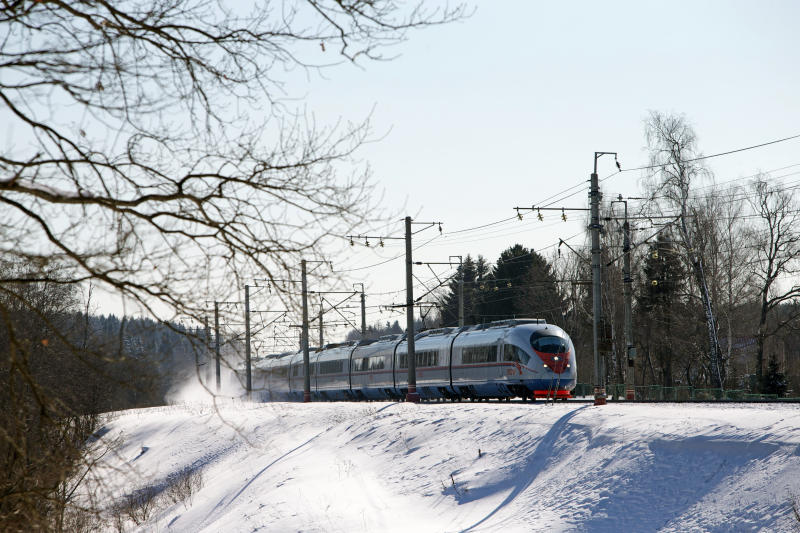 There are usually eight trains a day - three in the morning, two in the day and three in the evening. Some of them are doubled - two trains connected to each other. In Moscow the trains leave from Leningradsky Railway Station and arrive at St Petersburg's Moskovsky Railway Station. The trains make between one and three short stops along the way - in Tver, in Chudovo and in Bologoe.

1ST CLASS | 
Carriage №1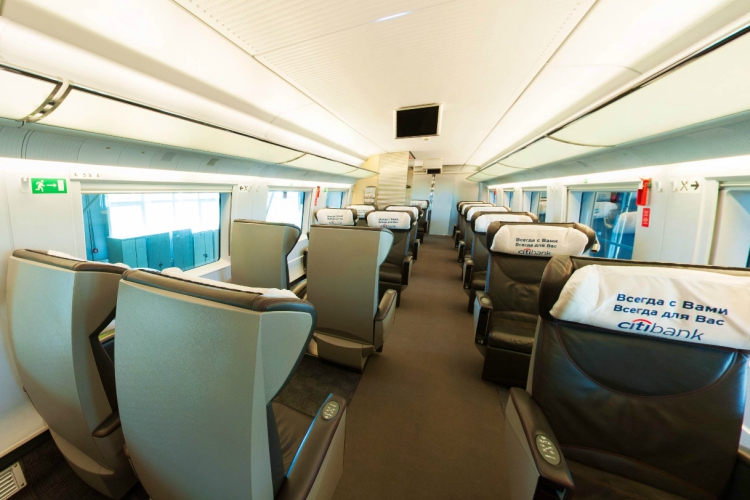 The 1st class carriages have leather seats equipped with reading lights and a control to adjust the position of the chair. The ticket price includes a meal: a cold appetiser, a main dish, a dessert, hot and cold drinks (unlimited), plus an alcoholic beverage. 1st class passengers are entitled to the following services: travel kit, a blanket, a baby kit (for passengers travelling with children), charging mobile phones, pre-ordering food, business lounges at railway stations, individual choice of movies, and a set of newspapers.
The 1st class carriage also has a 4-seat compartment for business meetings and presentations.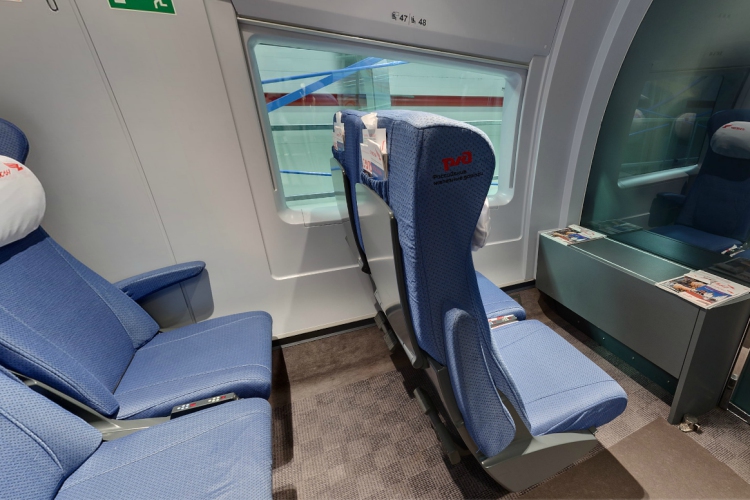 It is equipped with multimedia equipment, a minibar and individually adjustable lighting. This compartment can only be bought entirely.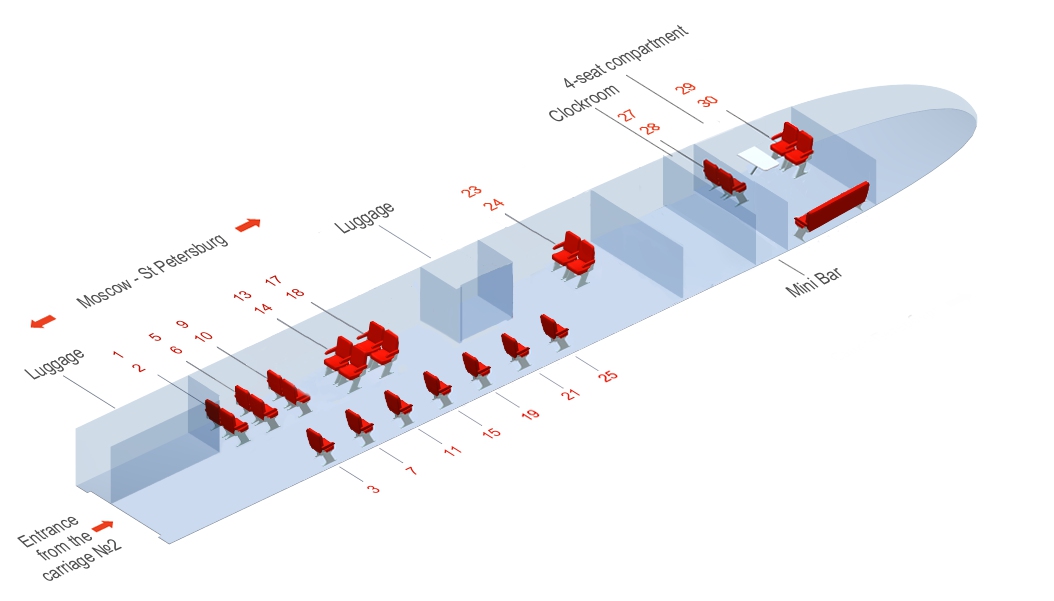 BUSINESS CLASS | Carriage №2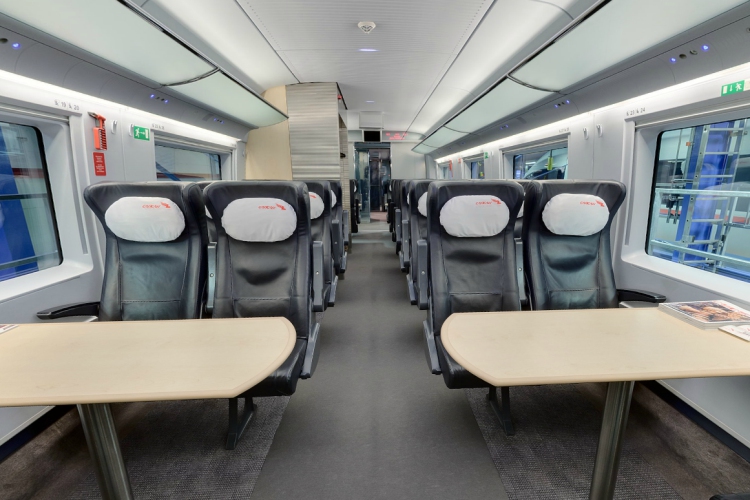 The business class carriages have leather seats equipped with an adjustable backrest, folding tables, armrests and leg supports, and audio modules. The services includes business lounges at stations, a set of printed products, a baby kit (for passengers travelling with children), charging mobile phones, pre-ordering food, audio and video entertainment, and a travel kit.

ECONOMY CLASS | Carriages №3,4,6,7,8,9,10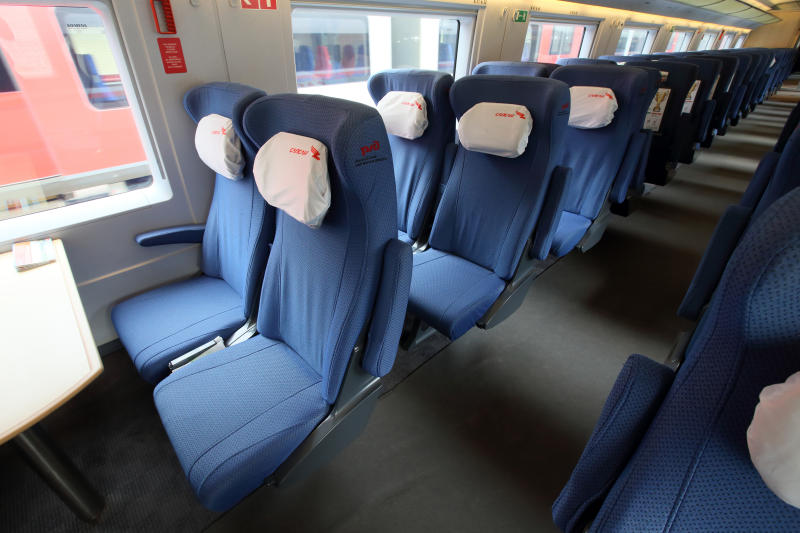 Economy class carriages have with seats with an adjustable backrest, removable headrests and protective removable covers, folding tables, audio modules, armrests and leg supports, plus audio and video entertainment.

SEATS FOR PASSENGERS WITH DISABILITIES | Carriage №6 (16)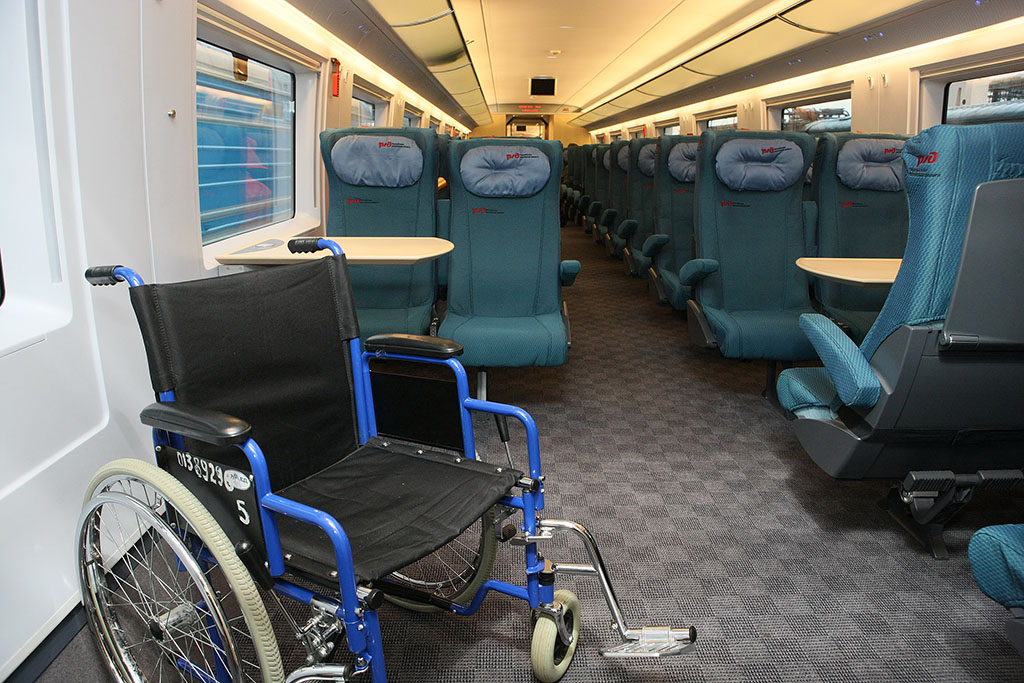 In the wagon 6 (16) of the "Sapsan" train there is a place with a reliable fastening to stick wheelchairs. Location is equipped with a button to call a carriage attendant. There is a special toilet designed for use by wheelchair users, who, like other toilets equipped with an emergency call button. Also in the toilet of 6 (16) wagons there is a table for baby changing.

WAGON BISTRO | Carriage №5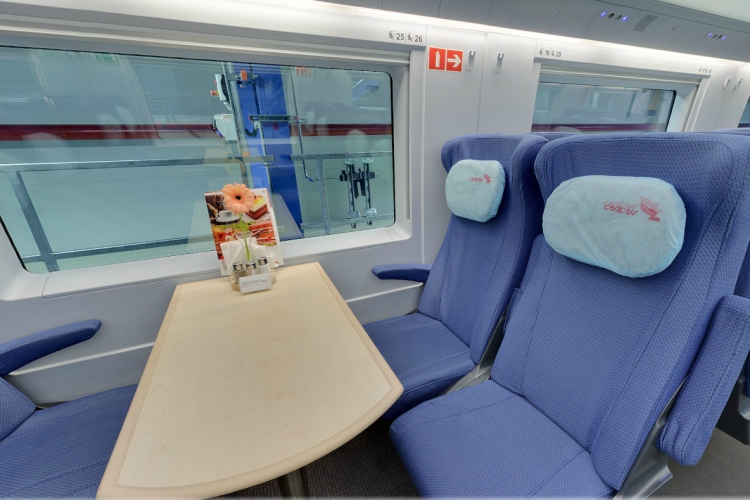 In the car-bistro №5 (№ 15) of the train for the convenience of passengers there are 2 bar tables and 10 window tables. Delivery service of hot meals from the bistro car to the passenger's seat with disabilities. In the mobile bar you can buy soft and alcoholic drinks, sandwiches, snacks and desserts.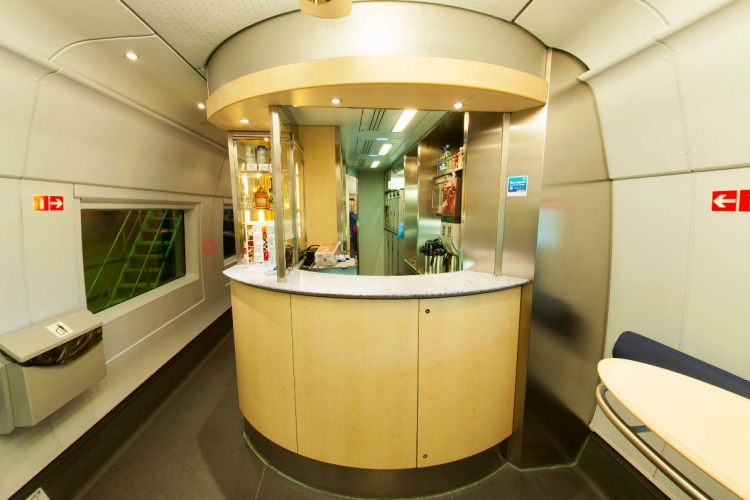 You can buy tickets to the carriage bistro (2E) which includes the meals for the sum of 2000 rubles. So passengers can choose dishes from the menu for this amount.
---
---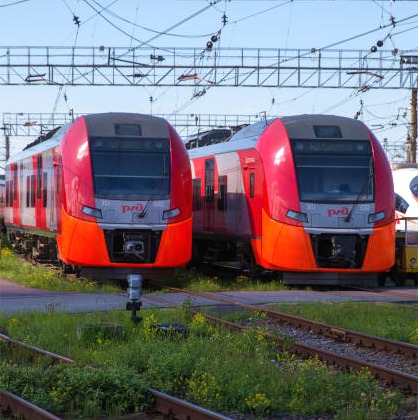 The Lastochka train is the most common high-speed train in Russia. The first Lastochka started to operate temporarily in 2013 in Kazan to carry guests of the Universiade from the airport to the city centre. The train is a localised version of the German Siemens Desire train. Read more...
---
The Strizh  (Стриж) high-speed trains runs along the route of Moscow - Nizhny Novgorod - Moscow. Strizh  means swift in Russian and so joins the collection of high-speed trains1 which are named after birds – such as the  Sapsan  (peregrine falcon) and the Lastochka (swallow). In a vote for the name,  Strizh  beat Lanner (lanner falcon) and Orlan (sea-eagle). Read more...
---