On Kazansky Island
Our Lady of Kazan Cathedral
St Petersburg's Our Lady of Kazan Cathedral is one of the city's most famous landmarks with its instantly recognisable semi-circular colonnade with 96 columns.  Construction of the cathedral began in 1801 according to a plan by architect Andrey Voronikhin, which was rather controversial at the time as it was influenced by St Peter's Basilica in Rome - a Catholic cathedral.  Previous to this the Nativity of the Virgin Mary Church stood here which was built between 1733 and 1737 and housed a revered copy of the original Our Lady of Kazan Icon which has become known as the St Petersburg Copy.  When the new cathedral was finally completed in 1818 it was dedicated to the Our Lady of Kazan Icon and in commemoration of the Russian victory over Napoleon in 1812.  
After the Revolution the cathedral was given first to the Renovationist Church  and then closed in 1932.  It was subsequent turned into the Museum of the History of Religion and Atheism.  Worship was only once again held at the cathedral in 1991 and the cathedral was fully reopened for worship in 1998.  In 2002 it gained the status of the eparchial cathedral of the St Petersburg Eparchy and of the St Petersburg Metropolitanate which was established in 2013.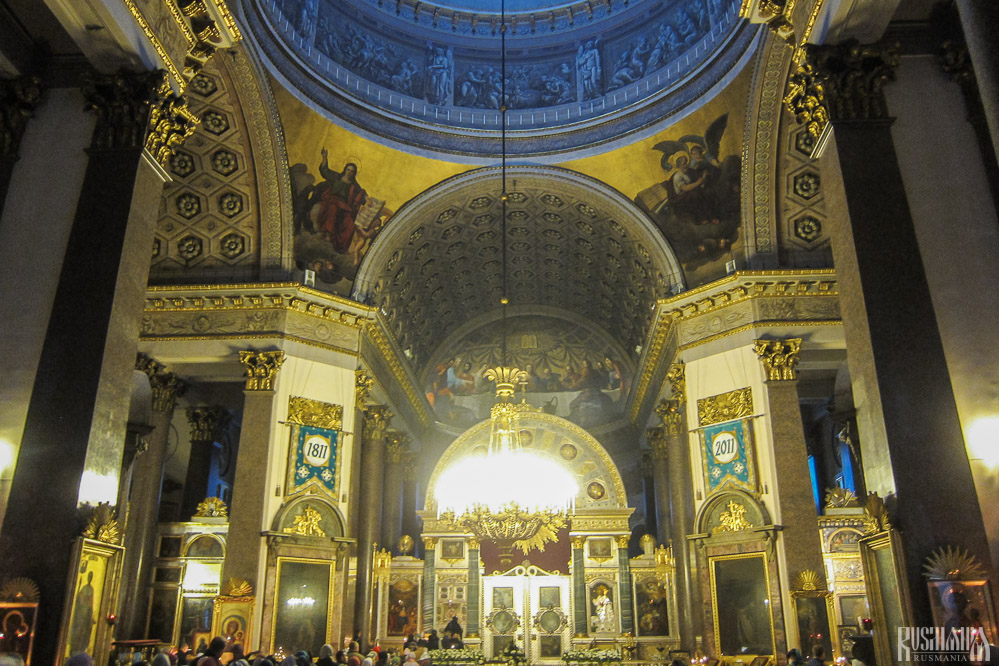 The interior of the cathedral is as beautiful as its exterior and also features many columns and is decorated with statues.  Also found inside is the tomb of the Russian commander during the Napoleonic war - Mikhail Kutuzov, who died in 1813 and was interned inside the cathedral which was then still being constructed.  Most importantly the cathedral holds the St Petersburg Copy of the Our Lady of Kazan Icon, which since the destruction of the original icon in 1905 is now considered the most revered copy in Russia.  The icon was made as a copy of the original and firstly bought to Moscow and owned by Tsar Michael.  After Peter the Great founded St Petersburg, he ordered the icon be brought to his new capital where it was firstly installed in Aleksandro-Nevskaya Lavra, then the Nativity of the Virgin Mary Church and then in its replacement - the Our Lady of Kazan Cathedral. There are rumours that during the darkest days of the Second World War even atheist Stalin ordered the icon be flown around Leningrad to give the city divine protection.
---
Mikhail Kutuzov and Mikhail Barclay de Tolly Monuments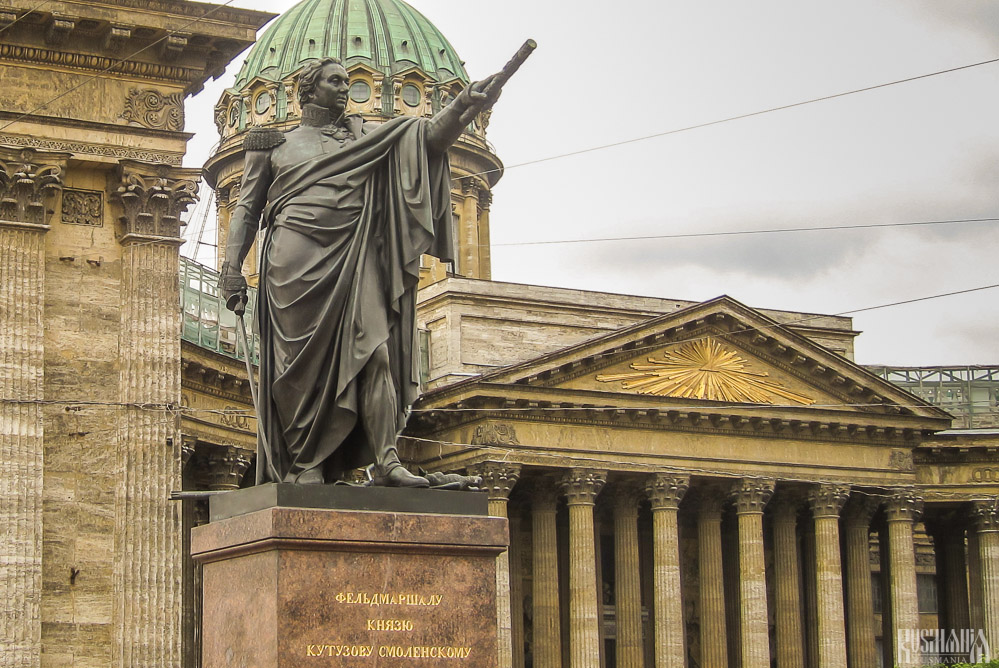 Standing at the two ends of the cathedral's colonnade are two statues of Russian Napoleonic War heroes: Field Marshal Mikhail Kutuzov and Field Marshal Mikhail Barclay de Tolly.  The statues were unveiled in 1837 and are the work of sculptor Boris Orlovsky, who depicted both men in Roman dress.
---
| | |
| --- | --- |
| Location | 2 Kazanskaya Ploschad |
| Metro | Nevsky Prospekt |
| Website | http://kazansky-spb.ru/ |