On 2-y Admiralteysky Island
State Hermitage Museum (Winter Palace)
  One of the most enduring symbols of Russia's imperial past is that of the Winter Palace which stands on the banks of the River Neva on Dvortsovaya Ploschad (Palace Square). The palace served as the official residence of the Russian emperors and empresses from 1732 to 1917. The surviving version of the palace is its fourth incarnation and was built between 1754 and 1762 on the orders of Empress Elizabeth, although since then it has been added to and reconstructed many times.  
  After the February Revolution of 1917 the Provisional Government set themselves up in the palace's Malachite Room but after the Bolshevik October Revolution of 1917 the Bolsheviks decided not to use the Winter Palace as their headquarters and the palace was pillaged, including its well-stocked wine cellars. Later the Bolsheviks decreed that it should be turned into a museum. During the Siege of Leningrad the palace was damaged but was immediately restored after the war. Most of its works of art were successfully evacuated and therefore saved.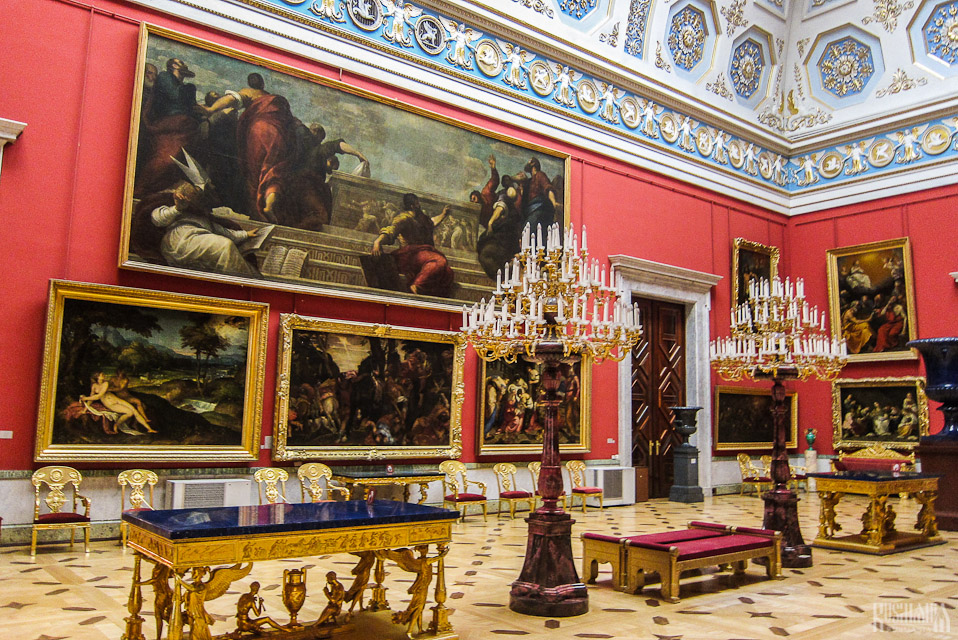 Today the palace still holds the State Hermitage Museum which is one of the most famous art galleries in the world and receives over 3.5 million visitors a year.  Many of the palace's 150 rooms are filled with sculptures and paintings of world-renowned artists of all ages, although quite often the interior of the palace outshines even these masterpieces. The main complex consists of the Winter Palace, the Large and Small Hermitages and the New Hermitage.  
  There is so much to see that it is virtually impossible to make a list of highlights, but impressive rooms include the Jordan Staircase, the Pavilion Hall with it golden peacock clock, the Knight's Hall with suits of armour and the Hermitage Theatre built on the orders of Catherine the Great in the New Hermitage.
  Other sections of the palace have been maintained as they looked when used as an imperial residence which clearly demonstrates the vast opulence the Romanovs surrounded themselves with. All in all you can easily spend the best part of a day here and come nowhere close to seeing all it has to offer.
---
| | |
| --- | --- |
| Location | 2 Dvortsovaya Ploschad |
| Metro | Admiralteyskaya |
| Website | http://www.hermitagemuseum.org/html_En/ |
| Clock | 10:30 - 18:00 (Wednesday: 10:30 - 21:00). Closed on Mondays, 1 January and 9 May. |
| Price | Free admission on the first Thursday of the month. |