On 1-y Admiralteysky Island
Field of Mars
  The Field of Mars started its life as a meadow in the centre of St Petersburg.  However the open space was also used for military drills and this became more common during the reign of Emperor Paul who had his official residence in the nearby St Michael's Castle.  In 1799 an obelisk was erected in the centre of the park in honour of the 18th century Russian general and governor of Ukraine Pyotr Rumyantsev.  This was followed by a statue of the great military leader Aleksandr Suvorov in 1801 and in 1805 the field was renamed the Field of Mars after the Roman god of war.  However in 1818 both monuments were relocated.  
  The field was later used to bury participants of the Russian Revolution and a monument in their honour was added in 1919. Following the Second World War, in 1957, the first Eternal Flame in Russia was ignited at the site in honour of all Soviet war dead.  From this flame a torch was lit in 1967 which was used to ignite Moscow's Eternal Flame in Aleksandrovsky Gardens. 
---
Aleksandr Suvorov Monument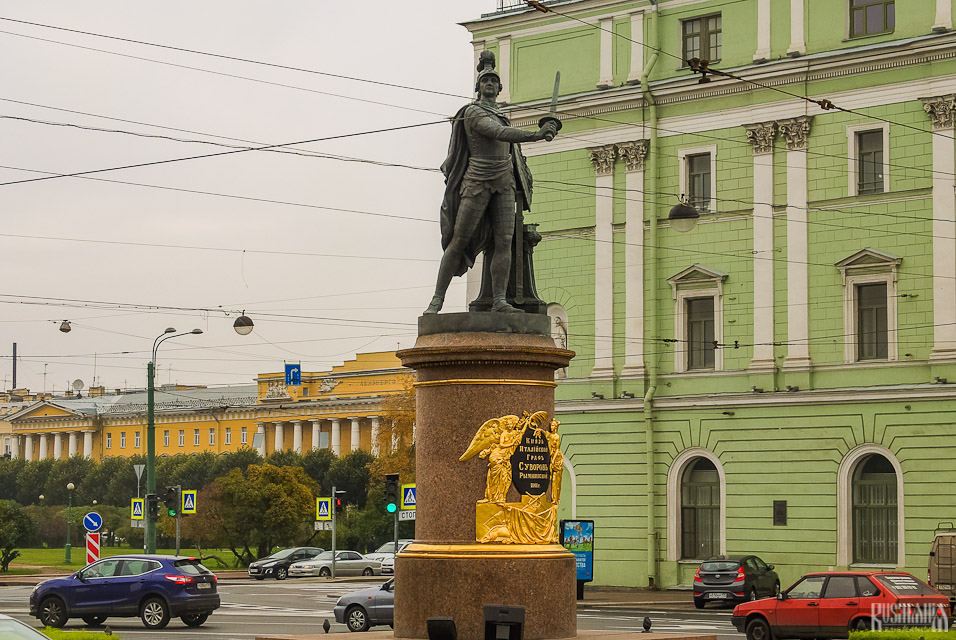 Just to the north of the Field of Mars on Suvorovskaya Ploschad (Suvorov Square) is the bronze statue of Aleksandr Suvorov which was originally unveiled in 1801 in the Field of Mars itself.  It was moved to its present day location in 1818 during the redevelopment of the field.  Suvorov was an 18th century generalissimo of the Russian Empire and famed for never losing a single battle.  Mikhail Kozlovsky, the sculptor of the statue, immortalised the great Russian hero as a youthful Mars in Roman attire.
---
| | |
| --- | --- |
| Location | Naberezhnaya Peki Moikoi |
| Metro | Gostiny Dvor |