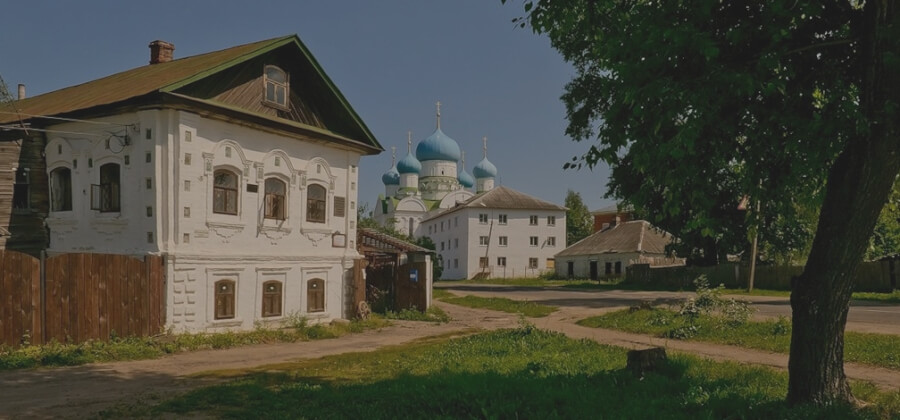 THE GOLDEN RING OF RUSSIA

  The Golden Ring of Russia is a tourist route that was specifically developed in the late 1960s uniting several mediaeval Russian cities located to the north-east of Moscow. Today it is the main and most popular tourist route around provincial cities of central European Russia. The route consists of eight principal cities and several additional, unofficial secondary cities located in the Ivanovo, Kostroma, Moscow, Vladimir and Yaroslavl regions.
  The Golden Ring Route incorporates cities in the region historically known as Zalesye, which literally means 'beyond the forest' in reference to its location from Kiev - then the capital of the Rus state (Kievan Rus). Once considered a backwater of Rus it later developed into the powerful Suzdal Principality and then the Vladimir Grand Principality, which eventually eclipsed Kiev as the seat of the most senior Rus prince. Vladimir would remain the capital of Rus until it was in turn eclipsed by Moscow.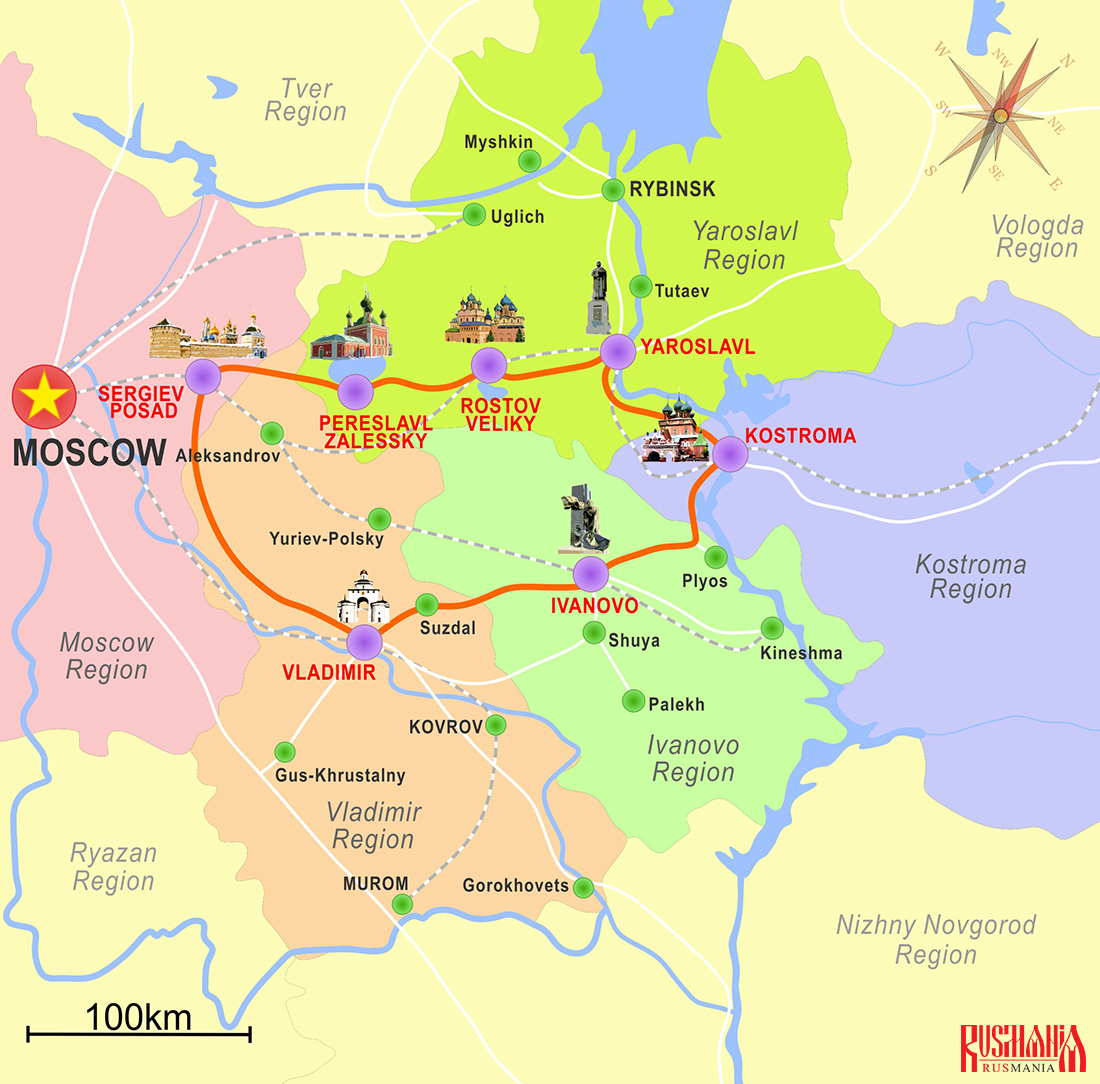 The main attractions of the cities on the route are the old buildings that have been preserved here, especially the monasteries and churches, and there are even several UNESCO World Heritage Sites. In addition to this, the cities are very provincial and located among the beautiful Russian countryside. Therefore the Golden Ring preserves a perfect antidote to the hustle and bustle of Moscow, so it is definitely worth visiting at least one Golden Ring city if you are in Moscow for more than a couple of days.
  The Golden Ring of Russia is the main and most popular tourist route around provincial cities of central European Russia. There is no officially defined list of all the cities included on the route, but you can find a list of the cities frequently included on our Golden Ring Cities page.  In any case, there are certainly a few cities which you should see and some you can skip.

DISTANCES

  The distances between the principal cities of Golden Ring do not exсeed 100km, most of them are located between 60km and 100km of each other. It therefore takes approximately one and half hours to travel between the cities. The entire route with a visit to all the main cities such as Sergiev Posad - Rosov - Pereyaslavl-Zalessky - Yaroslavl - Kostroma - Ivanovo - Plyos - Suzdal - Vladimir is about 700km (beginning and ending in Moscow)
---

TRANSPORT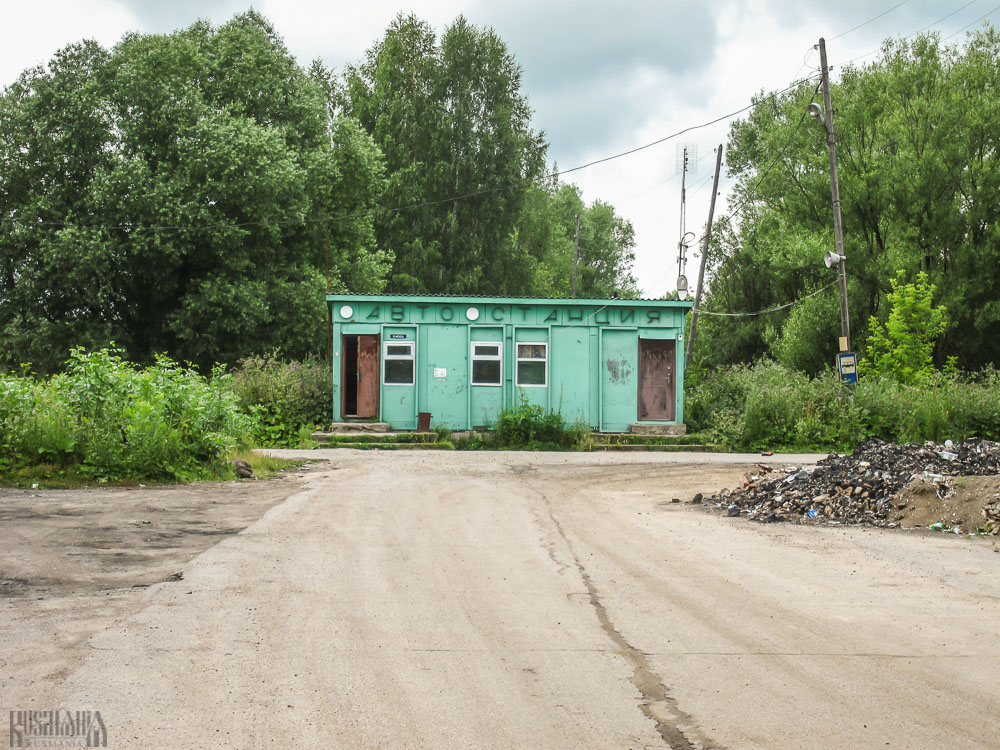 The Golden Ring route goes across five regions of Russia's Central Federal District (the Ivanovo Region, Kostroma Region, Moscow Region, Vladimir Region and Yaroslavl Region). All the administrative centres of these regions are connected with Moscow by railroad and are transport hubs for their regions. Many other Golden Ring cities do not have railroad connections, only roads - such cities though are less developed and therefore more interesting as they tend to be unspoiled by modern industry.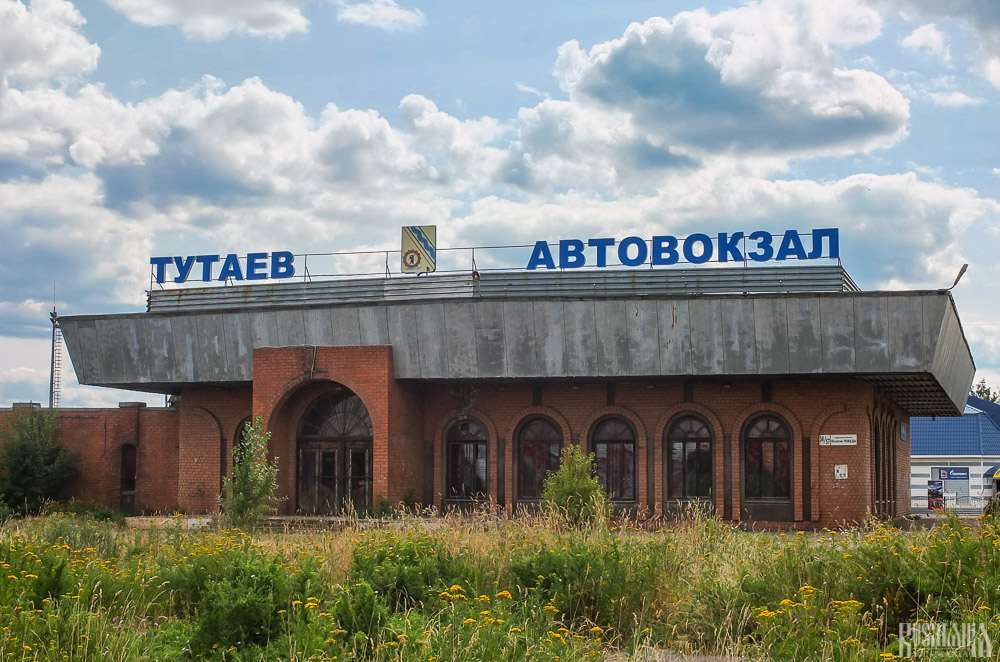 Although the bus connections between Golden Ring cities is usually good, you cannot always expect to travel on very comfortable buses.  For some directions you can buy bus tickets online. Some cities are also connected by ferry but the schedule changes quite often and is seasonal.

ACCOMMODATION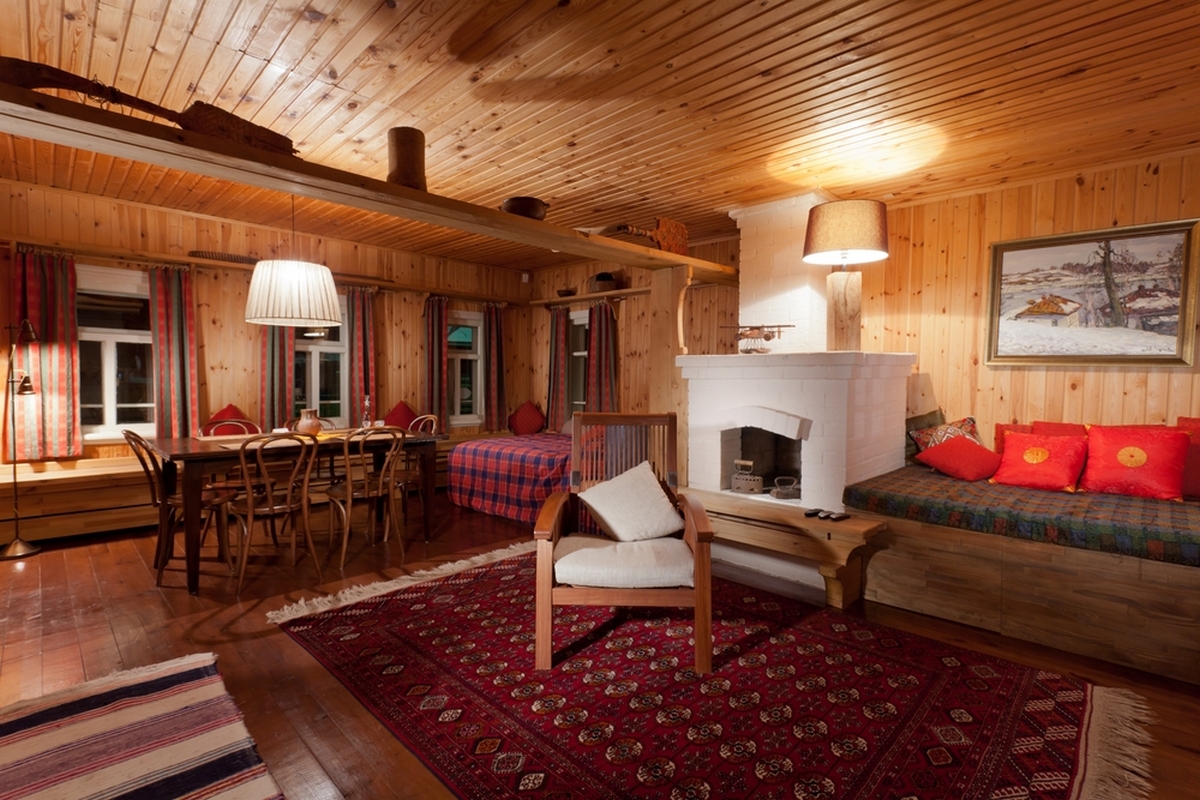 There are no luxury hotels on the route, the best you can expect is 4* hotels in Yaroslavl. Some cities are so small that there is only one Soviet-style hotel, but some have a wide range of guest house type accommodation, for example Suzdal. Most of the hotels in the Golden Ring cities can only be booked by phone and sometimes the hotel charges a booking of around 10-15% of the cost of the first night.

EATING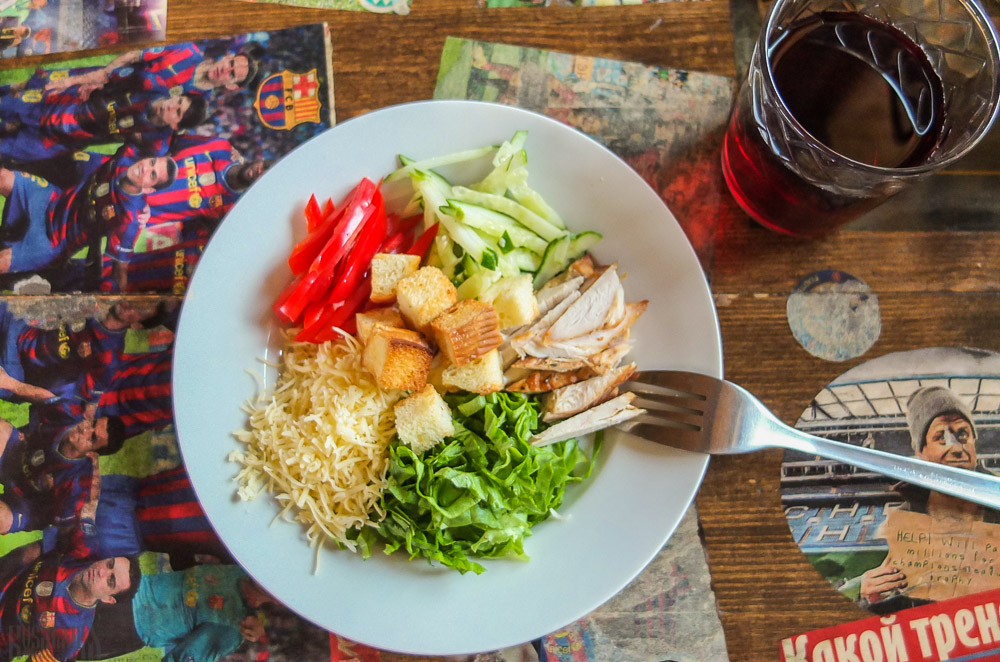 You should not have any problem finding a place to eat in large cities such as Yaroslavl, Vladimir, Kostroma or Ivanovo or in popular destinations such as Suzdal or Sergiev Posad. Although you cannot expect high-end fine-dining in these cities, you should not have any problem in finding well-prepared and tasty traditional Russian food (see our section on Russian Cuisine to help you work out the menu).  With the exception of Suzdal, all the cities mentioned above also have Western brand fast-food outlets.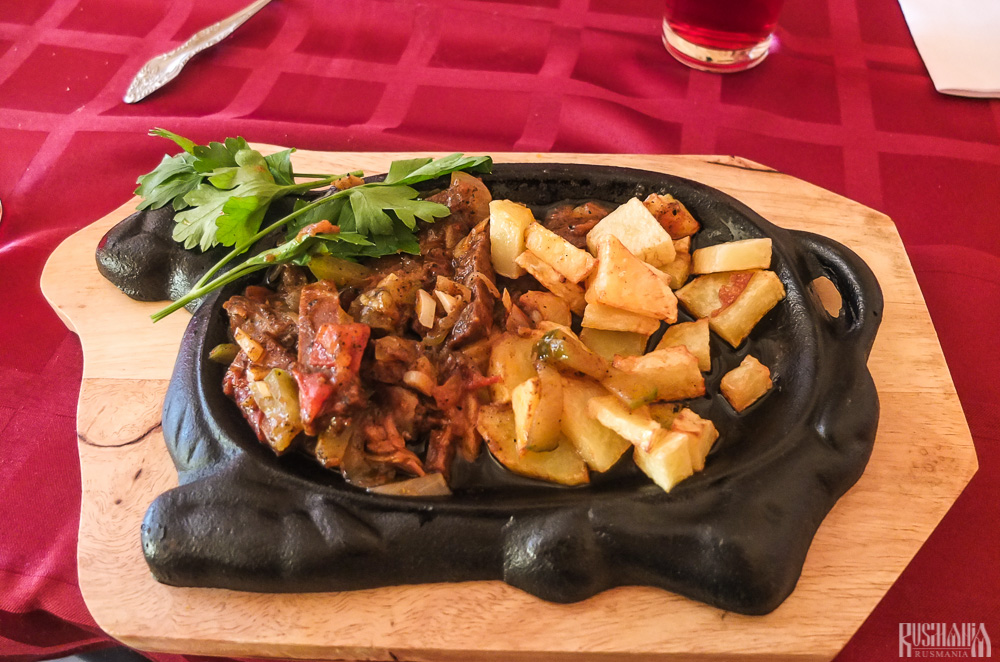 Even in the smaller cities there are usually small restaurants and cafes and the situation is improving all the time.  These usually are more Russian in style and so don't be surprised to see lots of dill, oil and mayonnaise in some dishes! One big problem in terms of finding somewhere to eat in smaller cities is that on weekends the few restaurants and cafes they have can often be closed for private wedding parties.
---

PLANNING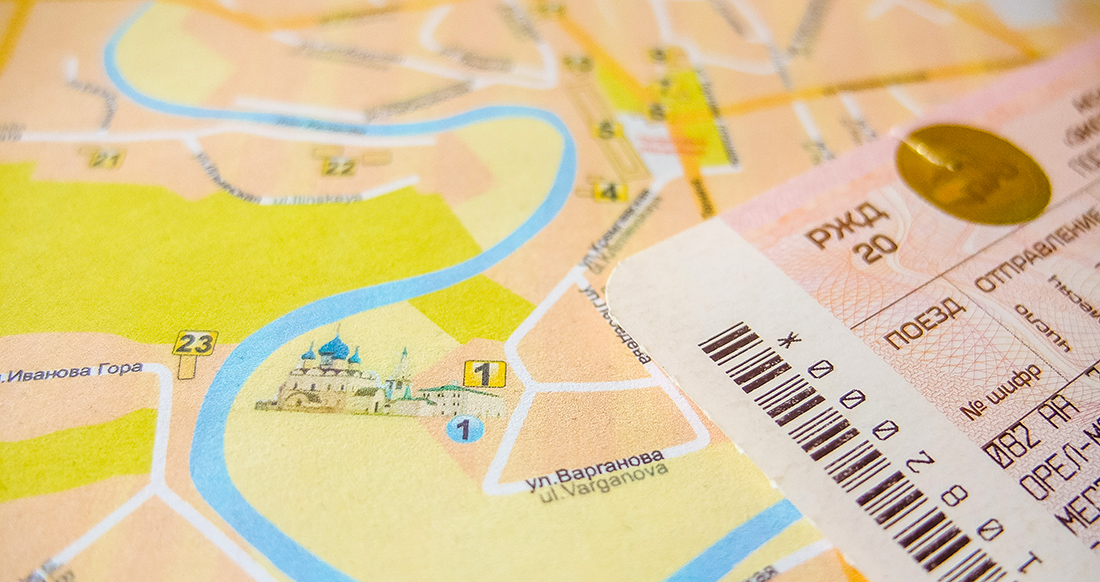 To get a better impression of Russia, it is good to leave Moscow on a visit to a Golden Ring city.  After all Moscow is and has a very good connections with the Golden Ring cities. The closest city to Moscow is Sergiev Posad (Сергиев Посад) which is just 70km from the Russian capital. The furthest one is Kostroma. St Petersburg however is only connected by railway with Yaroslavl, Ivanovo, Vladimir and Kostroma.  There are also flights from St Petersburg to Yaroslavl, Kostroma and Ivanovo, but the flights only operate on the certain days and the planes are quite old and unreliable. To visit all cities of the Golden Ring route, you would need at least a whole week.
---
SUGGESTED ITINERARIES
---
DAY TRIPS TO CITIES ON THE GOLDEN RING
If you have a free day in Moscow it is a great opportunity to use it to escape the chaos of the metropolis by going on a day trip to see a more rural and calm Russia.  Four of the Golden Ring cities make ideal day trips as they are not too far away and not too exhausting to visit in one day.  However spending the night in these cities is recommended if you really want to have a relaxing break away from the chaos of the Russian capital.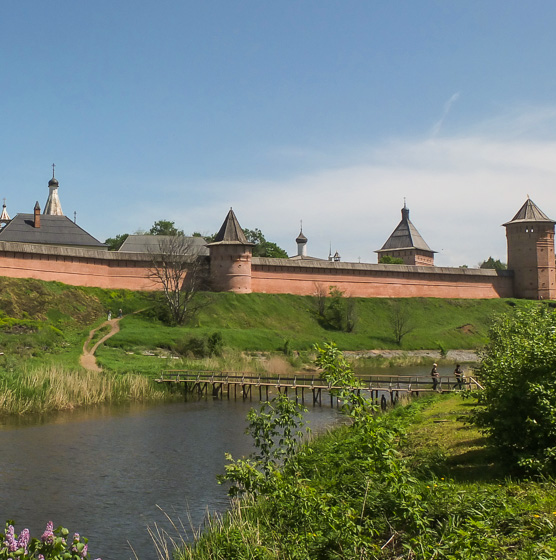 Suzdal is one of the most popular destinations on the Golden Ring and the whole city is often described as an open-air museum. The city has no railway station and practically no heavy industry, meaning that is has preserved its provincial charm and a great deal of architectural monuments. Read more...
---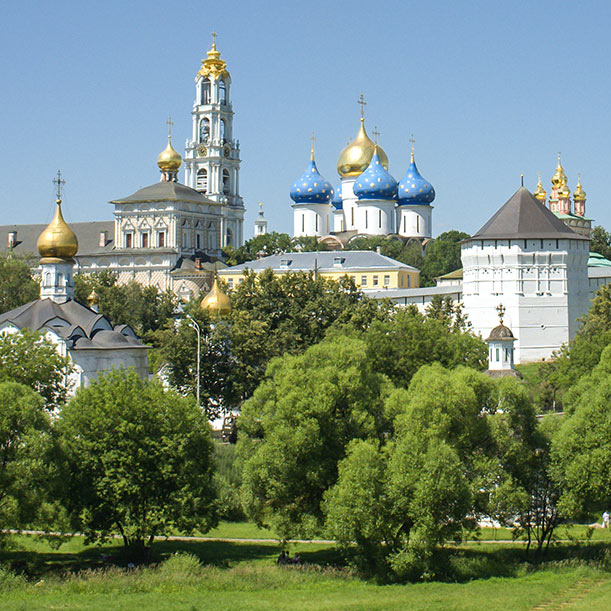 Sergei Posad is an excellent destination for a day trip from Moscow as it is very easy to get to, even if you speak no Russian, and is home to one of the most revered monasteries in Russia – the UNESCO-protected Troitse-Sergeiva Lavra. Sergiev Posad is also a Golden Ring city. Read more...
---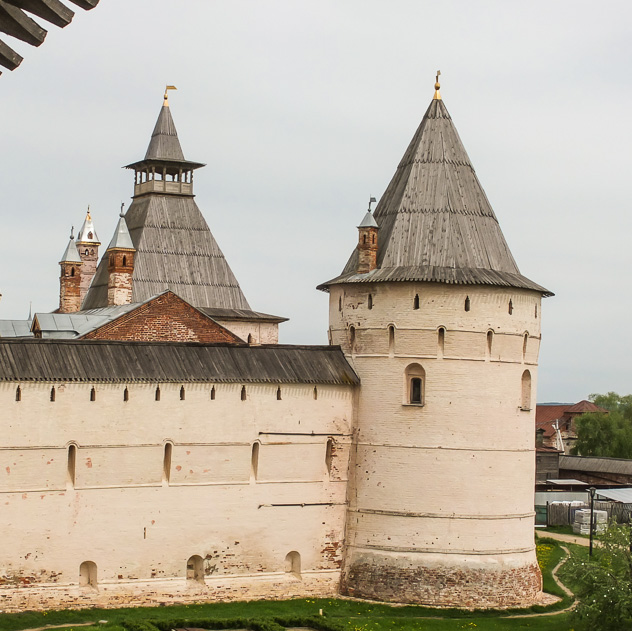 Rostov-Veliky is one of the most interesting and ancient cities on the Golden Ring, which has the most beautiful kremlin of the whole tourist route. It makes a great day trip from Moscow as even though it is quite far it has good transport links. Read more...
---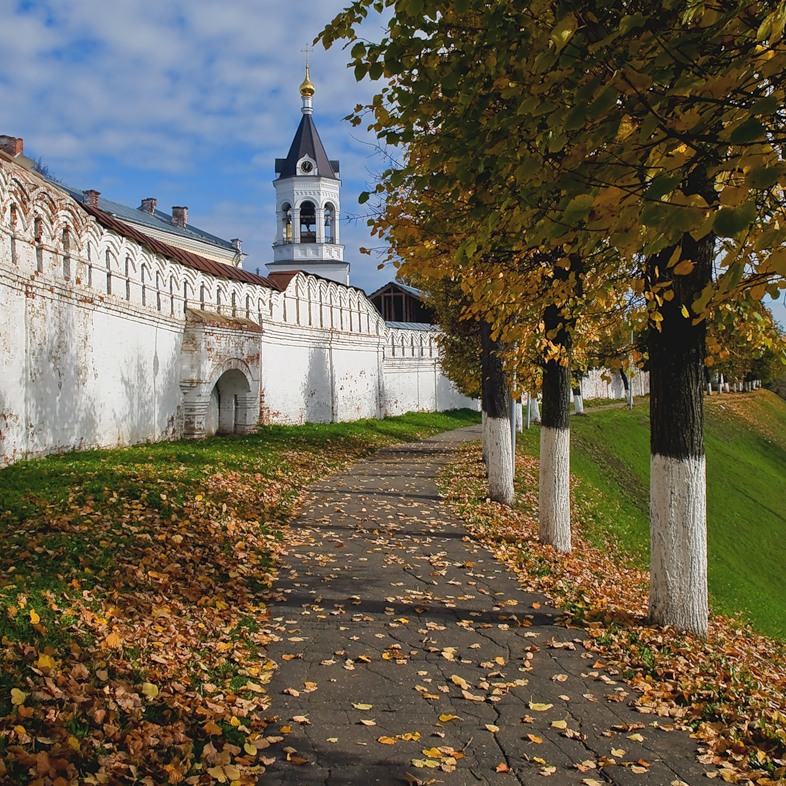 Quite often Vladimir is often overlooked by its more touristy neighbour of Suzdal but although it is far more industrial than Suzdal it certainly has enough sights for a day trip, especially if you also visit the neighbouring settlement of Bogolyubovo. Read more...
---
THE GOLDEN RING IN TWO, THREE OR MORE DAYS
Two days are quite enough to get an idea about entire Golden Ring route, though you won't have much time to relax in russian nature and enjoy beautiful landscapes of rural Russia.  If you want to take it easy you or add another nearby city to the plan, you should add an extra night.
---
If you have two days to spare whilst in Moscow, one of the best options is to visit Vladimir, Bogolyubovo and Suzdal. All three are located on the Golden Ring route and represent the heart of the mediaeval Russian state known as the Vladimir Grand Principality.  Many sights here are now protected by UNESCO as the White Stone Monuments of Vladimir and Suzdal. Read more...
---
► Routes  ► Principal Routes ► Golden Ring of Russia