Day trip to Rostov Veliky, Russia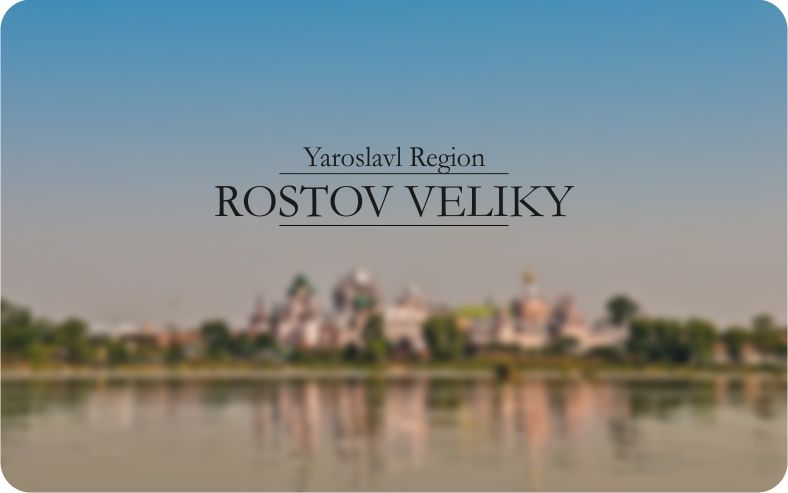 ---
Rostov-Veliky is one of the most interesting and ancient cities on the Golden Ring, which has the most beautiful kremlin of the whole tourist route.  It makes a great day trip from Moscow as even though it is quite far it has good transport links.  It is not as established a tourist destination as Sergiev Posad and Suzdal, meaning that, although it has a less developed infrastructure, it has more provincial charm.
---
Overview
| | |
| --- | --- |
| Distances | 200km from Moscow |
| Total time on train | around 4½ hours |
| Total time on bus | around 50 minutes if you decide to visit Borisoglebsky |
| Accessibility for foreigners rating | 4/5 - easy to get to, not many English-speakers |
---
Getting There and Back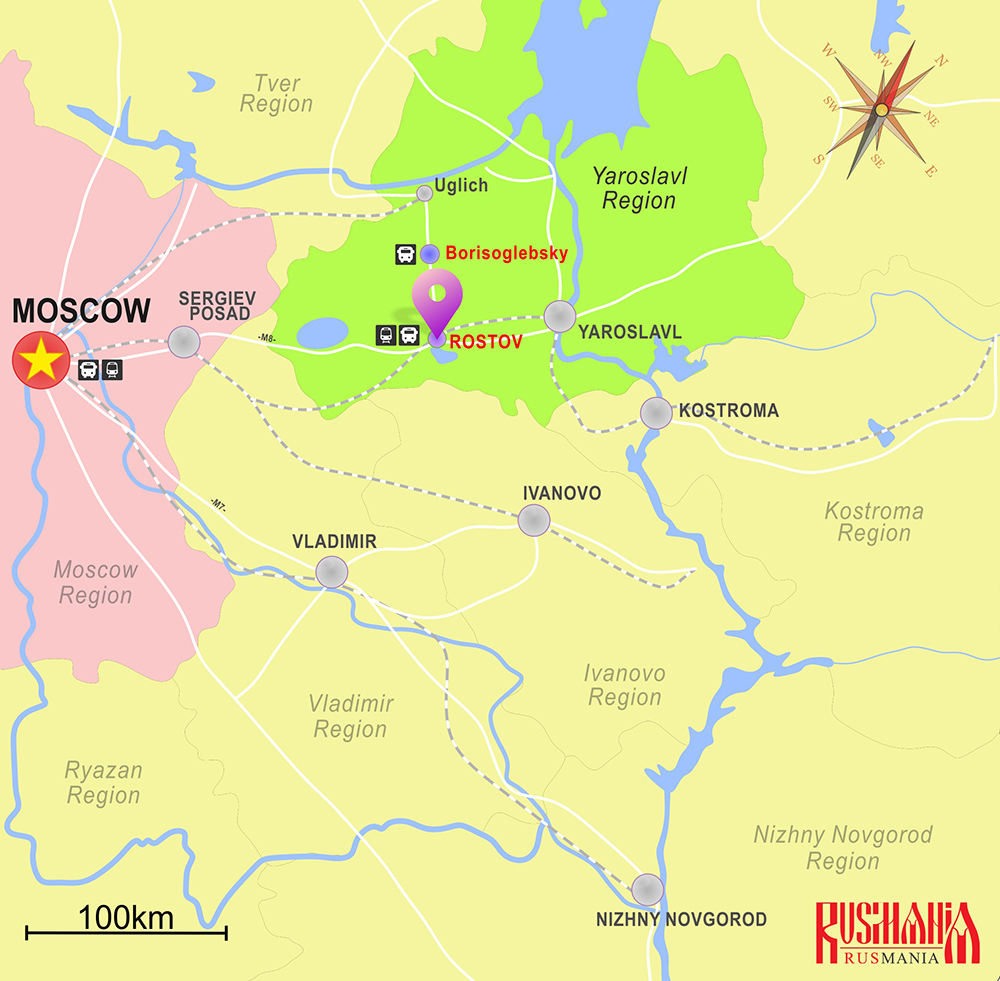 Rostov-Veliky has good transport links with Moscow and Yaroslavl, being situated on part of the Trans-Siberian Railway.  Suburban trains from Moscow do not go as far as Rostov, but there is an express train to Yaroslavl which stops at Rostov.  The train is comfortable and the timings make it very convenient for a day trip from Moscow.  It leaves from Moscow's Yaroslavsky Railway Station and takes just under 2¾ hours.  You should buy tickets in advance as if for a long-distance train.   The train only stops in Rostov for a minute, so make sure you are ready to get off or get on before it stops.
Other long-distance trains from Moscow also stop in Rostov, but these are usually at inconvenient times.  Rostov Veliky Railway Station is situated close to the city's historical centre and it is possible to walk there from the station, although there are also some buses.
It is also possible to get to Rostov Veliky from Moscow by bus, but this method is not as convenient.  Around 10 buses a day leave for Yaroslavl,  via Rostov-Veliky, from Moscow's Shyolkovsky Bus Station.  It takes about 3½ hours to get there, depending on traffic.  Rostov-Veliky Bus Station is located next to the railway station.
---
Orientation and Main Sights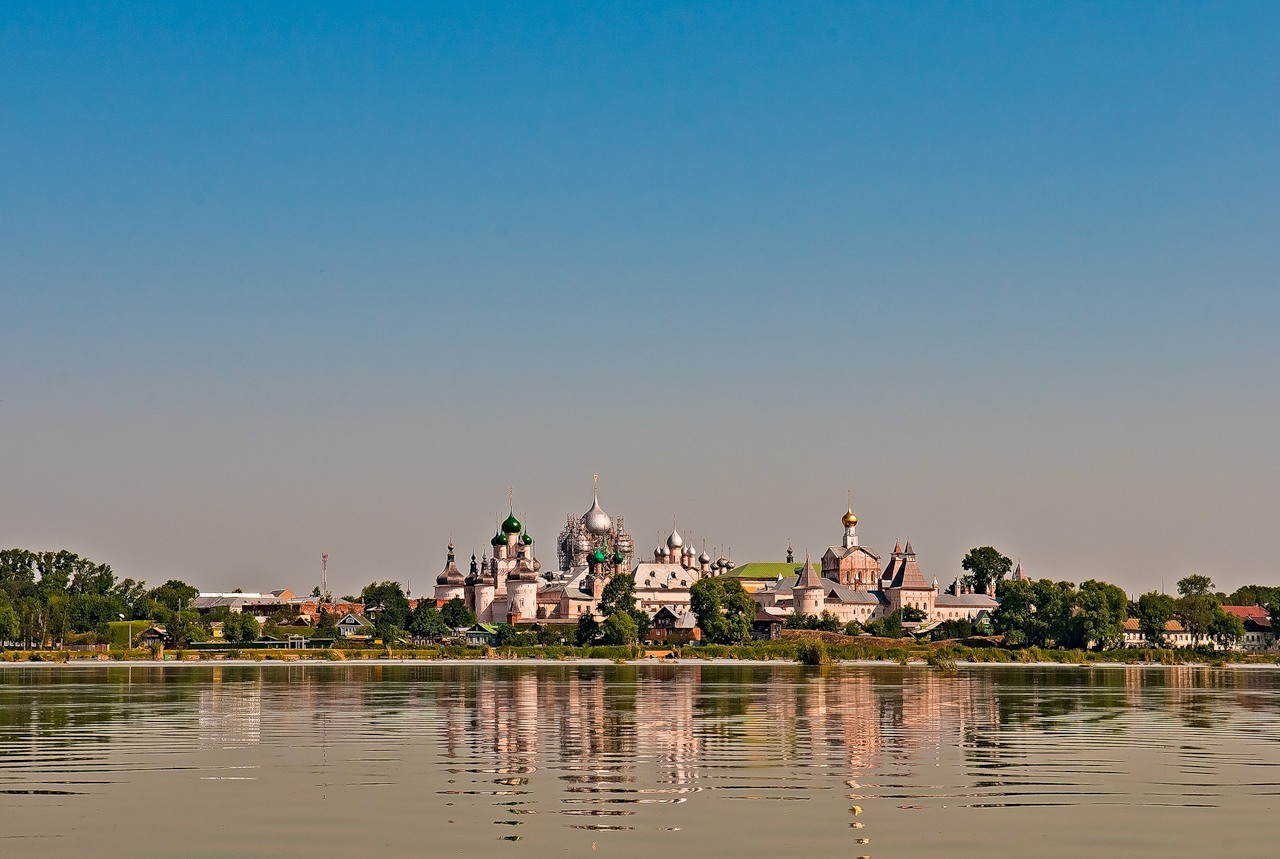 The main sight in Rostov is its kremlin which is located around 1km from the railway station.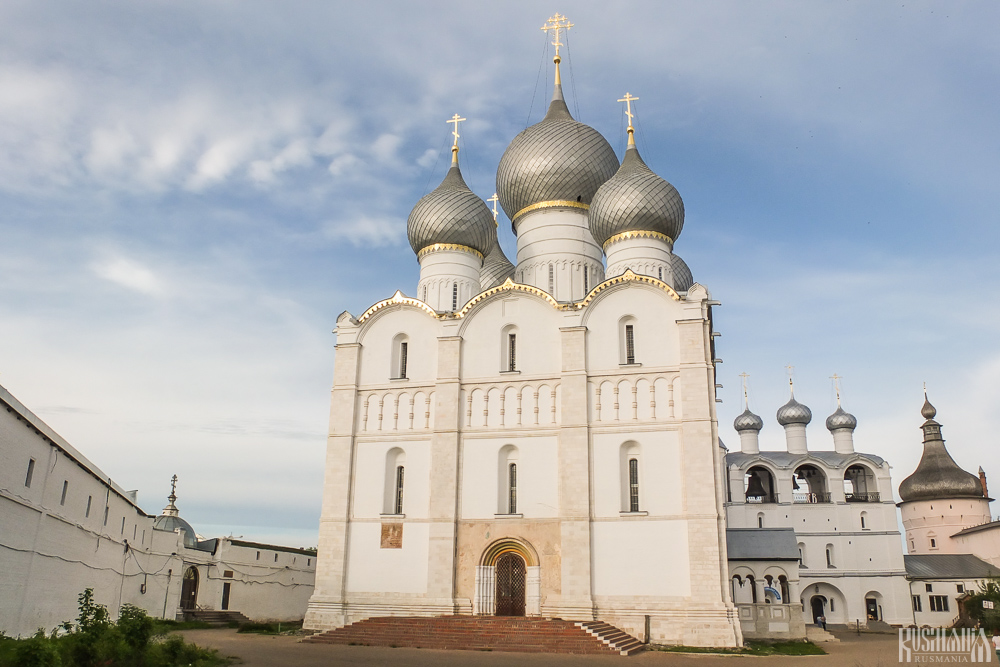 To walk there you need to walk down Ulitsa Lunacharskogo and then you cannot miss it.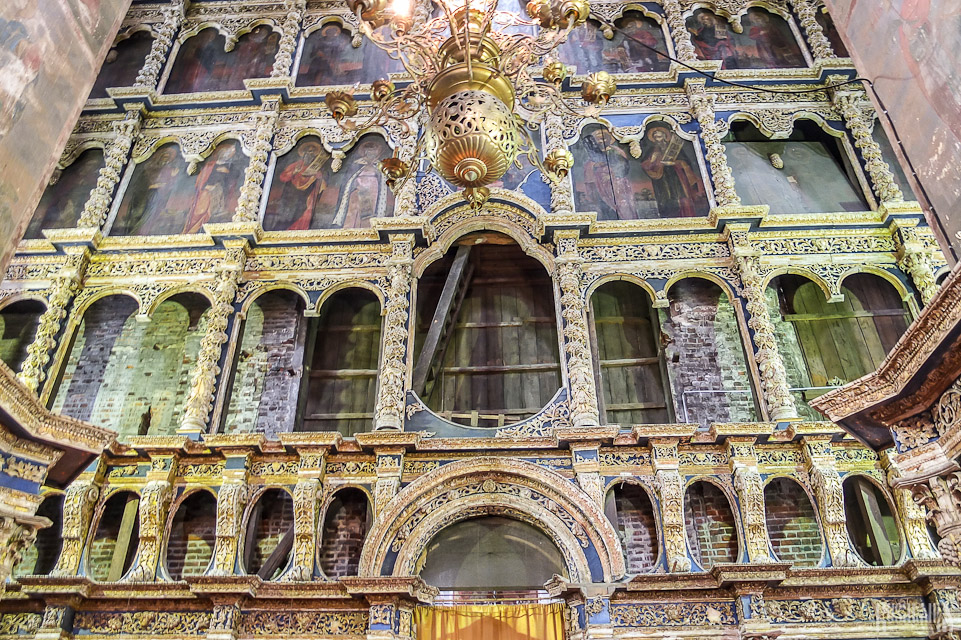 You can spend a couple of hours in the kremlin alone.  Most restaurants and cafes in the city are located around the kremlin.  It is worth also walking west along the coast of Lake Nero to the Spaso-Yakovlevsky Monastery.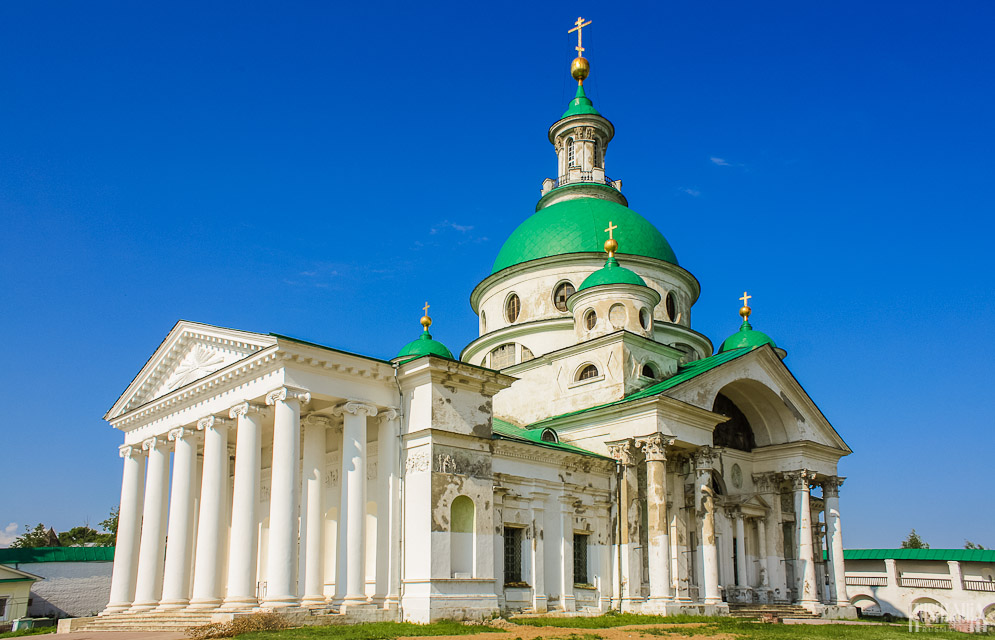 The next best sight in the city is  the Avraamiev Bogoyavlensky Monastery but this is located at the very opposite end of the city, east of the kremlin.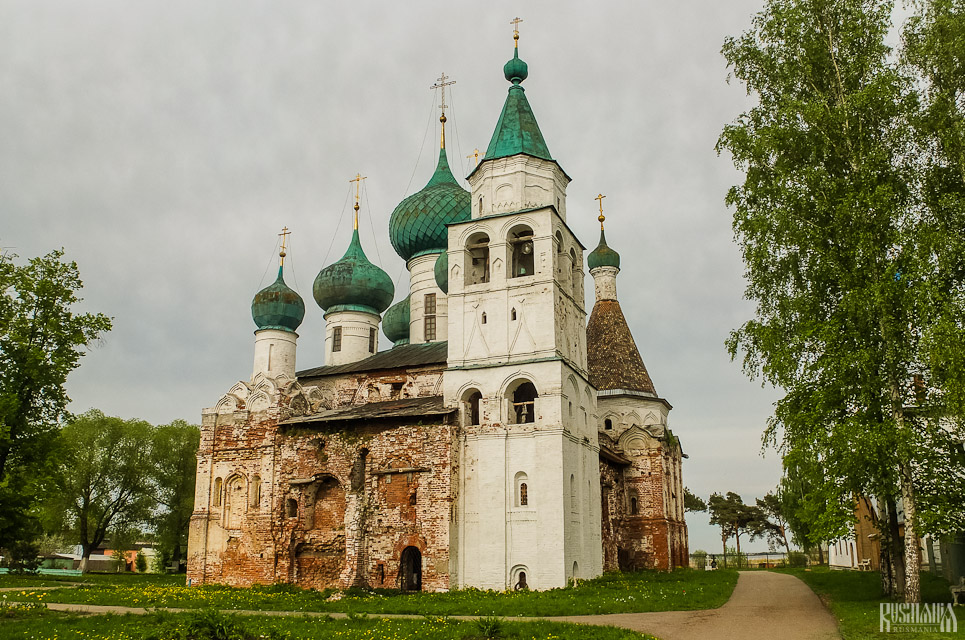 If you are not up for walking you can order a taxi which should cost around RUB 100-200 to travel within the city.  More information about Rostov can be found on our Rostov-Veliky pages.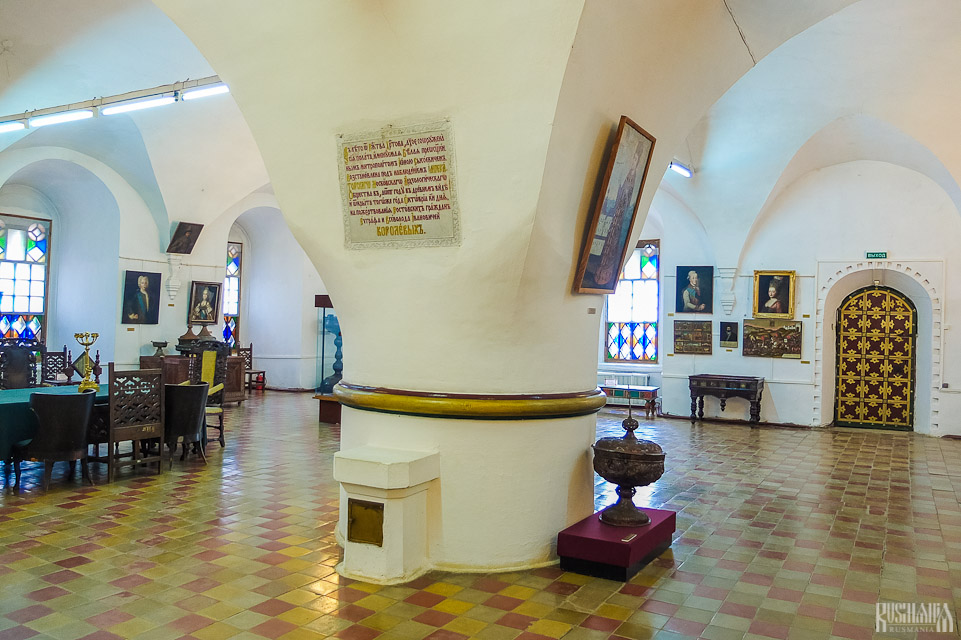 ---
Trip to Borisoglebsky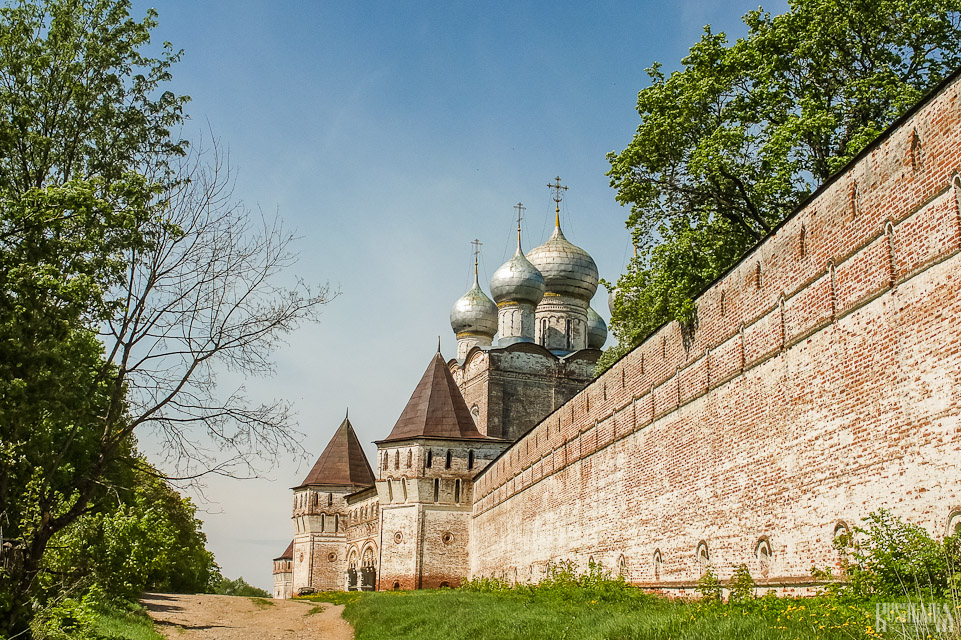 From Rostov-Veliky Bus Station you can get a bus to Borisoglebsky, which is worth visiting to see its famous fortified monastery. There are about 17 buses a day which take around 25 minutes to get to Borisoglebsky. However the buses are usually rather old.   
Borisoglebsky Bus Station is located next to the Borisoglebsky Monastery, which you cannot miss. Most other sights are also located around the monastery and so two hours here should be enough.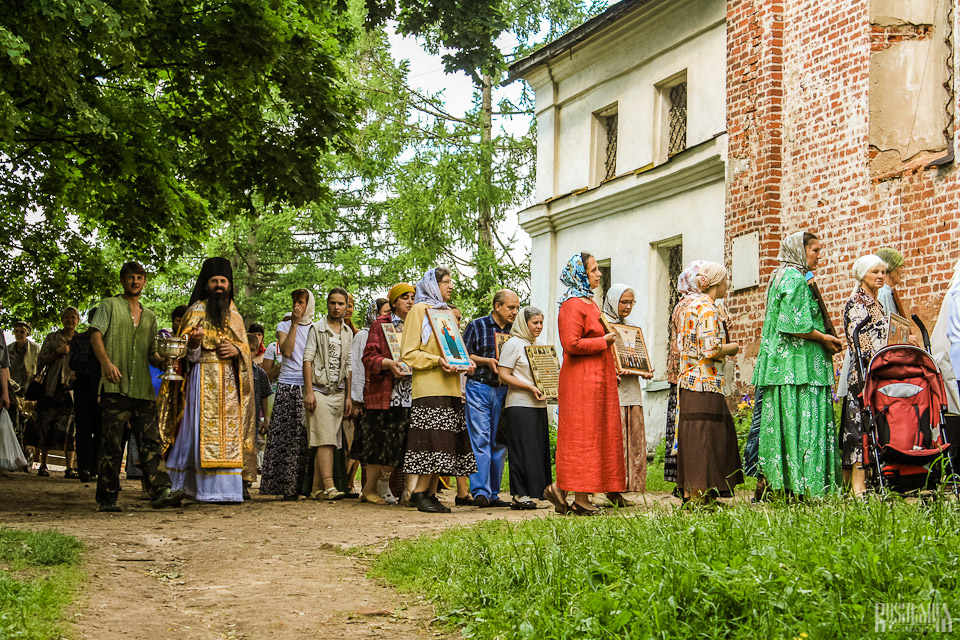 There are no real restaurants in the city, just some shops which sell food, so it is best to eat in Rostov.  More information about Borisoglebsky can be found on our Borisoglebsky pages.
---
Souvenirs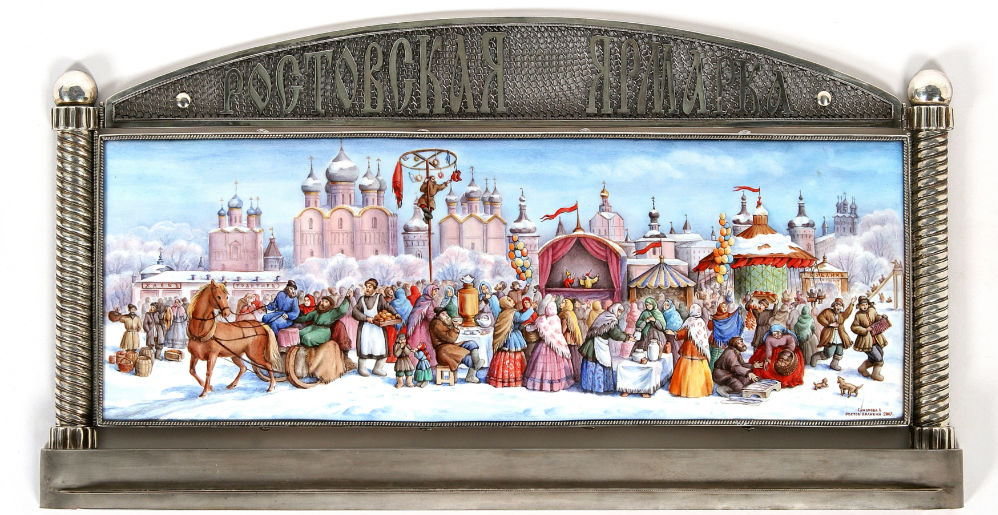 The most famous souvenir to bring back from Rostov is finift which is copper decorated with enamel.  You can buy broaches, boxes, earrings and other souvenirs made out of finift and the price ranges depending on the quality and the design.  There is a souvenir market outside the Rostov Kremlin.
---