Around Ulitsa Sovetskaya
Tula Kremlin
Undoubtedly the most famous sight in Tula is its 16th century Kremlin which is located in the very centre of the city. In 1507 Grand Prince Vasili III of Rus set about strengthening the city's defences as the increasing number of Tatar raids from the south made Tula important for the defence of Moscow. Therefore Vasili III ordered a wooden fortress be built on the left bank of the River Ula and this was completed in 1509. In 1514 the grand prince ordered that a stone kremlin be constructed inside the wooden defences, using the Moscow Kremlin as an example. Work on the Tula Kremlin was completed in 1520. It takes the form of a rectangle with nine towers, four of which include gates. In total it comprises over a kilometre of walls up to 10 metres high and 3.2 metres thick in places. Today the kremlin is run as the Tula Kremlin Museum which in turn is part of the Tula Regional Historical, Architectural and Literary Museum.
---
Dormition Cathedral in the Kremlin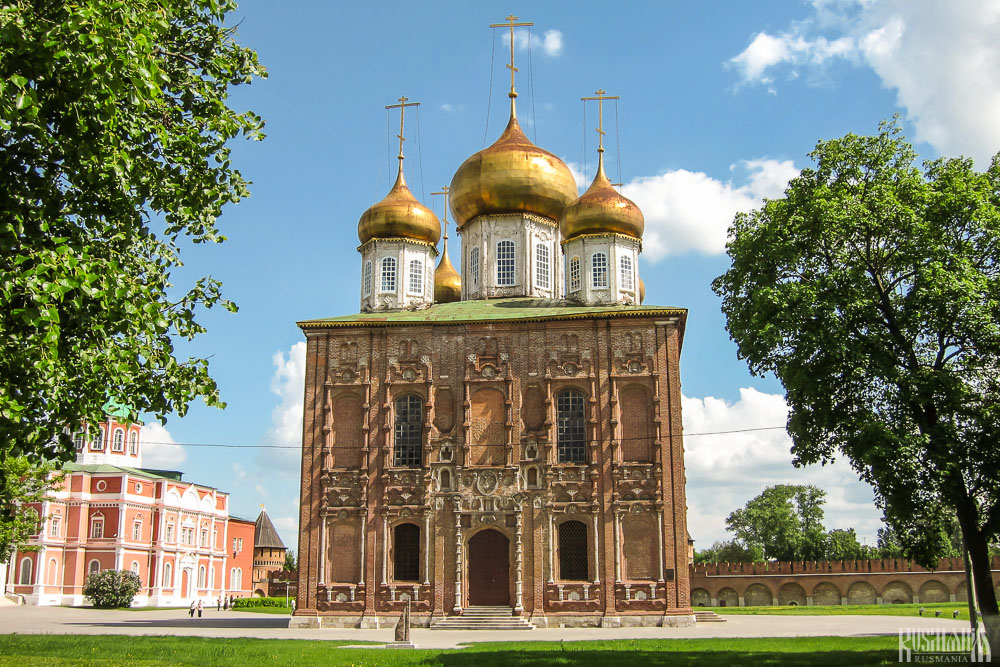 The main sight inside the kremlin is the Dormition Cathedral, which dates from the 18th century. Work on it was started in 1762 to replace an earlier wooden version and was completed in 1766. In 1781 a separate belfry was added containing 22 bells. In form the cathedral is simple but nevertheless beautiful; it comprises a cube brick-building decorated with elaborate carvings and topped with five golden domes standing on white octagonal tholobates. During the Soviet times the cathedral was closed and used a store. In 1936 a fire broke out in its adjacent belfry which was subsequently demolished. The cathedral was returned to the Orthodox Church in 1991.  Recently it has been repainted violet and work has begun on rebuilding the bell tower.
---
Tula State Museum of Weapons (Epiphany Cathedral)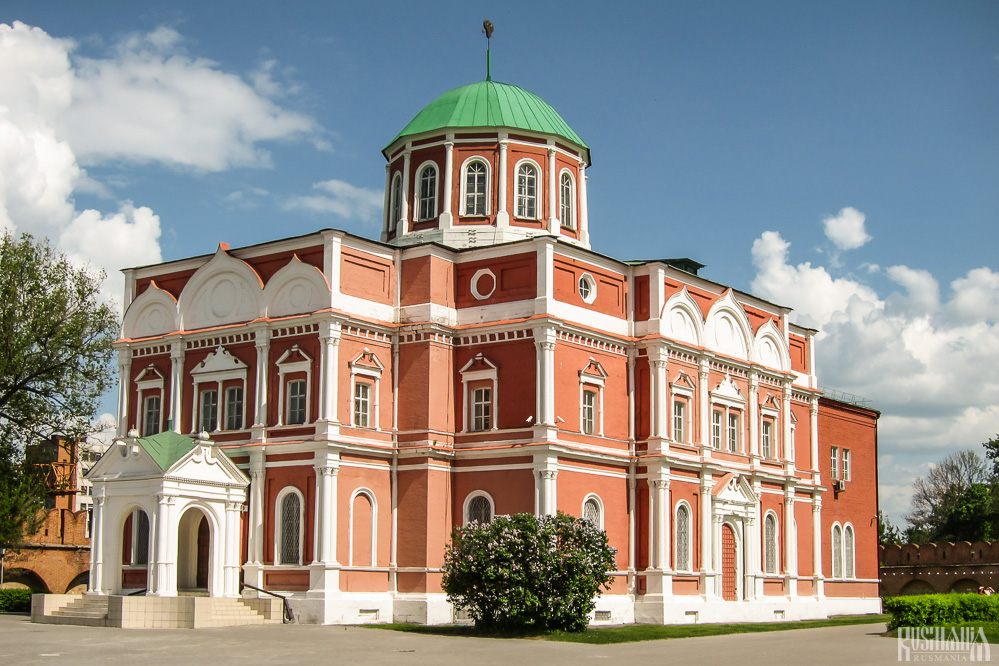 The Epiphany Cathedral was built between 1855 and 1863 to serve as the winter (i.e. heated) church for the Dormition Cathedral. In form it comprises a large red-coloured hall topped with a single large green dome. In the 1930s the cathedral was closed and since 1989 it has held the Tula State Museum of Weapons, which itself was founded in 1724 upon the orders of Emperor Peter the Great to exhibit ancient and rare examples of weapons. Now the displays exhibit all forms of weapons from the time of Peter the Great to the present day; from swords and daggers to guns and cannons, both standard issue items and elaborate ceremonial versions. Although a large proportion of the exhibits were made in Tula, there are also examples of work from other Russian cities and from abroad. Currently the Tula State Museum of Weapons is located in two buildings; here in the kremlin and in a specially built building on Ulitsa Oktyabrskaya.
| | |
| --- | --- |
| Location | 8 Ulitsa Mendeleevskaya |
| Museum of Weapons website | http://www.arms-museum.tula.ru/ |
| Kremlin opening hours | Kremlin: 09:00 – 17:00. Closed Mondays and the last Tuesday of the month. |
| Museum of Weapons opening hours | 10:00 - 18:00 (10:00 - 19:00 on weekends). Closed on Mondays and the last Tuesday of the month. |