Terayevo
Iosifo-Volokolamsky Monastery
The Iosifo-Volotsky Monastery was founded in 1479 by the monk Iosif (later canonised as St Joseph (Iosif) of Volotsk) in 1479. St Joseph was a very influential person during his lifetime and an influential theologian who was a leader in defending monastic land-ownership and opposing heresies. As a result the Iosifo-Volotsy Monastery became just as important and a major landowner; second only to the Troitse-Sergieva Lavra. Today the monastery has the status of a stauropegic monastery (second in status after a lavra). Its location practically in the middle of nowhere in picturesque countryside makes it one of Russia's most beautiful and tranquil monasteries. Several notable people in Russian history were imprisoned at the monastery such as St Maximus (Maksim) the Greek and Tsar Vasili IV Shuisky. Others are buried in its grounds including Princes Boris and Fyodor of Volotsk, leading oprichnik Maluta Skuratov (although it is no longer known where) and Pushkin's mother-in-law Natalia Ivanovna Goncharova. St Joseph of Volotsk's relics are also interred at the monastery and in 2009 a statue of him was erected just outside the monastery.
---
Ss Peter and Paul's Gate-Church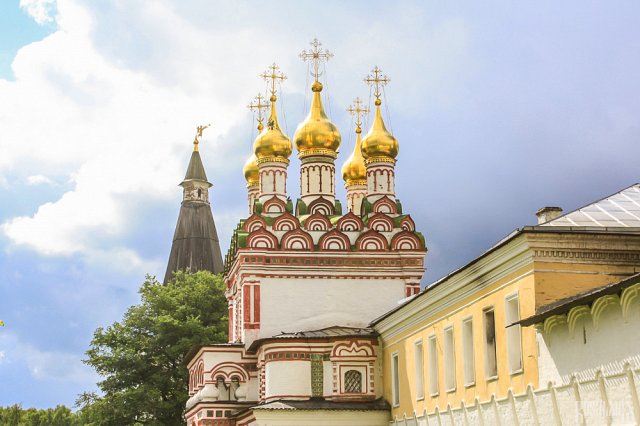 Iosifo-Volotsky Monastery is an example of a fortified monastery and as such it is surrounded by  thick stone walls.  The main entrance into the monastery is through the holy gates and Ss Peter and Paul's Gate-Church built above them. The pretty church is decorated with colourful kokoshniks and dates from the late 17th century.
---
Dormition Cathedral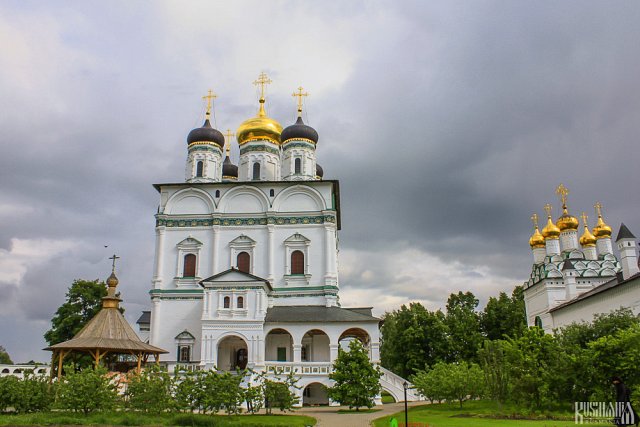 The monastery's cathedral is the Dormition Cathedral, which stands on the site where St Joseph first established a wooden single-dome church in honour of the Dormition of the Virgin Mary in 1479. This wooden version was later replaced by a white-stone version constructed between 1484 and 1486. By 1688 the cathedral had fallen into disrepair and it was decided to demolish it and rebuilt it again on a grander scale. Construction was completed in 1692 and the cathedral was consecrated in 1696. The current cathedral dates from this period and is an example of Naryshkin Baroque comprising four pillars and five domes. During the Soviet era it was used as a cinema hall with its iconostasis being covered by the cinema screen. Heavily damaged during the Second World War, it has now been carefully restored. The cathedral houses the relics of St Joseph of Volotsk. Immediately next to the cathedral is the remains of the bell tower, which was destroyed during the Second World War.
---
| | |
| --- | --- |
| Location | outside Terayevo, Volokolamsk District |
| Website | http://www.iosif-vm.ru/ |
| Clock | |