Yoshkar-Ola Railway Station
Yoshkar-Ola's Railway Station (Йошкар-Ола) only serves one train - a premium train from Moscow named the "Mari El" (Марий Эл). The railway station is located about 2.5km from the city centre at the end of the one of the main streets of the city - Ulitsa Sovetskaya (ул. Советская) . Many buses run along Ulitsa Sovetskaya and Ulitsa Karla Marksa which go to the central street of Ulitsa Voznesenskaya.
Yoshkar-Ola only has a rail connection with Moscow and cities along the way.  From the neighboring station of Kanash (which is 170km from Yoshkar-Ola), you can get many cities including Trans-Siberian trains. No suburban trains run from Yoshkar Ola.
| Location | 3 Ulitsa Yanalova  (ул. Яналова д.3) |
| --- | --- |
| Selected Destinations | Moscow, Arzamas, Kanash |
| Timetables | Long-Distance Trains |
---
Yoshkar-Ola Bus Station
Yoshkar-Ola's Bus Station is located just next to the railway station. As railway connections are not developed in the republic the bus station serves many routes in the republic and neighbouring regions including Moscow, Ulyanovsk, Cheboksary, Kazan, Kozmodemyansk and others.
---
Yoshkar-Ola Airport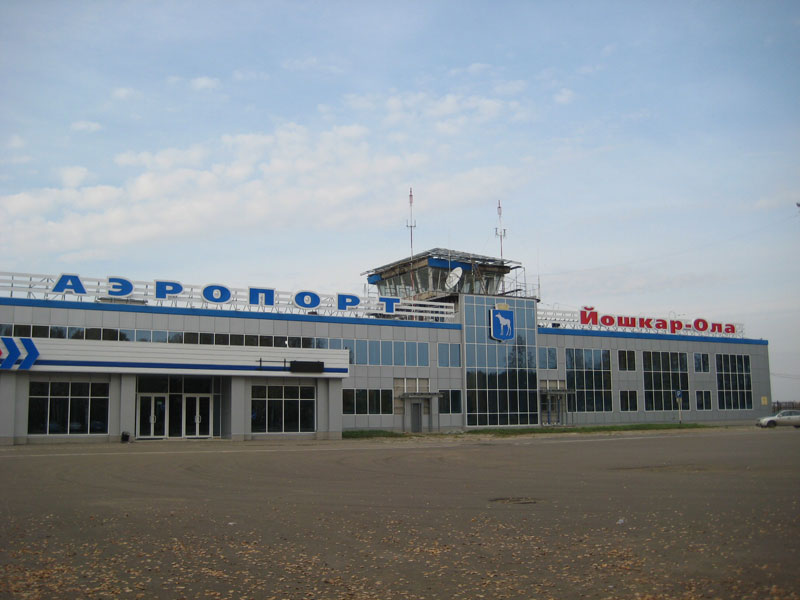 Yoshkar-Ola airport is located 7km north of the city centre. Buses and mini-buses heading to Shoibulak (Шойбулак) stops about 500m from the airport. They operate from 06:00 until 20:30.  The airport serves flights to Moscow operated by Utair and also to Ufa and Samara which are operated by Ak Bars Aero on certain days of the week.
---
Getting to/from Yoshkar-Ola
Although it is relatively far from Moscow and there is only one train connecting the two cities, it is nevertheless easy to visit Yoshkar-Ola for a weekend break from the city.  From Yoshkar-Ola you can also visit various destinations in Mari-El (for example Kozmodemyansk) and the neighbouring regions.  There is no train connection between St Petersburg and Yoshkar-Ola. The closest city which connected with St Petersburg by rail is Cheboksary - 100km from Yoshkar-Ola.
From Moscow
There is one daily overnight premium train from Moscow - the "Mari El" (№058). 1st, 2nd and 3rd classes are available. The train leaves from Moscow's Kazansky Railway Station. (Казанский вокзал). It takes about 14 hours. Yandex Timetables: 
Moscow-Yoshkar-Ola
&
Yoshkar-Ola - Moscow
.
About 4 buses go to Cheboksary from Moscow's Schyolkovskaya Bus Station, from Partizanskaya (Партизанская) metro station and from the bus station next to Kazansky Railway Station (Komsomolskaya metro station). Buses leave in the evening and arrive early the next morning in Yoshkar-Ola. It takes about 12 hours.

UTair flights connect Yoshkar-Ola and Moscow's Vnukovo Airport twice a day. It takes 2 hours.
---
From St Petersburg
There is one direct bus from the bus station on Naberezhnaya Obvodnogo Kanala in St Petersburg to Yoshkar-Ola which is operates on Fridays only. It takes 24 hours.
---
Getting around Neighbouring Regions
DESTINATIONS BY BUS FROM YOSHKAR-OLA BUS STATION
DESTINATION
RUSSIAN SPELLING
FREQUENCY
DURATION
Cheboksary
Чебоксары
every hour
1¾ hours
Kozmodemyansk
Козьмодемьянск
4 a day
2 hours
Kazan
Казань
18 a day
2½ hours