Vladimir Railway Station
Vladimir Railway Station is located close to the city centre. To get there by foot, just walk up Kommunalny Spusk (Коммунальный спуск) to get to Bolshaya Sovetskaya Ulitsa (Большая Советская улица) - Vladimir's main street where most sights are located. Alternatively you can take trolleybus No. 5 which runs along Bolshaya Sovetskaya Ulitsa.
Vladimir is located on the Trans-Siberian railway and so many trains stop at Vladimir, although often late at night or very early in the morning.
| | |
| --- | --- |
| Location | 2 Ploschad Vokzalnaya (пл. Вокзальная, д.2) |
| Timetables | Long-Distance Trains & Suburban Trains |
| Selected Russian Destinations | Moscow (Yaroslavsky or Kursky Railway Stations), St Petersburg (Moskovsky Railway Station), Vladivostok, Irkutsk, Omsk, Krasnoyarsk, Novosibirsk, Kirov, Nizhny Novgorod, Chelyabinsk, Severobaikalsk, Tyumen, Perm, Ulan-Ude, Chita, Kemerovo, Sochi, Ryazan, Voronezh, Rostov-on-Don. |
| Selected International Destinations | Beijing, Kharbin, Machuria and Simferopol. |
  Vladimir Bus Station
Vladimir Bus Station is located directly opposite Vladimir Railway Station. 
---
Getting to/from Vladimir
From Moscow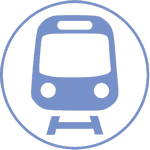 Many long distance transit trains connect Moscow with Vladimir although many of them arrive in Vladimir at inconvenient times. Long distance trains from Moscow usually leave from Moscow's Yaroslavsky Railway Station (Ярославский вокзал) - Komsomolskaya metro station (Станция метро Комсомольская) although some also leave from Kursky Railway Station (Курский вокзал) - Kurskaya metro station (Станция метро Курская).
Three high-speed premium trains also run between Moscow's Kursky Railway Station and Vladimir Railway Station:  the Sapsan, the Burevestnik and the Lastochka.  All three head to Nizhny Novgorod and they take between 1¾ hours and 2 hours to get to Vladimir from Moscow.  The Sapsan and the Burevestnik are most convenient for day trips, with the Burevestnik being cheaper than the Sapsan.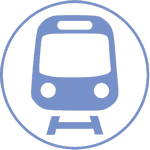 Suburban trains also run from
Moscow's Kursky Railway Station
to
Vladimir Railway Station.  There are a couple a day and it takes around 3 hours.  In addition there are also some express trains, which run twice a day (with an extra afternoon train on Thurdays and Fridays) but these only leaves Moscow in the evening and at night. The express trains take around 2¾ hours. Tickets for the express trains must be bought as if for a long distance train.
Buses to Vladimir from Kursky Railway Station (Kurskaya metro station - станция метро Курская) leave almost every hour from the square next to the railway station. Also buses from Moscow's Schyolkovskaya Bus Station (Schyolkovskaya metro station - Станция метро Щелковская) go to Vladimir and neihbouring Suzdal every 1 or 2 hours. It takes around 4 hours.  We advise you to buy tickets in advance.  Buses from Moscow arrive at the square opposite to Vladimir Railway Station.
From St Petersburg
It is not very convenient to get to Vladimir directly from St Petersburg, it is best to go via Moscow.
---
Getting around the Vladimir Region
Buses to Bogolyubovo run along Vladimir's main street - Moskovsky Prospekt (Московский проспект). Take bus No. 18 or No. 152 which run every 25 minutes or so. It takes 20 minutes.
Buses leave from Vladimir Bus Station to Suzdal Bus Station around every hour. It takes approximately 50 minutes. Buses arrive at Suzdal Bus Station which is located on the outskirts of the city. After a short stop, the buses normally then go onto Suzdal city centre.
To other cities of the Golden Ring
From Vladimir Bus Station you can continue your trip around the Golden Ring provincial cities such as Yuriev-Polsky, Gorokhovets, Murom, Kovrov and others. For some destination it is possibile to buy tickets online.
---
GOLDEN RING DESTINATIONS FROM VLADIMIR
DESTINATION
RUSSIAN SPELLING
FREQUENCY
DURATION
Aleksandrov
Александров
6 a day
3 hours
Bogolyubovo
Боголюбово
every 30 minutes
20 minutes
Gus - Khrustalny
Гусь Хрустальный
several an hour

1½ hours

Gorokhovets
Гороховец
1 a day (M-W-F)

3 hours

Kovrov
Ковров

15 a day

1

½ hours

Murom
Муром
18 a day
2¾ hours
Suzdal
Суздаль
almost every hour
40 minutes
Yuriev-Polsky
Юрьев-Польский
4 a day
2 hours
Ivanovo
Иваново
up to 18 a day
2 hours
Kostroma
Кострома
2-3 a day
5 hours